It's not news that retailers are having a tough time right now. Shoppers are not only spending money online when they used to buy in-store, but they're spending on things other than old favorites like clothes. As apparel retailers and brands are dealing with this seismic shift, they're also trying to figure out how to grab the all-important Millennial shopper, even if herding cats might seem an easier endeavor.[quote]
"The idea of clothing or accessories as a status symbol has truly shifted for this generation," says MaryLeigh Bliss, chief content officer at YPulse, a youth marketing and Millennial research firm. "In fact, 66 percent tell us they are buying less clothing and accessories than they used to. Now, experiences like concerts, dinners out, etc., are the real status symbols."
And they're the status symbols for an ever-growing group. The Pew Research Center says Millennials — those born between 1981 and 1997 — now number 75.4 million, surpassing Baby Boomers (at 74.9 million) as the nation's largest living generation. With immigration adding more people to this age group than any other, Pew expects the Millennial population to peak in 2036 at 81.1 million.
Accenture, the global professional services firm, puts U.S. Millennial spending at $600 billion. The firm expects that to increase to $1.4 trillion by 2020, representing 30 percent of total retail sales.
Clearly, there's a lot of spending at stake. And one thing in the fashion industry's favor is that 69 percent of Millennials "love/enjoy" clothes shopping, according to the Cotton Incorporated Lifestyle Monitor™ Survey. That's far higher than any other age group, from Boomers (38 percent) to Gen X (58 percent), to the 13-to-17 year olds in Gen Z (52 percent).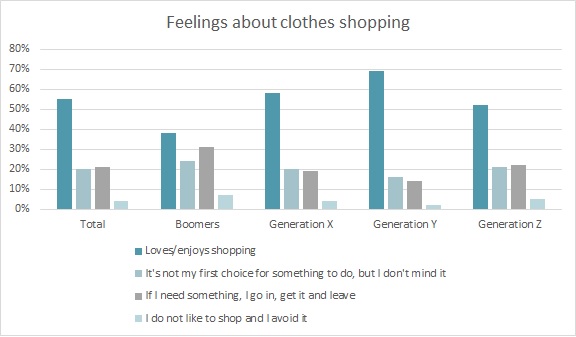 If this generation likes shopping so much, one might wonder why are malls and apparel stores having such a tough time. Bliss says it goes back to that experiential factor. She says YPulse research shows that when Millennials were asked which they would rather share on social media, 91 percent said they would rather share a picture of an event they were just at than a picture of a new accessory or piece of clothing they just bought.
Currently, Gen X shoppers spend more per year on apparel than Millennials ($1,081 versus $1,066). But that's because so many Millennials are still college-aged or less settled in their careers. With time, this should increase dramatically. On average, Millennials, also known as Gen Y, shop in-store an average of 10 times per year, which is more than any other age group: Boomers and Gen Z tie for 6 times per year, while Gen Xers shop 8 times a year, according to the Monitor™.
But like all other generations, Millennials like to browse for clothes online, and they do so an average of 20 times a year, Monitor™ research shows.
"Overall, Millennials would prefer to shop online, however, we do see that clothing is still a category that they prefer to buy in store," Bliss says. However, the ease of buying online is having an effect. "Brick-and-mortar locations have seen the need to up their game to tempt these younger shoppers to visit."
The National Retail Federation reported May retail sales increased 5.3 percent from a year ago. However, online and other non-store sales jumped 12.4 percent. Monthly clothing and accessories sales were flat in May, increasing +0.3 percent over April, although they did increase 2.1 percent year-over-year.
Bliss says the smart stores are looking beyond the racks to attract the Millennial customer — and the group is responding.
YPulse cites a Wall Street Journal article that says many U.S. malls are adding attractions like laser tag, skydiving simulators, and "escape rooms" to entice the younger shoppers. YPulse also points out Macy's has turned to wellness events and restaurants in a bid to attract the Gen Y customer. The department store giant has also twice joined with the Brooklyn-based event firm Daybreaker for early morning dance raves at its Herald Square location. The events are alcohol-free and the last one kicked off at 5:45 a.m., included DJ booths, dance floors and an obstacle course — and attracted 1,000 early morning ravers. And whereas discounted designer goods used to be enough to draw crowds to places like Simon Property Group's Woodbury Common in upstate New York, the developer has added a new food hall where regulars like McDonald's and Cinnabon are joined by upscale stops like Shake Shack and Magnolia Bakery, as well as a soon-to-open cocktail bar.
Whether they're buying in-store or online, the Monitor™ finds that fit (70 percent) and price (62 percent) are the top two factors in a Millennial apparel purchase decision. Accenture points out that Gen Y shoppers expect prices and promotions to be the same in-store as online. They also want coupons to have mobile scanning capabilities, and those that need to be printed out could prove to be "a deal-breaker."
Bliss says the Millennial shopper's drive for the best deal was instilled at a young age.
"They've been trained by retailers and online bargain sites alike that they never have to pay full price," she says. YPulse research shows "67 percent of 18-to-34 year-olds tell us they never pay full price for clothing. Growing up during the Great Recession has also made them less sensitive about having the 'right' label on their clothing. They're more concerned about uniqueness, comfort, and price than they are about the brand name, with 84 percent telling us they don't care about what brand an item of clothing is, as long as they like it."
And if you want to reach a Millennial, look for them online. As it turns out, it's not just retail that's had to change its game to keep up with this in-demand yet demanding consumer.
"Facebook is actually a great venue for reaching this generation. It's the top social network that they use," Bliss says. "The most important thing that all brands need to come to terms with is that Millennials are not paying attention to traditional advertising."