The great thing about denim apparel is it practically lasts forever. The key word being practically. While nothing might fit as well as a pair of old blue jeans, at some point, consumers realize their jeans are too big, too small, or look worn in ways that aren't exactly trend right anymore. But rather than just throwing them out, the Blue Jeans Go Green™ denim recycling program gives new purpose to old denim.[quote]
In 2006, Cotton Incorporated started the program to help divert denim from landfills. Since that time, more than 2 million pieces including jeans, shorts, skirts, jackets, dresses, and shirts, have been collected and turned into housing insulation.
Most people might think of home insulation in only that pink stuff that comes with the mandatory pieces of skin-piercing glass fibers. But that's not the case with
UltraTouch™ Denim Insulation that's created through a partnership with Bonded Logic Inc. To create this insulation, denim garments are collected. Zippers, buttons and embellishments are removed. The denim is returned to its natural cotton fiber state and then it's upcycled into denim insulation.
So far, more than 4 million square feet of insulation has been manufactured from the Blue Jeans Go Green™ program.  Insulation distributed from the program helps construct homes and civic-minded buildings around America. And the best part… more than 1,000 tons of denim garments have been kept from being sent to landfills.
Some of the recent retail partners include Holt Renfrew, Madewell, Rag & Bone, and J. Crew. At each of the stores, whenever customers drop an old denim garment, they receive a dollar amount or a percentage toward something new in the denim family.
So far, Madewell alone has collected close to 300,000 pairs of jeans, and as a result more than 300 Habitat for Humanity homes have been built with insulation made from the pre-worn denim. The homes were built in cities that included New Orleans, Charleston, and Los Angeles.
Wrangler has been a more recent partner, having begun its Blue Jeans Go Green™ program collaboration in 2017. Currently, the company collects denim scraps, material and product from its internal manufacturing, product development and distribution centers.
"In 2017, we contributed more than 43,000 pounds of denim, which produced over 80,000 square feet of insulation," says Roian Atwood, director of sustainability for Wrangler. "If customers want to mail in their old denim to our headquarters, we will include it in our recycling program. For 2018, Wrangler is working together with the Blue Jeans Go Green™ program to provide 130,000 square feet of the sustainable denim insulation to All Hands and Hearts – Smart Response for its rebuild effort after Hurricane Harvey."
While "upcycling" clothes might still sound unusual, recycling is something that comes naturally to most people in the U.S. these days. Currently, about 3 in 4 consumers or more say they recycle (82 percent), use refillable bottles (74 percent) and purchase energy-saving appliances (72 percent) in an effort to protect the environment, according to the Cotton Council International (CCI) and Cotton Incorporated Global Environment Survey. That's followed by consumers who say they limit home water usage (69 percent), recycle clothing or textiles (65 percent), purchase local made products (62 percent), and reduce overall consumption (55 percent).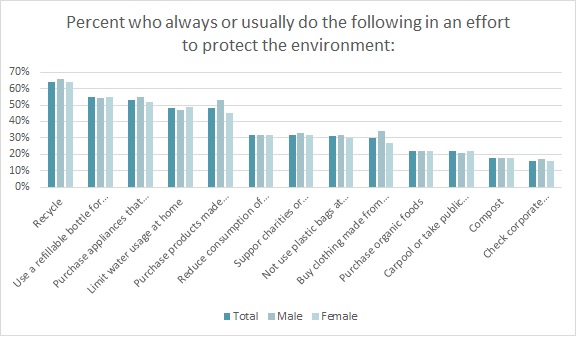 When it comes to outside motivators for their environmentally friendly actions, 59 percent of consumers say they do things "simply because it's the right thing to do," according to a Global Environment Survey that was commissioned by Cotton Incorporated. Another 50 percent attribute their motivation "to protect the world for my children/grandchildren/future generations" and 41 percent attributed it to a wish to "live a more balanced/healthier lifestyle."
Perhaps this wish to "do the right thing" is the reason the Blue Jeans Go Green™ program has already enjoyed a series of successes. In 2009, it set a Guinness World Record™ when it partnered with National Geographic Kids magazine and earned the record for "Most Items of Clothing Collected for Recycling" with 33,088 pieces of denim.
In 2010, it launched a grant program that gives architects, builders, and project developers the opportunity to apply for grants of insulation for civic-minded buildings.
In 2013, Blue Jeans Go Green™ program celebrated recycling the one-millionth piece of denim via a unique auction where denim was used as currency to raise awareness about textile recycling.
In 2014, denim was collected as part of a nationwide NASCAR series race.
And in 2016, Cotton Incorporated celebrated a decade of collecting denim for its Blue Jeans Go Green™ program with a three-day pop-up in New York City. The star-studded affair featured interactive displays that showcased the achievements and milestones that the program had reached thus far.
Besides retailers and manufacturers, Cotton Incorporated's Blue Jeans Go Green™ program has partnered with nearly 60 colleges and universities across the country and collected more than 200,000 pieces of denim along the way.
Wrangler's Atwood said the company is excited for the future possibilities of engaging consumers in the program. The company has already been insulating homes in Lumberton, NC, post-Hurricane Matthew, and All Hands has already been using the denim insulation for houses and schools in northeast Houston. But the program could get even bigger.
"We are just now announcing the program over social media to our consumers in celebration of Earth Day," Atwood says.