One of life's great luxuries that actually costs nothing is falling into bed and drifting off to sleep. What makes this a "luxury" is that many people feel they just don't get as much sleep as they want or need. While there are many excuses for not getting enough sleep, experts say simple adjustments, including comfortable pajamas and bedding, can dramatically improve overnight rest.[quote]
The Centers for Disease Control (CDC) says a third of U.S. adults admit they usually get less than the recommended 7 or more hours of sleep per night.
"As a nation we are not getting enough sleep," said Wayne Giles, M.D., director of the CDC's division of population health. "Lifestyle changes such as going to bed at the same time each night, rising at the same time each morning, and turning off or removing televisions, computers, and mobile devices from the bedroom, can help people get the healthy sleep they need."
The National Institutes of Health (NIH) attributes sleep deprivation with a bevy of health risks ranging from obesity to heart disease, high blood pressure, and stroke. The NIH says studies also show that a lack of sleep leads to trouble with decision making, problem solving, controlling emotions, and coping with change. It's also been linked to depression. Add to that, drowsiness affects driving ability as much or more than being drunk. The NIH says it's estimated that sleepiness is a factor in about 100,000 car accidents each year.
While medical issues such as sleep apnea, restless leg syndrome, night sweats, or chronic illness can cause sleep issues, oftentimes the problem can be eased with environmental changes people can make themselves. White noise machines can block outside disturbances, and room-darkening shades can keep out early-morning light. And the American Academy of Sleep Medicine recommends swapping out bedding materials and pajamas to stay cool at night. "Light linens are more 'breathable' and will make you sweat less."
About 7 in 10 consumers say cotton is their fiber of choice for sheets (74 percent) and bedding (blankets and comforters) products (69 percent), according to the Cotton Incorporated 2017 U.S. Home Textile Survey. Compared to cotton blends and synthetic fibers like polyester, shoppers say 100 percent cotton sheets and bedding are best suited to meet their primary needs for comfort (70 percent) and quality (69 percent), as well as their needs for reliability (67 percent), sustainability (70 percent), and "an overall good nights' sleep"(68 percent)
When it comes to nighttime apparel, nearly 4 in 5 consumers (78 percent) prefer their pajamas or sleepwear also be made of cotton, according to Cotton Incorporated Lifestyle Monitor™ research. The fiber is favored heavily over silk (5 percent) and flannel (2 percent), as well as polyester, satin, rayon, and nylon (all 1 percent).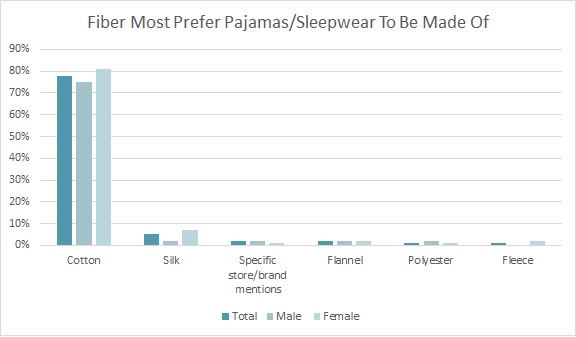 The Company Store offers both cotton bedding and sleepwear. The brand's sleep attire includes soft poplin pajama pants and shorts sets, nightshirts, tees, and loungewear sets. In the bedding category, the retailer is known for its down comforters, which are all made with cotton shells for lightweight coziness. Sheets come in cotton percale, sateen, flannel, and jersey knit.
Besides having a preference for cotton bedding, the majority of consumers say they're bothered by brands and retailers that would substitute synthetic fibers for cotton in their sheets (54 percent), according to Monitor™ research. Women (57 percent) are significantly more irritated by substitutions than men (50 percent).
The Monitor™ research also shows that about two-thirds of consumers (65%) are willing to pay more to keep their sheets cotton-rich. Those over the age of 35 (68 percent) are significantly more likely than younger consumers (60 percent) to be willing to pay this premium, as are those earning $50,000+ per year (71 percent).
Although sheets and comforters with performance technologies remain limited at retail, more brands have begun to offer it, effectively tripling the amount available in the past several years. The majority of consumers say they're interested in products that can help solve issues like shrinking (61 percent), pilling (58 percent), odors (57 percent) and stains (57 percent), according to Home Survey data.
Cotton Incorporated's TOUGH COTTONTM, TransDRY® and WICKING WINDOWSTM technologies can help improve the competitiveness of cotton bedding products. The TOUCH COTTONTM technology is a durable textile finish that's engineered to prolong the life and appearance of cotton garments. The application strengthens the fabric, making it more resistant to abrasion that comes from normal wear and household laundering. TransDRY® technology is a patented, high-performance moisture management application that allows fabrics to wick and spread perspiration as well as, or better than, most high-tech synthetic fabrics. WICKING WINDOWSTM technology is a moisture management application that eliminates the feeling of wet, saturated fabric against the body. It forces the transfer of moisture away from the skin to the outside of the fabric where it can evaporate. Used in sheets and bedding, these unique technologies would keep sleepers cool and comfortable throughout the night.
A study by the University of Alberta, Edmonton, Canada, found that subjects slept better with materials that have softer textures as they're less stimulating to the skin and "result in less neurophysical stress than other materials."
Dr. Harneet Walia, MD, a physician with the Cleveland Clinic's Sleep Disorders Center, says Americans need to understand the importance of sleep and start prioritizing it.
"In our society, nowadays, people aren't getting enough sleep," she says. "They put sleep so far down on their priority list because there are so many other things to do – family, personal and work life. These are challenges, but if people understand how important adequate sleep is, it makes a huge difference."