While fashion shows and women's glossies are filled with hyper thin girls, the reality is their body types don't come close to representing the average American woman. Researchers say social media has helped spur a wake up call that has stores, brands — and even magazines — realizing the plus-size customer is not just underserved, but that the category is likely filled with pent-up demand.[quote]
Most adult women in the U.S. don't fit into single-digit sizes (the average is 14), much less a runway model's size 0 or 2. The fact is, 160 million American adults are considered overweight or obese, according to the Institute for Health Metrics. Among women, almost two-thirds — 64 percent — fall into this category, according to the National Institutes of Health. Thirty six percent are considered obese and 8 percent extremely obese. This rate has been relatively stable since 2010. Meanwhile, The NPD Group's 2015 Women's Special Size Study revealed the number of teens buying plus clothes has nearly doubled — from 19 percent to 34 percent — since 2012.
This is a $17.5 billion market, according to The NPD Group, but has the potential for marked growth. Just half of all plus-size women say they "love or enjoy shopping," which is significantly less than their non-plus counterparts at 64 percent, according to the Cotton Incorporated Lifestyle Monitor™ Survey.  And plus shoppers spend about $42 per month on clothing, which is 37 percent less than the $67 spent by non-plus women.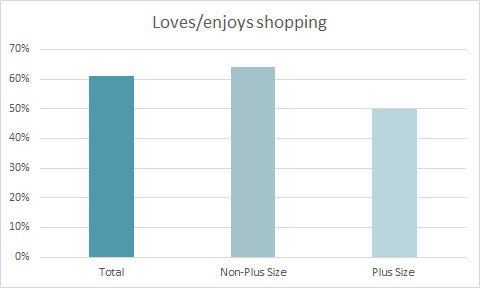 If 2015 was a breakthrough year for plus-size women and fashion, this year is shaping up to be even more exceptional, says Fullbeauty Brands' Dasheeda Dawson, spokesperson. Fullbeauty has a number of brands in its stable including Woman Within, Roamans and, more recently, Violeta by Mango. Its Swimsuits4All brand launched the #curvesinbikinis plus-size swimwear campaign in 2015. Featuring plus model Ashley Graham, the campaign was driven by one of the most talked about ads in the Sports Illustrated swimsuit issue.
"Last year, Ashley Nell Tipton, who also happened to be plus-size, became the first plus-size designer on Project Runway," recalls Dawson. "Since 2011, we've seen the rapid proliferation of plus-size bloggers. Women like Gabi Fresh (size 18) and Nicolette Mason (size 24 at the time of her blog launch) are in your face with style over size — and as such, we've had the rumbling of a body empowerment movement for the last five years. This year should be pivotal as the movement has gone mainstream."
Glamour magazine just announced it's partnering with Lane Bryant on a fashion collection as well as two special editions, videos and ads. Earlier this year, Target said it's unveiling a line specifically for plus women called Ava & Viv. Additionally, it's Marimekko for Target collaboration will include plus sizes to 3X.
This newness in the category will help ease the frustration plus shoppers feel. Mintel, a global market research firm, released a report that shows 16 percent of plus women buy what fits although it doesn't necessarily mean they like the clothes. Further, Mintel's found 21 percent of plus-size shoppers think the styles they really like do not look good on them. However, women under age 45 are more likely than those 45+ to have positive outlooks.
"This represents an opportunity for retailers to celebrate people of all sizes by showcasing variety and selection of their merchandise, highlighting unique and fun ways to wear the styles," the report states. "It also indicates a chance for retailers to focus more on providing an overall positive experience to customers that goes beyond sizing."
Actress Melissa McCarthy actually took issue with the term "plus-size" when she introduced her Seven7 line of apparel late last year.
"Women come in all sizes," she said in a Refinery 29 interview. "Seventy percent of women in the United States are a size 14 or above, and that's technically 'plus-size,' so you're taking your biggest category of people and telling them, 'You're not really worthy.' I find that very strange."
McCarthy's collection runs from missy size 4 up to size 28 and is carried in a range of stores, including Lane Bryant, Macy's, Evans, and Nordstrom. Online retailer ModCloth also ditched the "plus" nomenclature, opting instead for "Extended Sizes" among the brands that go beyond 12. Its private label apparel will simply run from XS-to-4X.
This attitude is much more inclusive and welcoming than in years past. In the book "Fat Lives: A Feminist Psychological Exploration," a subject described why she felt not just ignored, but shamed because of the limited clothes available to her. "…if you're fat, you're not allowed to wear nice clothes. Everything has to be just the wrong tone for it to be on trend…or… you can have anything you want as long as it's brown, as long as it's in man-made fibres."
But the fact is 77 percent of plus women say better quality garments are made from all natural fibers such as cotton, according to the Monitor™ data. And slightly more than half of all plus-size women (51 percent) are willing to pay more for natural fibers.
When listing the important factors in buying clothes, plus shoppers put fit (78 percent) at the top, followed by comfort (75 percent) and then price (67 percent), the Monitor™ shows. Style (35 percent) is significantly less important to them than non-plus shoppers (44 percent). But with the influx of new brands and retailers in the category, that is likely to change.
Mintel's research shows social media has been a significant driver in changing the industry's attitude toward plus customers.
"Bloggers and other consumer advocates have also been successful at influencing retailers to offer plus size…options and to reconsider how they price and market such clothing," the report states.
Because of its strong social and website contact, Dawson says Fullbeauty Brands knows its customer expects, "and in many cases demands," more fashionable options.
"And we ensure she can find the basics she needs, yet is continuously inspired by trend-relevant styles."