By now, everyone has heard about big data — those large data sets that reveal shopping patterns, style trends, and human behavior, all of which can help predict what will or won't strike a chord with shoppers. There's also an abundance of other data that can help stores and brands manage inventory, and give customers not just more choices, but more of what they actually want. Correctly mining all this data stands to improve a retailer's bottom line and improve efficiency, starting with the supply chain.[quote]
Microsoft's ShiSh Shridhar, retail industry solutions director, says besides a retailer's own data, there is "dark data" — information that can be collected, processed, and stored but generally isn't used. This includes weather, demographics, economic, and social data. This can all be factored into a predictive model that can optimize inventory at a hyperlocal level and reduce losses due to over- and understocking.
However, all of this requires processing enormous sets of data. For help merging all this information, retailers are turning to the cloud.
"Cloud computing platforms are becoming more pervasive in large-scale supply chains as enterprises look to gain agility and speed in resolving complex problems through more effective collaboration," Shridhar says, pointing out Microsoft Azure as the company's cloud-based platform. He says David's Bridal used a solution implemented by Microsoft's partner Manhattan Associates to automate supply chain processes and expand retail operations. "They achieved nearly 100% accuracy in order delivery."
The majority of consumers (70 percent) say they would be more loyal to clothing brands that gave them the ability to customize their purchases, according to the Cotton Incorporated Lifestyle Monitor™ Survey. Consumers 13-to-55 are significantly more likely (73 percent) than older shoppers (59 percent) to offer their loyalty for a more curated, personalized experience.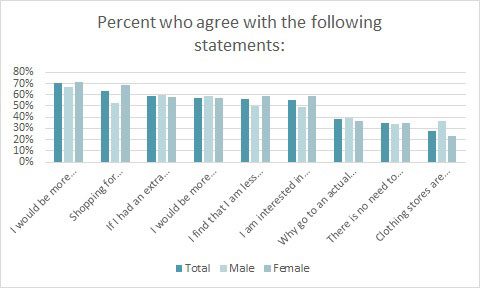 A responsive supply chain can deliver the personalized products and experiences consumers are seeking, be it from a website, store, or site-to-store purchase, says SAP's Achim Schneider, global head of the retail industry business unit.
"To meet these ever-growing expectations, supply chains are integrating digital processes that extend enterprise-wide to help manage the complexities of omni-channel demand and fulfillment," Schneider says. "For example, Brooks Brothers integrated a new customer relationship management (CRM) system to access a 360-degree view of its customers across 600 stores. This universal customer database was designed to help the company gain a personalized view of customer preferences and purchase history regardless of country or location. Many retailers are now taking advantage of big data to gain insight and visibility into consumers' shopping behaviors, allowing them to align business models and supply chains to meet demand."
For the most part, consumers view in-store shopping as a fun, social activity (63 percent). So retailers have an advantage there. Things get trickier when it comes to the assortment. Almost half of all consumers (47 percent) say they want their favorite apparel store to offer new styles once per month or more often, according to Monitor™ statistics. Women (55 percent) and consumers under 35 (65 percent) are significantly more likely than their counterparts (34 percent) to seek updates at least every month, if not more. Some 14 percent of consumers would like to see new product every two weeks, while 7 percent say they want new choices every week.
But rather than just putting something — anything! — new onto the floor, stores can better pinpoint what consumers want by asking the right questions of their data.
"Microsoft is working with a partner called Trendalytics that offers a service with detailed reporting and analytics around brands, trends, and local preferences gleaned from various sources of data including social," Shridhar says. "Combining demographic and economic indicators with the retailers sales data, they can determine interesting patterns and correlations that give them insights into the impact of the economy on specific trends and purchasing behaviors. The data also enables them to determine trends and behaviors among very granular segmentations of their customer base."
Although the majority of consumers prefer to research (65 percent) and browse (53 percent) apparel online, Monitor™ statistics show the majority would rather be in-store for the remainder of their shopping journey — asking questions (69 percent), purchasing (76%), asking post-purchase questions (57 percent), and re-purchasing the same item (56 percent).
Lately, besides the traditional online/in-store outlets, designers are adding a see-now-buy-now (SNBN) element to their runway fashion shows. Burberry, Tom Ford, Rebecca Minkoff, and Paco Rabanne, among others, will or have already offered SNBN collections. As reported in Vogue, some Paris and Milan houses are rejecting the approach outright, saying the traditional 6-month production cycle works. But music used to be purchased in record stores and TV shows unfolded over the course of a year, not in a binge-watching weekend. Today's consumers want what they want immediately. And while the number of consumers who can afford to buy luxury fashion straight from the runway is limited, the practice is still going to affect both the designers' and retailers' supply chains.
"The See-Now-Buy-Now trend is forcing brands to either produce a large amount of inventory before receiving demand or block production capacities in order to be more responsive – putting brands at risk of overstocking, waste and returns," SAP's Schneider says. "SNBN solidifies the concept of the digital transformation. Price and in-store customer service are no longer enough for consumers – they're interested in the instant digital experience being offered by retailers. With a digital core, retailers have the flexibility to shift business processes in real-time to deliver outcomes produced by mobile moments – such as social media sentiment pertaining to a particular collection at a runway show. For a consumer, it all comes down to experience, service, and convenience. Brands have to respond to these dimensions — and SNBN is one aspect of it."