Smartphones have become such an appendage that when people are running out of the house, it's more conceivable they would forget their wallet before they forget their device. It's this reality that has made mobile payments so important for retailers, who are endlessly searching for ways to make the shopping experience quick, easy and seamless. And in 2016, mobile pay is projected to see its biggest growth yet.[quote]
This year should see a 210 percent growth in mobile payments, according to eMarketer, leading to $27.05 billion in total U.S. mobile transactions.  Not only are consumers shopping via mobile more often, but also the prevalence of mobile payment options has made consumers more comfortable with the idea. Statista expects the number of users who will make proximity mobile (in-store) payments will increase from 16.4 million in 2014 to 37.5 million this year — and reach 69.8 million by 2019.
"Adoption is growing thanks in part to smartphones including the mobile wallets in the phone set up," says Nick Nayfack, senior leader of mobile product management for Vantiv, a leading payment processor. "This encourages more consumers to try the application when they get their new smartphone with Apple Pay, Android Pay, or Samsung Pay. The standard features encourage consumers to test it and see if they like it. The experience at the point-of-sale can vary widely from quick and easy, to incredibly complicated. Once that experience improves to be four or five times better than the credit card checkout, you will see more usage. We do think 2016 will be a landmark year for the rise in mobile payments."
Perhaps not surprisingly, Millennial shoppers lead the mobile payment charge. A Vantiv survey shows 46 percent of Millennials use mobile payments regularly, with GenXers following closely behind at 41 percent.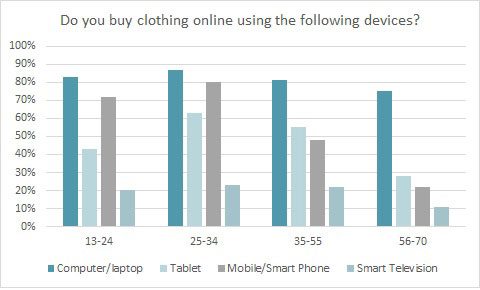 For apparel retailers, the impact stands to be significant. Currently, more than half of all consumers (54 percent) browse for apparel online using their smartphones, according to the Cotton Incorporated Lifestyle Monitor™ Survey. However, their favorite way to actually buy clothes is in a physical location (70 percent).
But once in the stores, shoppers are rather quirky. The large majority (82 percent) say they prefer the sales associates leave them alone, the Monitor™ shows. And, 32 percent of men and 16 percent of women say when they need to buy new clothes, "I go in, get it and leave." In other words, they want the experience to be quick.
"Apparel brands need to create great shopping experiences that don't get interrupted by a clunky payment experience," says Scott Fitzgerald, senior vice president at BlueSnap, an online payment processor. "Ultimately the last thing a merchant wants is for their customer to be fumbling for a credit card when they are ready to pay. That is why we are focused on enabling wallets and simpler checkout experiences, especially on mobile."
BlueSnap handles transactions for web merchants or stores that offer "order ahead" options. The increase in site-to-store pickup options adds to the importance of a frictionless mobile checkout.
Currently, PayPal is the most widely used mobile payment option, according to Statista. But consumers also have the option of paying via apps (think Starbucks' QR code), phone wallets like Apple, Android and Samsung Pay, as well as major credit card wallets.
However, Fitzgerald says, "Apple's recent announcement that Apple Pay will be available for online purchases by the holidays will certainly give PayPal and other wallets some competition."
And competition is already fierce. Just this week, MasterCard won 16 Best in Category awards at the 10th Annual Pay Awards in New Orleans. The judging panels focused on prepaid, payments technology, and retail and loyalty to pick the best in the categories. MasterCard's MasterPass won for "Best Online or Mobile Commerce Solution" in the retail/loyalty category.
"We are honored to see MasterPass gain recognition for the simple and secure shopping experience that it enables," said MasterCard's Matt Barr, group head, digital payments and labs.
Nayfack says security, as well as ease-of-use, have been major hurdles in mobile payment adoption.
"Consumers need a clear reason to use mobile versus existing payment methods," he says. "Merchants need to leverage existing offerings to provide preferred checkout or payment in lines to help drive use. In addition, value adds like offers or coupons can also push consumers to use mobile."
More than 5 in 10 consumers (55 percent) say they are likely to purchase clothes from a store that offers the ability to receive product information and coupons on their smartphone while in-store, according to the Monitor™ data. Millennial consumers — those ages 16-to-36 are twice as likely as Boomers to say they would purchase form a store offering information sent to their smartphones (66 percent versus 33 percent).
"However, these are often just temporary ways to gain adoption that often fizzle," Nayfack says of such promo offers. "In the end, mobile needs to be 10 times better than plastic. This means that ultimately the mobile device needs to stay in our pockets [during the payment transaction]. The future of mobile payments is machine-to-machine payments — where a mobile device communicates with in a point-of-sale system — to automate/semi-automate payments. People want payments to get pushed into the background so they can focus on social interactions that enhance shopping, and save time and money."