If traditional retail had a crush on pop-up shops a few years ago, one could say they've now entered into a long-term relationship.
Brick-and-mortar locations have been losing ground to the ease of ecommerce. But somewhere along the way, retailers noticed that short-term, photographable pop-ups that can be shared on social media have the power to pull consumers out of their homes and into a physical space. These days, it seems, everyone is on board with retailing for the 'Gram. And it doesn't look to be stopping anytime soon.[quote]
After hearing department stores described as behemoths for long enough, Macy's has gone all-in on the pop-up philosophy. A year ago, it bought the New York City-based Story, a storefront that changed its theme and merchandise every two months. Under Macy's, the Story concept will change every few months using curated merchandise and event programming. Macy's launched its first Story collaboration in April in 36 stores nationwide with "Color Story" pop-up shops, which feature more than 400 brightly colored products for men, women, children, and home. The fun, vibrant spaces, and merchandise were curated with social media sharing in mind.
At the recent Retail Innovation Conference (RIC) in New York, presented by Retail Touchpoints, Tanger Outlets' Jessica Dalton, senior director of specialty leasing, said brands have come to realize that consumer interest in sharing pop-up experiences can serve as a valuable brand activation tool to reach target audiences.
"Today on social media, these experiences will be documented extensively by consumers and influencers on Instagram and Snapchat, creating an organic advertising campaign that travels through valuable networks," Dalton stated. "One of the biggest reasons why the pop-up economy is such a success is due to the increased consumer demand for picture perfect experiences. Everybody likes their picture taken in a wonderful environment."
The entertaining diversion created by pop-ups injects some fun into otherwise conventional shopping trips. Consider that most shoppers still prefer to buy their clothes in a store (71 percent), according to the Cotton Incorporated Lifestyle Monitor™  Survey. The majority (74 percent) prefer to do so because they want to try on clothes, followed by a desire to make sure the clothes fit (73 percent), see the item in person (67 percent), and feel the fabric (53 percent).
But about half of all consumers (49 percent) say they would be likely to buy clothes from a store that offered a pop-up shop featuring complementary apparel brands, according to Monitor™ research. Consumers under 35 years old are significantly more likely to purchase from a store that offers pop-up shops than their older counterparts (57 percent versus 40 percent).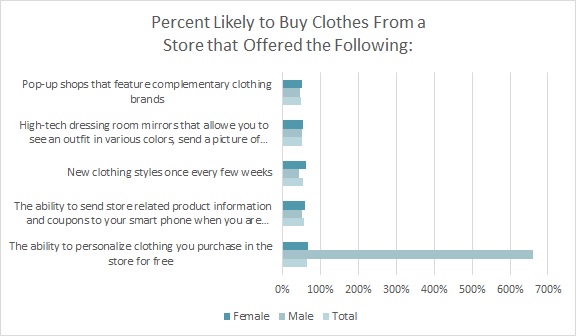 Last year, Macy's also launched The Market @ Macy's, which is basically a service for brands that wouldn't necessarily have traditional store locations. In a separate panel discussion at the Retail Innovations Conference, Macy's Parinda Muley, vice president, innovation and business development, explained how the retailer's ability to provide a total retail experience for online brands is good for both parties.
"We have premium real estate, a substantial customer base, end-to-end storage operations. We're taking care of staffing, allowing them to access our POS system, and we set up their space with fixtures and all of the operational requirements," Muley said. "We recognize that as the landscape continues to evolve, and there's this increased pressure to stay relevant, it becomes critically important for us as an organization to change that mindset and continue to try to stay relevant in this space."
Melissa Gonzales, CEO of Lionesque Group, which terms itself as retail strategists and "pop-up architects," told the RIC audience that her firm has worked mostly with digital-first brands. It uses overhead sensors and camera vision to track traffic and dwell times on various products.
"We're also tracking the halo effect that's happening," she said, explaining that her firm looks at what's happening to ecommerce traffic in the zip code radius for the duration of the pop-up, as well as the following month or two. "Also, what happens to the average order value of existing customers? Are we converting new customers? For example, M. Gemi sold flats really well online. But high heels are a difficult conversion online because it has a different fit. When we brought these customers into the store and they bought their first pair of high heels, they actually returned to the website 1.7 times faster. Tracking those different customer buckets and segments is an important part of the data collection that we're doing."
Often, pop-up shops give customers the ability to personalize their purchases, like the custom patches kids can choose for Levi's denim jackets at Macy's Story. Something small like this can be quite meaningful to consumers. Monitor™ research shows 70 percent of shoppers would be more loyal to clothing brands and retailers that give them the ability to customize their apparel.
Other pop-ups serve as shoppable showrooms, where consumers can touch and even try on product, but have it shipped to their home. This lets shoppers experience the product, but brands don't have to keep full stock on hand.
While Story themes at Macy's might last a few months before changing completely, other brands may truly just pop up for less than a week. Depop, the fashion marketplace app for Gen Z creatives, held a two-day event in New York last weekend. Termed Depop Live, the pop-up featured immersive shopping and educational experiences, workshops, panels and performances that were all open to the public. The long list of participants included American Deadstock, Devon Lee Carlson, Heron Preston, Sandy Liang, and Telfar.
"Our community is filled with incredibly talented people who are transforming fashion in so many different ways," says Depop's Maria Raga, CEO. "This event is an opportunity for us to showcase the creativity that takes place on our app and to surround them with other inspirational creatives from the fashion, art, music and design worlds."