The recent New York Denim Days Festival, a two-day event open to the public, combined the best of what festivals have to offer: food trucks, live music acts, industry panel discussions, fashion shows, giveaways. And, of course, a lot of denim.[quote]
This year marked the third time the Denim Days Festival has been held in New York. It's also held in Amsterdam and Nashville, bringing together consumers and makers of denim, and those who appreciate the blue jean lifestyle. Nearly two thirds of consumers (62 percent) say they wear denim jeans or shorts at least three times a week, according to the Cotton Incorporated Lifestyle MonitorTM Survey.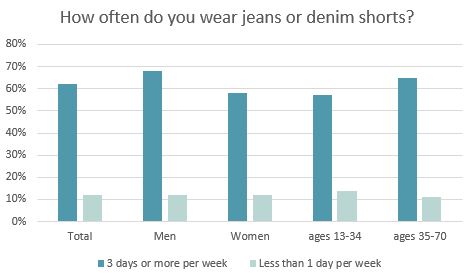 Katie Golinczak, founder and designer for contemporary menswear collection Swonne, said the festival was a great opportunity to meet with consumers.
"When we did the show last year, we had just launched, so we weren't selling anything. This time, we're meeting customers, hearing feedback and selling product," Golinczak said during the show. " We've done trade shows but to me this is more magical. It's my heart and my blood, because it's everyone that loves denim and indigo all under one roof. It's not only customers, but we're meeting collaborators, and talking with the different booths and pop-ups. This is much more fun than a trade show. "
The event also served as the kick-off for a collaboration between Cotton Incorporated's Blue Jeans Go Green™ denim recycling program and Recycle by Zappos for Good, the community outreach arm of Zappos.com. Blue Jeans Go Green™ program aims to reduce textile waste by collecting denim to be recycled and reused as natural cotton fiber insulation, which is contributed for building efforts in communities across the country. By joining forces with Recycle by Zappos for Good, the process has been made easier for those who want to donate, as they can simply download prepaid mailing labels by logging into a Zappos customer account.
"Providing consumers with pre-paid mailing labels makes participating in the denim recycling movement so much more accessible," explained Andrea Samber, director, consumer marketing – strategic alliances at Cotton Incorporated.  "We are proud to be part of the Recycle program by Zappos for Good, which has assembled so many powerful and sustainable options for helping others.  Zappos for Good is the newest addition to our ever-growing roster of fantastic partners working to close the loop on cotton sustainability and give back to communities across the U.S."
On both days of the festival, the Blue Jeans Go Green™ booth drew long lines of attendees who were interested in the recycling program. This tracks with the fact that more than two-thirds of consumers (68 percent) are concerned with the overconsumption of goods, according to MonitorTM research. Additionally, U.S. consumers (75 percent) say they're concerned with environmental and social issues, according to the Cotton Incorporated 2017 Global Environment Survey.
Gina La Morte, designer of the TRADE by Gina La Morte collection, showed her product at the festival for the first time this year. TRADE was showing in partnership with Saitex, a LEED-certified sustainable denim factory that's based in Vietnam. La Morte said her line was created with conscious design in mind.
"We use recycled fabrics and trims, materials that are local from upstate New York, and recycled pieces from India that support a women's co-op of domestic violence victims," La Morte said. She worked as a celebrity stylist before starting her line. But La Morte said she didn't want to create just another pretty apparel collection.
"I want to bring awareness and support organizations that help women and children who suffer from domestic violence or are victims of human trafficking," she said at the show. La Morte donates 20 percent of net profits to organizations like Saving Innocence in Los Angeles. "We call the line 'beautifully broken,' to show you can take something, even a person, and see how it can be resurrected, re-created and reformed into something beautiful. It's been incredible meeting people here at the show."
Cotton Incorporated's Rachel Crumbley, senior product trend analyst, presented show attendees with a denim forecast for Fall/Winter 2020 and Spring/Summer 2021. After traveling the world, she said she sees four main categories emerging in denim: "Desert Mystic," "Subversive," "On the Mend" and "Mash Up."
"Desert Mystic came about because we're seeing a very strong visual direction and a lot of inspiration in fashion, social media and even product design coming from the beauty and mysticism of the desert," Crumbley said.
Desert Mystic manifests in more natural stones being used as accents, as opposed to rhinestones, as well as "trippy" '70s-inspired colors and handcrafted-looking fabrics. And continuing with the theme of natural, clothes will be treated with natural dyes. For example, Cotton Incorporated's product development team used the stems and leaves from the cotton plant that would normally be considered waste to create a very natural dye, one that lends a certain unprocessed effect to denim's indigo.
The Subversive look will combine dark washes with glowing color combination, as well as plaids that hearken back to grunge and punk rock, zipper accents and color-bleeding effects.
On the Mend incorporates the idea of reusing and reducing waste. Crumbley showed the audience a garment that mimicked an Americana hooked-rug motif but was really made from what would have been discarded pieces of denim. Items in this category will also be made from piecing together denim made from different washes for depth and creative effect. And bright, visible top stitching — resembling rudimentary fabric mending — will be used as an accent.
The Mash Up category will include denim with thermal properties whose color responds and changes to body heat, a mix of photorealistic denim prints that blend modern and historical timelines, and functional details like layers of belt buckles running up the leg of a jean.
Judging by Crumbley's forecast, enthusiasts like those at the New York festival can look forward to a veritable barrage of truly fashionable, functional denim styles.