Between employees working from home and students going to school in virtual classrooms, the normal pattern of buying fall apparel isn't exactly business as usual. But one thing that is certain is consumers are searching for comfort wherever they can find it. For apparel retailers, that means offering an assortment of soft, cozy clothes.
At New York Clothier, a men's wear store in Pendleton, OR, Kevin Stewart, co-owner and co-designer with Kay Davis, says the shop's Ponderosa Jack line of cotton flannel is proving popular. Shoppers have purchased it even on the hottest 90-degree days, because the air becomes so cool at night, especially in the mountains, that customers anticipate the fall season.
"We experimented with a lot of flannels that people don't usually see," he says. "Some are reminiscent of when Chanel did those multicolored plaids (circa 2013). We did something similar and it moved. So, the customer was looking for something different, but flannel is very visceral. It reminds them of comfort, home, grandfather, father. I like things that ring a bell in people's minds."
All the shirts at New York Clothier are made in the U.S. of 100 percent cotton. Besides the Ponderosa Jack flannels, the store offers the Old School Shirt Makers collection of luxury shirtings.
[quote]
"There's comfort in cotton," Davis says. "And people are excited when they realize that our flannel isn't wool, it's cotton. When they come into the store, we talk with them about the benefits of the fabric and how the shirt is made. And that's when they touch it, and they're like, 'Oh, this is so soft. I love this.' People are really looking for comfort right now."
Nearly 4 in 5 consumers (79 percent) say cotton is their favorite fabric to wear, significantly more than polyester (3 percent) or rayon (1 percent), according to the Cotton Incorporated Lifestyle MonitorTM Survey. Additionally, when describing the attributes of cotton clothes, more than 8 in 10 (84 percent) say they're both the most comfortable and softest, followed by most sustainable (82 percent), highest quality (75 percent), longest lasting (65 percent) and most versatile (64 percent).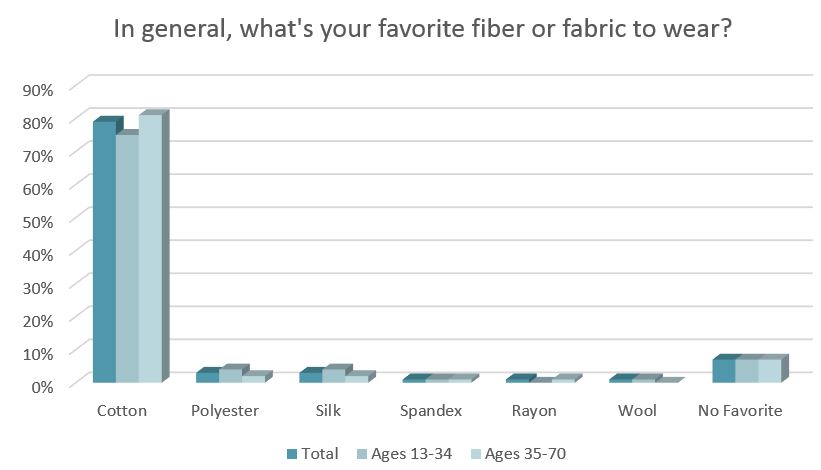 Further, more than three-quarters of all shoppers (76 percent) say compared to manmade fiber clothing, cotton is the best for casual apparel, according to the Monitor™ research. More than 4 in 10 (43 percent) say cotton is also the best for business clothes.
Davis says that versatility of being both casual and work-ready is built into the shirts at New York Clothiers.
"Customers have said, 'Look, from the waist up, I want to look nice because I have Zoom meetings.' People are realizing that things are changing in the way they present themselves, and from the waist up you have to look nice."
Edited, the retail data and analytics firm, points out that a good button-front shirt can double as a men's outerwear option this season.
"Overshirts are perfect for layering as we transition between seasons. Arrivals came in at an average of $50.69 USD," the Edited analysts wrote in a recent weekly review. "Neutrals came in as the top color of the week for overshirts, supplying 25 percent of arrivals, followed by black at 15 percent and blue at 13 percent. Six different retailers invested in neutral options of the trend this week alone."
Men are also looking for vests this season, but less professorial and more in line with a utility or puffer look, according to the Edited team.
For women, stores are rolling out all things leopard, as in tan-and-black-printed dresses, tops and loungewear. And Edited says longer denim shorts are being offered as a women's wear go-to for the change of seasons.
"The longline style still reigns supreme where 48 percent of arrivals are Bermuda length," Edited states. "Blue denim is most common, however, a small range of pastels was also brought in by Zara. Let's not forget about frayed hemlines though. This detail is one not to miss with the majority of arrivals having unfinished hems and distressing. Other notable details include paper bag waists, button-up fronts and light washes."
Nearly two-thirds of consumers (60 percent) say they wear denim jeans or shorts at least three times a week, according to the Monitor™ research. On weekdays, the majority of consumers (57 percent) say they typically don their jeans or shorts in the morning to wear all day.
While shorts might not seem like the average fall purchase, The NPD Group reminds brands and retailers that nothing is average in 2020. Whether consumers are buying work from home items or something for their virtual college classes, everything is different this season.
"Consumers living and purchasing in the here and now is impacting every industry, and stay-at-home learning will have a widespread effect on our lives, and retail, that goes well beyond educational needs," says The NPD Group's Marshal Cohen, chief industry advisor.
While monthly retail sales of clothing and clothing accessories were up 5.7 percent from June to July, the year-over-year sales saw a declined of 21 percent, according to Statista. However, 58 percent of Monitor™ respondents say they shop for clothes by the season, so stores and brands will likely see more consumer activity as autumn progresses.
"Retailers across many industries need to remain at the ready for the consumer dash when the next 'need bell' rings," Cohen says.
Heading further into the season, New York Clothier will be adding graphic T-shirts that will pair with the Ponderosa Jack shirts. The store also sells a business casual suit, hand-knit scarves (by Davis) and vintage-inspired cotton bow ties.
"We have new things coming in next week and I love that," Stewart says. "That's what makes this exciting. There's nothing wrong with an empty rack. That means a good shirt sold."