Before the pandemic, the world was filled with "I want it now!" consumers. High speed internet paired with social media led to a FOMO culture that had stores and brands in a constant scramble to keep up. Then COVID-19 came along and the word disruption hardly seems appropriate. It was more like a baseball bat to the knees. In the half-year that has passed since the pandemic began, supply chain diversity, artificial intelligence and 3D design are taking up more significance in the fashion conversation.
According to the Harvard Business Review, manufacturers in dozens of industries have had to face the epidemic's impact on their supply chains.
"Unfortunately, many are facing a supply crisis that stems from weaknesses in their sourcing strategies that could have been corrected years ago," wrote Tom Linton and Bindiya Vakil in an article outlining the need for more resilient supply chains.
When the pandemic happened, Asian apparel manufacturers lost orders worth billions of dollars as brands and retailers quickly cancelled them in an effort to stem their losses. Some Western companies worked out payment agreements. But there was national discourse about bringing all types of manufacturing back to the U.S.
Nearly 3 in 4 consumers (74 percent) say they check the country of origin information at least some of the time before they purchase clothing, according to the Cotton Incorporated Lifestyle MonitorTM Survey.
 For those who say clothing 'Made in the USA' is important to them, almost three-fourths (71 percent) say it is because they want to support the U.S. economy, followed by they believe clothing made in the U.S. is better quality (53 percent).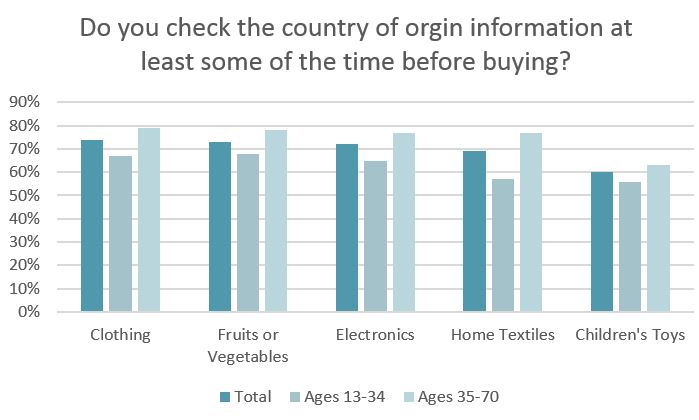 Of course, re-shoring or near-shoring operations is easier said than done. But the pandemic gave companies the opportunity to study the idea more.
The supply chain is "definitely one of our biggest concerns," according to David Alpern, senior vice president of Cobalt Knitwear and division head at Ralsey Group, a private label knitwear and sportswear company. He spoke with Coresight Research's Deborah Weinswig, CEO and founder, in a recent webinar.
"As a division, we're heavily invested in China because of certain value we're able to extract out of the supply chain," Alpern said. "With the increase of tariffs, there was a scare and we sort of dodged that bullet. But with all the geopolitical issues… we're looking to diversify and expand our supply chain base, but there's a cost issue there. China has proven to be very valuable in this COVID situation because while they were experiencing it first and it looked like it could get out of control, they also controlled it very, very well. Also, most of the pandemic happened in the second quarter, which is really not a sweater business. So we have not been affected by it from a production standpoint. We feel very strongly about China, but we're very concerned about the geopolitical issues. That's forcing us to do an uncomfortable diversification into high-risk zones. The countries that don't have the infrastructure are feeling the pain of COVID a lot more."
Whether a crisis is health- or geo-politically related, Retail Systems Research (RSR) believes artificial intelligence will help the industry to respond more nimbly, according to their June 2020 Benchmark Report.
"The retail supply chain as it exists today across many verticals was built primarily for operational excellence and economic advantage, not agility," write RSR managing partners Brian Kilcourse and Steve Rowen in a recent benchmark report. "An underlying assumption of retail supply chains over the past half-century was that consumers bought what retailers had to sell, i.e. the objective was to push as much of a product through the selling channel — principally the store — as possible. But today, consumers are empowered by a world of choices, and they revolt against what they perceive as 'a sea of sameness.' They are also starting to revolt against environmental wastefulness, particularly apparent in apparel. Consumers demand relevant solutions to their lifestyle needs."
The majority of consumers (64 percent) have become more concerned about sustainability and environmental issues since the COVID-19 pandemic began, according to Cotton Incorporated's 2020 Spring U.S. Coronavirus Response Survey. Already, 35 percent of shoppers say they always or usually buy clothes made from sustainable, environmentally friendly or natural materials in an effort to protect the environment. And 56 percent say sustainability/environmental friendliness has had some/a great deal of influence on their clothing purchase.
Going forward, 55 percent of consumers say sustainability and environmental friendliness will be somewhat/very important in the clothes they plan to purchase, according to the Coronavirus Response Survey.
Alpern says sustainable raw material has been the area with the most traction as far as fabric is concerned.
"That's been the biggest area of growth for us that's becoming the key entry now," he says. "So whether it's Fairtrade cotton, recycled polys — those are the areas of biggest innovation. We also think, in terms of performance, antibacterials are an opportunity to add value into our range."
When it comes to speeding up the decision-making process, Alpern says he sees virtual and 3D design as real opportunities.
"You can see an iteration of something, particularly a pattern and color, much quicker," he says. "It may take hours to for the digital artists to do it, but it doesn't take days to make the sample. There's no shipping transit. It can really improve your speed-to-market decisions, big time."
Cotton Incorporated's CottonWorks™, a resource for textile professionals, also sees merit in 3D downloadable digital files. The site recently launched the organization's FABRICAST™ collection for designers and product developers working with two popular design programs access to inspirational and inventive cotton and cotton-rich fabrics for the collaborative design process.
RSR points out that low prices and ubiquitous product availability are no longer enough to win loyalty or sales even in hard times.
"For both retailers selling Fast Moving Consumer Goods (FMCG) and, to a somewhat lesser degree, apparel and specialty retailers, the way to solve their internal issues is via business analytics that can measure supply chain activity as it happens," RSR states. "In a pre-COVID-19 world, this data makes perfect sense. And in a post-COVID world it makes even more sense. As unpredictability swirls around so many things — customer demand, customer tolerance, supply shortages, localized outbreaks, over-inventory issues, regulations for store operations, not to mention manufacturing and store closings — both temporary and permanent — it's no surprise that those selling food and clothing want to react to supply chain events as close to real-time as possible. "
RSR says retailers and brands are looking for technologies that can improve their demand forecasting models, such as using such macro indicators like market data, weather information and social media trends (73 percent). Retailers also want AI and machine learning that can help with capacity planning (59 percent), data cleansing and data robustness (55 percent), real-time insights that are embedded into operational processes (55 percent) and predictive analytics for supplier section (54 percent).
The best way to maximize any AI insights is by having a data scientist on staff, according to RSR. But for those that don't have the budget for a full-time analyst, the firm recommends leaning on tech vendors and ensuring they commit to flexible and ongoing data delivery.
"It is hard to recommend struggling retailers open their wallets to new solutions at a time when their sales are so negatively impacted," RSR says. "But as counter intuitive as it may seem, those who invest in making their business run smarter in these times will stand a much better chance of not only surviving, but in making up some ground."