When deciding the perfect outfit to insta snap for her next yoga class, the wearer might be more concerned with its cute factor than its performance abilities. But activewear makers can help breed loyalty when they include technologies that help consumers meet their fitness goals, even if these features are a secondary purchase driver.[quote]
People are looking to increase their fitness through a range of activities: barre and spin classes, speed walking around the neighborhood, cardio kickboxing… the list goes on and on. The newest activewear gives users great, comfortable looks, yes, but also keeps them cool, dry, and odor free.
At Bemis Associates, a leading manufacturer of heat-activated films, adhesives, waterproofing seam tapes and custom films for industries that include apparel, a line of Sewfree® Bonding solutions was created specifically for natural fibers like cotton.
"The Terra Collection allows designers to reinvent active and outerwear pieces by allowing for a new level of breathability, lightweight versatility, and performance – all while maintaining the aesthetic of a soft fabric look," says Lacey Johnson, global brand director for Bemis.
Johnson says such solutions are important as the industry is seeing an increased use of natural fibers.
"It's a growing trend we're seeing," she says. "Many brands are looking to elevate more traditional silhouettes such as the T-shirt, classic crewneck sweatshirt, etc. These classic silhouettes have been around forever, but now we're helping our brand partners reevaluate them to add a more technical aspect to the designs."
Half of all consumers (50 percent) say they are willing to pay more for water repellent apparel, followed by thermal regulating (48 percent), and moisture management (46 percent) apparel, according to the Cotton Incorporated Lifestyle Monitor™ Survey.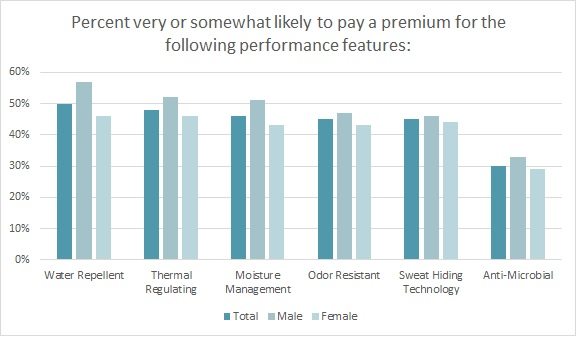 Such features are becoming more attractive to activewear consumers. In fact, the Monitor™  research shows activewear shoppers are "very or somewhat likely" to seek out odor resistant features (63 percent), moisture management features (60 percent), thermal regulating and sweat hiding properties (both 59 percent), water repellency (53 percent), and antimicrobial features (42 percent).
It makes sense that activewear makers would want to entice consumers with the added performance features they want. Especially considering the fitnesswear category has been a bright spot in a sluggish retail environment. The L2 Digital IQ Index for activewear says the category is one of the fastest growing segments in apparel, and is expected to reach $117 billion in North America by the end of 2020. While Nike, Under Armour and Adidas are the top brands, L2 points out that activewear has seen an influx of new players looking to capitalize on the trend.
"Fashion apparel companies like Topshop and Victoria's Secret have also joined the athleisure movement," the L2 report states. "In this increasingly competitive market, brands and retailers continue to search for growth opportunities and points of differentiation."
L2 points out that consumers are spending more time than ever researching their purchases online, often beginning days ahead of actually buying an item.
"With nearly 40 percent of online purchases either classifying as 'impulse' or without an initial specific product in mind, brands have plenty of opportunity to guide browsers down the purchase funnel."
Certain marketing terms actually stand out with consumers. The Monitor™ survey shows 58 percent of shoppers say the term "keeps you dry" would be most influential in their decision to buy a moisture wicking shirt. Among those shopping for water retardant apparel, 70 percent would be influenced simply with "water repellent." When looking to buy thermal cooling shirts, 61 percent of shoppers find "breathable" the most influential term. And 64 percent of those shopping for thermal warming clothes think "keeps you warm" is the most persuasive term.
Johnson says the Sewfree Bonding offered by Bemis would be appreciated by consumers who workout both indoors and outside.
"The clothes you wear should never get in the way of your performance when being active," Johnson says. "Bemis' technology helps clothes become a second — or third or fourth — skin. Whether this means avoiding chaffing, eliminating bulk, offering greater stretch, moisture-wicking capabilities, visibility with reflective adhesive applications, or protecting fabrics themselves with waterproofing, etc. Sewfree Bonding helps the wearer feel less restricted and worry less about the elements around them."
The success of athleisure has seen activewear brands — especially the Big Three — diversifying by adding designer collections to their arsenals. L2 states Adidas was "miles ahead of the pack" when it introduced its Y-3 collab with Yohji Yamamoto in 2003, followed by Stella McCartney's active line. Not to be outdone, Nike has linked with former Givenchy creative director Riccardo Tisci and Olivier Rousteing of Balmain. Puma has worked with Rihanna's Fenty collection and Vetements has collaborated with both Reebok and Champion.
"Activewear brands have always relied on athletes and celebrities to market their products to larger audiences," L2 reports. "As street style and athleisure infiltrate high fashion, brands are coming full circle by turning to high fashion designers to collaborate on new lines."
But whether it's hardcore gymwear or designer athleisure, Johnson says consumers want activewear that works for them.
"Performance and fashion appeal are expected by both our brand partners and their consumers," she says. "Sewfree Bonding really allows designers to play in both arenas to create sleeker silhouettes that are more lightweight, versatile, and comfortable – without sacrificing a garment's desired performance."