It's no secret that buying apparel online isn't easy, for either the consumer or the retailer. Consumers have to wonder about fit, comfort, and how the fabric actually feels. Retailers have to deal with returns when shoppers realize something that looked great on the site doesn't translate as well to their not-quite-model bods.[quote]
Some brands and retailers are trying to create a workaround, so customers can feel more confident in their online apparel choices.
Rent the Runway (RTR) has already turned to SnapChat and is now using Instagram to give shoppers a better idea of how their dresses will fit. The idea is consumers will be able to more easily see themselves in a certain dress if it's being shown on a live person via Instagram Stories versus viewing it on Rent the Runway's site.
Amazon's Outfit Compare lets users send Amazon photos of themselves wearing two different outfits, and an Amazon stylist gets back to them to say which looks better.
Paco Underhill, the founder of Envirosell and author of "What Women Want, the Science of Female Shopping," says Rent the Runway and Amazon are trying to overcome a basic problem in selling clothes online.
"If you're buying a replenishment of socks, underwear, jeans or shoes, the internet works fine," he says. "But with Rent the Runway, these are special occasion dresses. They aren't a uniform. And the sizes vary between designers. For so many people, the look and feel is really difficult to communicate. And when the look and feel get crossed with price, it's even more difficult to make that sale.
"What's troubling with any of the new initiatives is, if a customer has two failures in a row, that's the proverbial cliff," Underhill states. "If the shopping apps fail twice, it's easy to be disloyal."
In the rough and tumble world of apparel retail, brands are looking to connect and create loyal customers any way they can. Almost half of all consumers (47 percent) say they're less loyal to apparel brands than they were a few years ago, according to the Cotton Incorporated Lifestyle Monitor™ Survey. But 31 percent say they are "very or somewhat likely" to feel more connected or loyal to a brand that connects them with other people who fit their fashion/style on social media or in-person. And marketers might be surprised to find that that figure increases to 54 percent among Millennial males, proving that young men especially appreciate wardrobe guidance. Among Gen Y females, the statistic increases to 36 percent.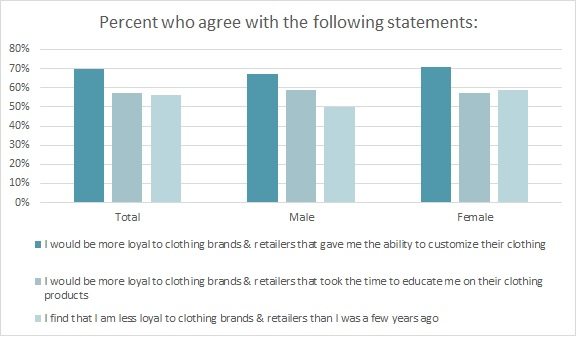 Whitney Fishman, managing partner, innovation and consumer technology at MEC Global, an international media agency network, says RTR's approach using Instagram isn't necessarily one of the most high tech features out there, but it allows consumers to see how a dress fits and moves on real people.
"The way a dress looks on a model is probably not how it will look on you," Fishman says. "So seeing how it looks on regular people and hearing what they have to say about it is about as close to going to a store and trying it on as you can get. There's definitely value in testing platforms and seeing where your customers are. Rent the Runway's Instagram initiative is a great example of a brand being where its customers are and helping them be more confident in their online purchase."
The smart designers and retailers are recognizing they have to go beyond just selling their brand to appeal to today's shoppers. That's because fully 97 percent of consumers say fit is the most important factor in their apparel purchase decision, according to the Monitor™. That's followed by comfort (96 percent), price (94 percent), quality (93 percent), durability (91 percent), color and style (both 87 percent), and softness (79 percent). As it turns out, brand is important to just 50 percent of shoppers, falling behind laundering instructions (62 percent) and whether an item is made in the USA (52 percent).
Fishman says some of the newest technology is helping to more accurately determine what consumers want, need or prefer. She points to Amazon's Echo Look device, which acts as a standalone selfie machine, and its companion app that allows users to view and take full-length pictures of their outfits and compare styles. The Style Check feature uses a combination of machine learning and advice from live specialists to help users figure out what to wear. Amazon's website and mobile app already offers "Outfit Compare," a similar feature that allows users to save their lookbook photos while giving Amazon real-world data on what is in a consumer's closet and what they like to wear.
"A connected closet can be very helpful to the consumer, as long as it's done in a way that's not creepy, but more of a support," she says. "You don't want a closet saying you have nothing to wear and then suggesting you buy new jeans. But if it can remind you of a purchase you haven't worn yet, or recommend a tailor so something fits better, that's great."
Underhill says some of the latest efforts to reach consumers are interim technologies.
"I think we'll eventually have a personal shopping bot that's familiar with our sizes, measurements, our closets — and it will use our history in helping us choose our wardrobe," he says. "Call it a closet consultant that functions electronically. So rather than have the bot run by the retailer who's always trying to make the sell, we want the tech on our side. On our side, it's somebody who says that dress matches those shoes in your closet. Once the bot is accepted by consumers, there will be a code on clothes that informs the bot of color, size and other information that can be taken into consideration for purchase. And that will really simplify and help online sales."