Retailers are regularly being told they need to surprise and delight in order to keep customers engaged and coming back. That said, it seems the subscription box delivery model has the surprise factor built right in. And if users aren't delighted, they can very well send items back — often free of charge. It seems like the perfect shopping experience for the modern, busy, e-savvy customer. But with the category becoming ever more crowded, the question for key players — and their competitors — is, "How the field is evolving?"[quote]
Birchbox is credited with launching the subscription box movement in 2010 when it started offering women about a half-dozen samples of beauty products for $10 a month. The boxes were curated based on user profiles with the idea subscribers would buy full-size versions of the items they loved.
Soon enough, subscription box services started popping up for everything: food, toys, wine — and, of course, apparel for men, women, and children. As of April 2017, subscription company sites had roughly 37 million monthly visitors, an 831 percent increase since 2014, according to Hitwise, a division of LA-based Connexity, an ecommerce marketing automation platform. Beauty commands the largest segment of visits (35 percent), followed closely by food (33 percent), and then apparel (16 percent). Apparel's share has increased by 26 percent over the last three years.
The top apparel box sites, according to Hitwise, are Stitch Fix, which has 2.5 million monthly visitors, Bespoke Post (673,000), Dia (510,000) FiveFourClub (454,000), and GwynnieBee (413,000). But there are many, many more. My Subscription Addiction, a directory and review site for sub-box services, lists 137 companies for women's apparel alone.
Kantar Retail's Tiffany Hogan, senior analyst, says she sees delivery services as a trend that will continue to grow as consumers seek more convenient ways to shop — but they will continue to evolve.
"Take a look at Amazon's Prime Wardrobe. It's currently a free try-on service, which in itself provides convenience without any personalization — though I think that will come later," Hogan says. "ThredUp, an online resale retailer has also launched a new personalized box service, very similar to the style of StitchFix. In the future, the focus will be more on creating a personalized, curated selection, rather than on 'subscription' aspects."
Among those who prefer to buy apparel online, 42 percent say it's because it's easy or easier than purchasing clothes in-store, according to the Cotton Incorporated Lifestyle Monitor™ Survey. Another 20 percent like the convenience, followed by "better selection" (18 percent), cheaper/better prices (11 percent), faster (11 percent), they avoid crowds (7 percent), and they avoid going to the store (3 percent).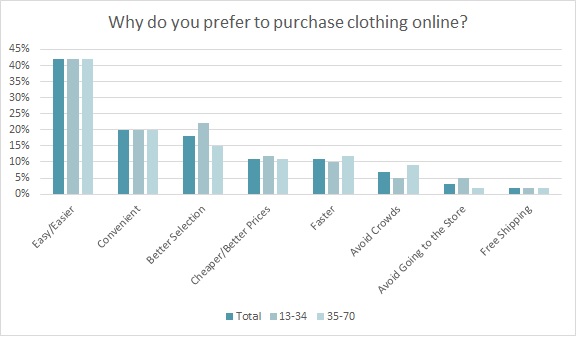 Of course, a big draw for these subscription boxes is the idea that a personal stylist is working to curate their boxes. When users sign up, they fill out a survey, creating a style profile. Stylists — and data analytics — help decide what should be placed in each shipment.
"I think the personal stylist factor is very important," Hogan says. "We're seeing apparel shoppers gradually starting to prioritize value over sheer low prices, which means they will be more willing to pay for services like this in the future, and see value in the curation efforts of stylists. These services are also harnessing data in a big way, using every touchpoint of information they have with consumers to tailor the experience and the product."
While the crates and bento boxes of apparel might delight customers, they provide another headache for traditional retailers, whether they're brick-and-mortar or online. There is irony in the fact that consumers love the personal stylist aspect of the sub-boxes, because when they're in actual stores, most shoppers (82 percent) prefer that store associates leave them alone, according to the Monitor™ data. At the same time, 38 percent feel like store associates do not care about them or their needs. It's like retailers can't win. Meanwhile, among those who browse or buy clothes online, 83 percent are concerned with whether the clothes will fit, and worry about not being able to try things on (78 percent). These regular sub-box deliveries allow consumers to try on clothes while avoiding store employees, yet getting personalized service.
Hitwise finds that America's apparel subscription box consumers also shop at Aerie, Anthropologie, ModCloth, Banana Republic, Nordstrom, and Zulily. And when it comes to the consumer mindset about shopping, Hitwise found sub-box shoppers admit, among other things, that they "don't mind companies using information about me to better understand products I might want," "I'm consumed with getting the best deal," and "All things being equal, I'm more likely to buy online than in a store."
Amazon's entry into the arena is likely to amp up soon enough. Currently, Amazon prime subscribers can choose three or more pieces of apparel, shoe or accessories to fill their box. They have seven days to decide what they want to keep and what they'll send back. Considering Amazon now offers its own private label apparel, has a formidable search engine and data analytics that are on an enormous scale, a sub-box — that Amazon could potentially deliver via drone wherever the user is at that moment — seems inevitable.
"I think Amazon has already read these signs and will combine its new Echo Look, Stylist services, and Prime Wardrobe to create a new complete subscription service," Hogan states. "They're launching slowly and learning so it's definitely one to watch. For other retailers, whether or not they should get into this business will be case by case. But I definitely think it's a viable strategy to pursue particularly with younger shoppers who are more brand curious and willing to try out new products and brands."