The pandemic is still making it hard to make plans when it comes to going back to work. But apparel brands should count on one thing: no matter where employees land, comfort will still be king.[quote]
Earlier this summer, major U.S. companies were preparing for employees to "return to the office." Most were planning for hybrid or "in-person first" employment models, according to a CNBC survey. And 70 percent were not going to require a vaccination. Then the Delta variant reared its ugly head.
Now, 76 percent of employees are hesitant to return to their offices and 25 percent are refusing to come back at all, according to a Gartner survey of human resources leaders. That's led companies to push back their reopening dates to some time in the fourth quarter. It's also led to the return of mask policies, as well as an increase in vaccine mandates. The prospect of perhaps finally seeing colleagues in-person is inspiring shoppers to add some fresh statement pieces to their wardrobes. Although, the "should I stay, or should I go" aspect of returning to the office continues to have workers reaching for the comfortable pieces they've embraced since the 2020 shutdowns began.
"Over the last several years, consumer trends have been favorable towards active apparel from athletic wear to athleisure," said Delta Apparel's Bob Humphries, chairman and CEO, in a recent earnings call. "And the pandemic has only accentuated the trend, as more people are working from home and enjoying the outdoors."
Delta's brands include Delta Premium, Soffe, and Salt Life.
"We are manufacturing at all-time record levels to build the inventory to service the market demand for our products," stated Deb Merrill, Delta's chief financial officer and president of the Delta Group.
After more than a year of dealing with COVID-19, over 8 in 10 consumers (87 percent) continue to self-soothe with comfortable clothes, saying wearing them "helps me feel better right now," according to Cotton Incorporated's Coronavirus Response Consumer Survey, (Wave 7, August 6, 2021). And 61 percent say the style of clothes they wear now is different from what they wore before the pandemic.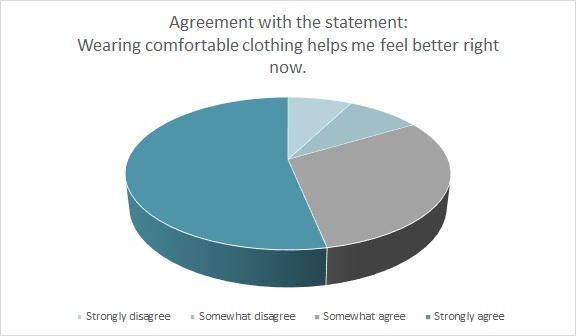 This appreciation for fashion's softer side may linger for quite some time, especially among younger workers. Consider that a YPulse survey showed 55 percent of employed 20-to-38 year olds working remotely plan to work from home post-COVID.
"Specifically, 37 percent of Millennials plan to continue working from home part-time post-COVID, while 27 percent are planning to continue to work from home full-time," the YPulse survey states. "While that does mean many will be returning to the office, we can expect that flexible and hybrid work schedules will be an expectation for this generation of workers — setting a precedent for those who come after them."
Apparel brands like Lee realized no one would want to give up comfort, even if they're heading back to an office. So the brand, known for its denim, designed women's bottoms that look like trousers, feel like joggers and are made of a wrinkle-resistant cotton with stretch. Lee also offers a relaxed fit pant in a wrinkle-free cotton blend, with a flexible waistband and a touch of stretch for added movement. And its Flex Motion trouser is another cotton blend whose fabric keeps it looking crisp all day even though it has a comfortable, non-gap waistband that won't pinch the wearer.
Another apparel brand, Fresh Clean Tees of San Diego, understands some men might not be ready to ditch their pajamas. The direct-to-consumer brand is offering a collection of super-soft shirts made of its proprietary StratuSoft fabric, a cotton/poly blend that offers breathability, moisture wicking, durability, and dimensional stability. Items include its crew and V-neck tees, which work well for layering under a cardigan or jacket in an office situation, as well as its Torrey Polo, which keeps its wearer cool on the golf course or the workplace.
Edited says retailers have begun offering women an assortment of workwear, all displaying increased levels of comfort. For example, women's suits feature culottes or wide-leg pants. White button-front shirts come in breathable cotton, linen and poplin — and are oversized. Denim that has a little stretch and wider legs is favored. And customers prefer soft performance fabrics, even at work. Edited suggests promoting those qualities in emails and product descriptions.
It might be especially beneficial to do that now, considering the clothes consumers have worn the most over the past months are T-shirts (54 percent), followed by activewear/athletic shirts, pants or shorts (39 percent), athleisure shirts, pants or shorts (34 percent), sweatpants, sweatshirts and joggers (32 percent), leggings or yoga pants (29 percent), and denim jeans (23 percent), and, according to Coronavirus Response Survey (Wave 7).
Brands might also consider promoting their garment's fabric more, especially if it's made of cotton. More than 7 in 10 shoppers (73 percent) say cotton is their favorite fabric to wear, according to the Cotton Incorporated Lifestyle Monitor™ Survey. On its own, the majority of consumers already considers cotton to be breathable (80 percent), "keeps them warm" (72 percent), "keeps them cool" (66 percent) and is hypoallergenic. And the majority of shoppers say they're likely to seek out moisture management technology in their activewear (58 percent) and casualwear (52 percent). Most consumers are also likely to be on the lookout for sweat-hiding technology in their casualwear (61 percent), activewear (60 percent), and businesswear (53 percent).
Cotton Incorporated offers technologies that augment cotton's natural benefits. It's TransDRY® and WICKING WINDOWS® technologies offer consumers the fast-drying and moisture-wicking performance of synthetic fibers while retaining the comfort and softness of natural cotton. STORM COTTON™ technology is a water-repellent finish for cotton that offers protection from rain and snow. And Natural Stretch provides a comfortable stretch combined with the natural softness of cotton — without the use of any spandex.
As summer winds down, it's impossible to predict just how disruptive the Delta variant may become here in the U.S. But stores and brands that give consumers comfortable clothes that can easily adapt to an office return stand to come out ahead.
As trends expert Helen Lambert, CEO of The Style Pulse, told NPR, "Now that we're coming out of the pandemic, we're able to go out a little bit more. People want to get dressed up again, but we still want to have the comfort."