If you're one of the unfortunate who's experienced the triple-digit heat that keeps scorching the Western states, it probably doesn't sound like a stretch to learn last month was the warmest June on record. Meanwhile, forecasters expect more 90-degree-plus days than normal for the rest of the country this summer. All of which means people everywhere will be trying to stay as cool as they can. And in an age of synthetic clothing materials, a new ad campaign is reminding consumers that they can stay #CoolerInCotton. [quote]
DDB New York launched the campaign last week for Cotton Incorporated, with the aim of spotlighting the fabric's natural warm-weather benefits like breathability, odor repellency, and easy care. It encourages shoppers to check fiber labels prior to buying so they don't purchase a garment that may feel like cotton but is actually a synthetic.
Splendid's Pamella Protzel-Scott, creative director and vice-president of design, says cotton is a "huge influence" in its upcoming spring/summer collections.
"It is a constant go-to during these seasons," she says. "It's used in our favorite core tee fabrics, as well as our soft wovens. We look to cotton to be incorporated into lightweight shirtings, shorts, bottoms, and dresses. It's one of the key fabrics we use."
In general, more than 3 in 4 consumers (78 percent) say cotton and cotton blends are their favorite fibers to wear, according to the Cotton Incorporated Lifestyle Monitor™ Survey. That's trailed by polyester (3 percent), silk (3 percent), and Spandex (1 percent).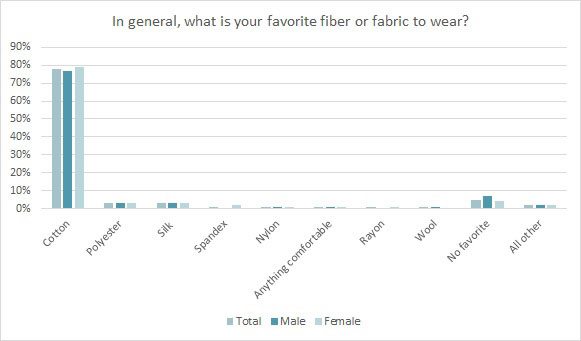 But the fabric preference is particularly notable during the hot summer months, as 87 percent of consumers say that, compared to clothes made of synthetic fibers like polyester and rayon, cotton is the most comfortable, according to Monitor™ data. Another 85 percent says it's the softest, followed by 81 percent who find it to be the most reliable and 71 percent who say it's the most versatile.
Also of note for brands: the Monitor™ survey finds that nearly two in three of all U.S. shoppers (53 percent) say they're willing to pay more for natural fibers.
That's good news for designers like New York City-based Michelle Helene. Her luxury spring/summer 2016 bespoke collection features slip dresses, hand-crocheted tunics, and a sheer bomber. Cotton is used liberally throughout the collection.
"Wearability is always important — you can't feel sexy or confident if you don't feel like yourself," the designer says.
More than 9 in 10 consumers prefer their jeans (96 percent), tees (96 percent), socks (93 percent), and casual shirts (91 percent) to be made of cotton and cotton blends, according to the Monitor™. Another 86 percent prefer it for their pajamas/sleepwear, while 78 percent are partial to it for their dress shirts. Additionally, the majority of consumers are bothered by brands and retailers that substitute manmade fibers in their tees (59 percent), underwear (59 percent), sheets (57 percent), jeans (53 percent), and dress shirts (51 percent).
The humorous #CoolerInCotton campaign centers around a Broadway-style music video. In it, a cheerful singer dances her way past sweaty, smelly people who wore clothes made from something other than cotton. The ad's star sings:
"You want to wear more, wash less,
smell good, impress
at work, on a date,
Summer will be great with cotton."
Throughout her musical number, the star stays looking cool and crisp because, unlike the others, she's wearing cotton ensembles. In addition to the video, a fully integrated digital and social platform will drive the message that the breezy, natural fiber is more than capable of handling summer's heat and humidity.
Cotton Incorporated's TransDRY® and WICKING WINDOWS™ technologies give cotton the ability to wick moisture like synthetics, with the added benefit of cotton's natural ability to release odors and wash clean. Research shows more than 6 in 10 consumers are likely to seek out odor resistance in clothes like activewear (63 percent), intimates (61 percent), and casualwear (53 percent). Consumers will also look for moisture management in their activewear (60 percent), intimates (54 percent), casual (49 percent), and businesswear (40 percent).
While the #CoolerInCotton video features fun women's styles, the recent European men's shows prove male shoppers will also be able to look plenty stylish next year while staying cool for the summer. To help men figure out how to navigate summer without breaking a sweat, WGSN pointed to items like Tiger of Sweden's cotton suit and T-shirt, and Gucci's cotton sportcoat that could be paired with a mock turtleneck of the same natural fiber.
For its part, Protzel-Scott says Splendid has varied cotton textures in its 2017 assortments for men, women, and children.
"We have amazing, soft cotton knit slub tees, woven double-faced tops, shorts and pants, as well as striped cotton gauze skirts, dresses, and swim cover ups," she says. "We truly try and incorporate it into every category."
At the end of the day, the majority of consumers (77 percent of men, 71 percent of women) believe better quality garments are made from natural fibers like cotton, according to Monitor™ data.
"Cotton is truly the ultimate luxury of summer," Protzel-Scott states. "It embodies the lightness, airiness and easy care that reflects the Splendid brand."
Save
Save
Save
Save
Save
Save
Save
Save