When someone needs a new pair of jeans, does she "go shopping" for them, or are they an item thrown in a cart when she "does" her shopping? Industry experts say when consumers are "going" shopping for clothes, they don't want a humdrum routine. They want an interesting, exciting experience — and that goes even more so for the Millennial set.[quote]
That's why we're seeing malls with amusement parks, stores hosting girls' night champagne shopping, and limited run pop-up shops — just a few techniques retailers are employing to keep consumers coming through their doors. The growth in online shopping has put more heat than ever on brick and mortar stores. The U.S. Census Bureau reports total retail sales for the first quarter of 2016 increased +2.2 percent over 2015. But e-commerce sales for the same period jumped +15.2 percent, accounting for 7.8 percent of total sales.
While the tactile experience of shopping for clothes is still preferred by consumers, the industry is very much aware of the lure and ease of online and mobile shopping, thus the now-requisite omnichannel approach to doing business. But Millennials want more of an experience and education when they shop in-store, leaving retailers to find more ways to suit their preferences.
Dr. David Lewis, author of "The Brain Sell: When Science Meets Shopping," and chairman of the UK-based research consultancy Mindlab International, says stores need to do more to keep shoppers from feeling like they're "doing" their shopping when buying new clothes.
"'Going' shopping is an experience akin to entertainment," he says. "Millennials have this need for excitement, for stimulation," Lewis says. "Malls give them a chance to get away, to meet up with people. So the more sociable a center is — and some in the States and in Canada are huge with the ice rings and amusement parks — the more likely they are to attract people. And then they can use their sales techniques to move their merchandise."
Experiential retail concepts are effective in drawing store traffic among overall shoppers, but even more effective among Millennial shoppers. Millennials are significantly more likely than average shoppers to shop at stores offering experiential concepts such as clothing personalization (74 percent versus 64 percent), high-tech fitting rooms (68 percent versus 52 percent), the ability to send store-related product information and coupons to their smartphones (66 percent versus 55 percent), pop-up shops (62 percent versus 49 percent), and a restaurant or bar within the store (56 percent versus 45 percent), according to the Cotton Incorporated Lifestyle Monitor™ Survey.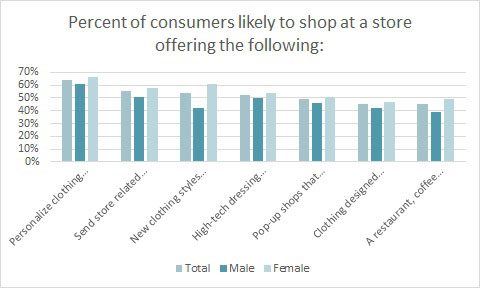 "Retailers have to re-think their trade," says Lewis "One would see very little difference between the way things are sold now and how things were done 4,000 years ago. The world has changed so completely, but most stores are just not keeping up with it. However, if you're going to make the effort to go to an apparel store, you want an experience. If you're buying routine fashion, you'll buy it online. But if want to get a kick out of your clothes and the process of buying it, you need a store that gives you an experience."
And just as physical stores are concerned with e-competition, web-based businesses are recognizing the importance of storefronts. For example, Rue La La recently teamed with Cotton Incorporated for a two-day-only pop-up shop, the first of its kind, in Boston. The two entities collaborated on the #SummerofCotton pop-up, which gave customers exclusive access to a collection of cotton apparel, ranging from activewear to high-end dresses, before it became available on RueLaLa.com
The shop drew shoppers in with a DJ, a fashion illustrator, a GIF photo booth, sweet treats, free tote bags, and blogger Jacey Duprie of Damsel in Dior. Upon the conclusion of the pop-up, RueLaLa.com featured a cotton boutique takeover on its site for its 16 million members.
"Rue is known for its fun and approachable take on fashion, as well as our keen art of storytelling," said Rue La La's Jeff Steeves, senior vice president, marketing. "Members expect this full experience when shopping on Rue, from the product they buy to the content they consume. Through this pop-up shop we are taking it one step further doing what we do best online – offline."
Kim Kitchings, Cotton Incorporated's senior vice president, consumer marketing, says today's retailers and consumers are trying to find the balance between online and in-store shopping. "A concept pop-up shop bridges the gap and gives consumers a chance to touch and feel a curated collection of fine cotton apparel available through Rue La La."
That bridge between virtual and reality is important to consumers. Because although 65 percent of shoppers research clothes online before they make a purchase, the Monitor™ stats shows the majority prefer to go in-store for the remainder of their apparel shopping journey, which includes asking questions (69 percent), purchasing (76 percent), asking post-purchase questions (57 percent), and repurchasing (56 percent).
Research also determined 7 of 10 consumers would be more loyal to brands that allow them to customize their clothing, a figure that jumps to 78 percent among Millennials, according to the Monitor™ data. And most shoppers, 63 percent, say clothes shopping is a fun social activity; a number that increases to 73 percent among Millennials.
A "fun" shopping experience depends on the demographic and Lewis points out that not every shopper needs a water park or ski slope to be drawn to a store. Instead, something like a designer meet-and-greet can work just as well. But, he says, basic retail techniques are still some of the most important.
"Shoppers don't want to have to queue up for changing rooms, they don't want to go into a changing room that's messy with hangers and clothes lying all around," he states. "You've got to really be on top of your game. And you've got to treat every customer like they're the most important person to ever walk through the door."
Save
Save
Save