Recently at a Northeast clothing store, a woman wearing a winter coat could be heard voicing surprise that shorts were already out on the sales floor. Her shopping companion offered that perhaps the stores were just preparing for spring. Not to be swayed, the woman grumpily exclaimed, "It just isn't the season for shorts."[quote]
Cut to the next day when temperatures in the New York City area reached 78 degrees. Yes, it may not feel like spring just yet, but stores are rolling out the lighter selections that are perfect for the warmer months. Traditional cotton is the go-to fabric of the season. But this season, consumers will find a lot of performance cotton pieces that seriously work as well on the trail or in the gym as they do in the conference room.
San Francisco-based Huckberry promotes outdoor adventures but with clothes that seem easily understood and transitional to a man's everyday life.
"That's really where the origins of Huckberry started — living and working in a city, but when the weekends hit, getting out there," says Ben O'Meara, executive director, brand partnerships and product marketing. Founders Andy Forch and Richard Greiner launched the online store in 2012, and last November opened a Greenwich Village pop up shop that has since become permanent. "At the time, we just didn't see a place in the market that was speaking to us directly. There were plenty of retailers catering to the city style end of the spectrum and similarly on the outdoor adventure end of spectrum. And we appreciated both sides, but wanted something that actually embodied that lifestyle we are living and curated the best of both."
That translates into things like the "Strong Shirt" from Proof. The cotton-rich, button front shirt is made from a durable Cordura chambray that was designed to be extra abrasion- and tear-resistant but, as it's described on the Huckberry site, with "a streamlined style that hides its superpowers." The retailer also carries Proof's Rover pant. This cotton-rich bottom features moisture wicking technology, a gusseted crotch for added mobility, stretch for added comfort, as well as the durability and breathability of classic canvas fabric.
The rise of athleisure allowed consumers to become accustomed to performance features like moisture wicking, odor resistance and water resistance. Now, shoppers are seeking out such attributes in other categories. More than half of all shoppers will look for moisture management technology in their intimates (52 percent), while 46 percent will seek it out in casualwear, according to the Cotton Incorporated Lifestyle Monitor™ Survey. One-third of consumers will keep an eye out for anti-microbial technology in their casualwear. And 43 percent will seek thermal or temperature-regulating features in their casual apparel, along with 40 percent of consumers seeking the features in their intimates.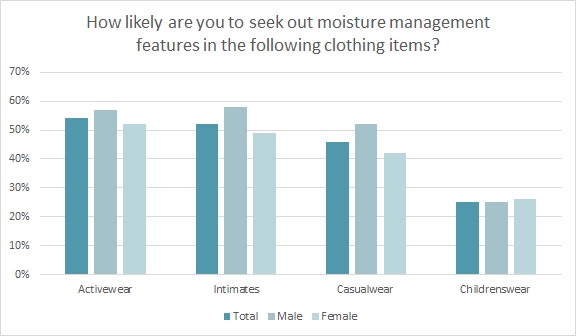 Women can find temperature regulating cotton pieces at James Perse this season, in the brand's diffusion line called Yosemite.
"Yosemite is our performance brand and I like to target it to New Yorkers, because New Yorkers are always on the go," said Leo Reyes, key sales associate at the designer's West Village, Manhattan location. "We're always transitioning from gym to work so we have this T-shirt called the WMTJ, which stands for mélange tech jersey fabric. It's 70 percent cotton blended with polyester. Some fun things about this fabric is it's abrasion resistant and anti-wrinkle, so you can ball it up and the wrinkles fall right out. You can throw it in your bag, slip it on later and you look fresh."
The James Perse tee also wicks away sweat so wearers feel cooler whether they're New Yorker-style speed walking or working out. "You can feel that it's soft and light. It's a prime transitional piece for women that comes in three colors in both long and short sleeve. These are ideal for spring and summer."
The majority of consumers say they plan to seek out breathability enhancement technology in their activewear (61 percent), intimates (57 percent), and casualwear (54 percent) purchases, according to the Monitor™ research.
DU/ER is another company that offers a range of performance pieces that transition from office to adventure, in collections for both men and women. For instance, its L2X performance denim blends cotton with COOLMAX and stretch fibers for comfort and temperature control, as well as Silvadur antibacterial treatment that resists odors. Its L2X Stay Dry 2.0 denim has the added benefit of being treated with a paraffin wax that keeps them oil, dirt and water repellent. They also feature a reflective patch that's visible while commuting by bike, and reinforced gusset and seams.
Huckberry's O'Meara says their customers appreciate the flexibility they offer with clothes that excel in multiple environments but are built to last.
"That's value — buying something with that versatility, that utility and regardless of what you're doing, knowing you're good," O'Meara says. "Take those Rover pants, for example. I wear them everyday in the office and wear them out at night when grabbing drinks with friends. But they are also the only pants I bring when going on any sort of adventure. I wore them on a 72-hour trip hiking around Iceland on a recent shoot we did. And I wore them camping in Big Sur with my wife recently. They do it all. Again, it all comes back to that versatility. That freedom of not having to worry about changing outfits or buying more than you need."