No one sets out to refresh themselves by drinking plastic. But microscopic pollution are in virtually every body of water on Earth. While the debris comes from a number of sources, including food and drink packaging and cosmetics, research is pointing to synthetic textile microfibers as a major culprit. Studies show hundreds of thousands of microplastic particles can enter the water supply just by laundering that polo shirt, midi dress or yoga pants.
World Water Day is March 22; apparel brands might consider using more natural fibers like cotton in their apparel lines to avoid negative impacts on the environment and their brand image, especially since consumers are becoming more aware of the problem. According to the Cotton Incorporated Lifestyle Monitor™ Survey, 27 percent of consumers in the U.S. are aware, up 60 percent from 17 percent last year. And of those that are aware, 60 percent would avoid purchasing synthetic fabrics in the future.
World Water Day was begun by the United Nations in 1993 to focus attention on the importance of fresh water. The theme this year is "Leaving no one behind," an adaptation from the U.N.'s 2030 Agenda for Sustainable Development: as sustainable development progresses, everyone must benefit. The Joint Group of Experts on the Scientific Aspects of Marine Environmental Protection (GESAMP) advises the U.N. on the scientific aspects of marine environmental protection. Microplastics is one area GESAMP studies. In a 2018 study, the organization expressed concern that microplastics have infiltrated the marine food supply, which some critics suggest can then be consumed by humans. It also identified synthetic textiles as a source of microplastic pollution.
Synthetics include polyester, nylon, and acrylic, and account for approximately 60 percent of total global fiber production, according to the National Center for Biotechnology Information (NCBI), U.S. National Library of Medicine. Like hard plastics, synthetics originate from coal and petroleum. Also like hard plastic, these synthetic fibers are impervious to water.
Working with North Carolina State University, Cotton Incorporated took the initiative to examine microfiber degradation in aquatic environments. The results determined that after one month, cotton degraded by 82 percent, while polyester hadn't degraded at all.
More than 8 in 10 consumers (85 percent) say they are concerned about water quality, according to the Monitor™ data.
Further, nearly two-thirds of consumers (63 percent) say they would feel more connected and loyal to an apparel brand that offers clothing made of natural fibers, followed by one that offers sustainable clothes (45 percent).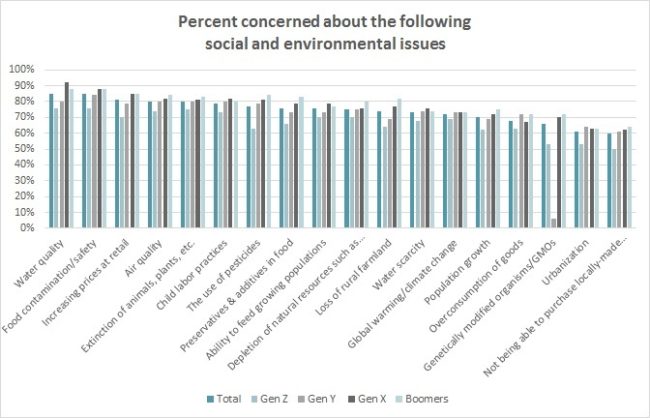 Despite their concern, only about a third of consumers (32 percent) put effort into finding sustainable apparel for themselves, according to Monitor™ research. However, 30 percent who shop online say knowing an item's environmental footprint information would influence their decision to purchase clothes. This sentiment is significantly higher among Millennials (38 percent).
The issue of microplastic pollution has been growing both among environmentalists and those in the apparel industry. Washington, D.C.-based Orb Media conducted research with the University of Minnesota School of Public Health and found more than 80 percent of the samples collected on five continents tested positive for the presence of plastic microfibers. Additionally, Patagonia Inc., teamed with the University of California, Santa Barbara's Bren School of Environmental Science & Management, on a report titled, "Microfiber Pollution & The Apparel Industry." Its report confirms microfibers are released by synthetic clothing through regular wear and washing.
A 2016 study from UK-based Plymouth University reported 700,000 synthetic fibers could be shed with every load of laundry. More recently, the NCBI found that one synthetic fleece garment alone could release 110,000 microfibers when laundered. [quote]
The American Apparel & Footwear Association (AAFA) states that it is important to have the microplastic discussion.
"The industry and the broader scientific community is actively conducting research," says Nate Herman, senior vice president of supply chain. "In fact, there have been some encouraging developments with the creation of devices designed to catch microfibers during the washing process. But this research is still far from complete."
Herman says the AAFA has taken an active role in the debate at the state level, including participating in a working group in Connecticut to discuss solutions to microfiber pollution and how to build customer awareness.
Last year, California and New York legislators introduced bills that would require all clothing containing more than 50 percent synthetic fabric to have a label clearly warning of plastic microfiber shedding. But Herman says such legislation diverts attention away from actually solving the issue.
There's no doubt, though, that eco-friendly apparel can have an impact on a brand's bottom line. More than 1 in 3 consumers (36 percent) say they are "very or somewhat likely" to pay full price for an apparel item that is made in a sustainable or environmentally-friendly manner, according to Monitor™ research. Additionally, compared to manmade fibers, 84 percent of consumers say cotton is the most sustainable.
In a study from the International Union for Conservation of Nature (IUCN), researchers say tackling the "multitude" of sources of pollution from microplastics requires a holistic approach that addresses the problems at its source.
"The action to turn off the plastic tap could come in the form of new engineered materials and smart design, such as clothes that shed fewer fibers or washing machines equipped with filters," the IUCN states. "These efforts must be supported by legislation and on-the-ground policies that force real change. As consumers of plastic, we have a responsibility to educate ourselves and adapt our behavior in order to protect our blue planet."