As attendees fill the rows at New York Fashion Week, many of the seats will be filled with "influencers," both real and self-identified. As brands try to weed out who sits where, the issue with influencers goes deeper. A lot of time, money, and energy are spent trying to get product promoted through the perfect Instagram personality. But as with any business model, the buyer beware motto needs to be heeded.[quote]
Instagram isn't the only social network to peddle influence in the fashion world. Pinterest, Facebook, Snapchat, and Twitter rate, as well. But a 2017 report by Exane BNP Paribas showed Instagram accounted for 50 percent of fashion brand posts. As of September 2017, it had 800 million worldwide users. Mediakix, a social media marketing agency, estimated Instagram influencer marketing is a $1 billion dollar industry that could reach $2 billion by 2019.
"You have to fish where the fish are," says Phil Rist, co-founder and principal of Prosper Insights & Analytics. "If I was managing a brand's dollars, I'd cut my TV spend back significantly, especially if I were going after a younger audience. They're on Netflix, but no commercials there. So, I'd take those dollars and relocate them to find out who the celebrity and non-celebrity influencers are."
More than one-third of consumers (35 percent) get their apparel ideas online, according to the Cotton Incorporated Lifestyle Monitor™ Survey. That compares to 15 percent from commercials and ads, 14 percent from fashion magazines, 14 percent from TV shows, and 10 percent from celebrities.
Once online, consumers get their apparel ideas mostly from retailer or brand websites (43 percent), according to the Monitor™ research. That's followed by Instagram (36 percent), Facebook (35 percent), Pinterest (33 percent), emails from brands and retailers (26 percent), e-commerce sites like Amazon, eBay and Rue La La (24 percent), emails from e-commerce sites like Amazon, etc. (20 percent), Snapchat (14 percent), Twitter (13 percent), and Tumblr (9 percent).
Prosper recently completed an analysis comparing Millennial moms to women without children on all their media influences for apparel, beauty, and grocery.  Prosper found 42 percent of moms and 50 percent of those without children said the internet influenced their apparel choices. Further, 31 percent of non-mothers and 28 percent of moms said they were influenced by social media.
"We've seen the growth of online and social categories," Rist says. "And then this year, we added for the first time some understanding of celebrity bloggers and influencers versus non-celebrities reviewing products. The fashion industry has always had celebrities, super models, and movie and sports stars. But if you take that celebrity factor out of picture, you'll see the brands and products doing well are the ones using non-celebrity bloggers to get them on Snapchat, Pinterest, and Instagram. The idea is it appears to not come from a company."
Rist says Instagram has become a top platform for fashion because users can see friends' pictures and feel free to ask about their outfit, shoes, or accessories. And he points out that users are influencing each other.
"That whole platform has empowered people that are interested in fashion to share ideas and communicate with each other," he says. "When I graduated high school, everyone had to meet at the mall and have those discussions. The food court was the place to share ideas. It's always been that younger people tend to be more interested in fashion trends. It's just their method of communicating has changed.
Almost half of all consumers (47 percent) and 55 percent of Millennials say they are less loyal to clothing brands now than they were a few years ago, according to Monitor™ research. More than 1 in 5 (22 percent) say social media sites are the first places they go to get clothing ideas, a figure that jumps to 36 percent among those aged 13-to-25 and climbs to 46 percent among Millennials aged 22-to-37.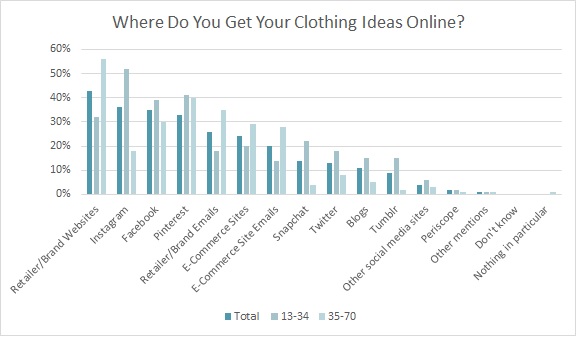 While social media's reach may be strong, not everyone is all in on the power of Instagram influencers. Jon Westenberg, founder of a public relations agency called YORKLN and director of public relations for Australia-based FlareHR, regularly works with tech startups to establish their story, fine tune their messaging, and build relationships with the press and public. He recently penned an article on Medium advising brands to "Stop Wasting Your Money On Instagram Influencers."
His position is that, at its core, the idea of paying someone to pose with your product isn't terrible. But it only works when it's authentic. Otherwise, he says, users will simply feel they're being bombarded with advertising and move on to another platform, much like TV viewers moved on to Netflix. Westenberg admits that there are certain people who have true influence. He says a tech blog called Daring Fireball, run by John Gruber, offers what's called the Gruber effect.
"If John Gruber shares an article or a website with his audience of incredibly engaged Gen Z and older readers, that link runs a high risk of crashing due to the massive traffic that accompanies his endorsement," he says. "You do have these specific and niche influencers who have a massive reach, and it does go far beyond the quite limited scope of 'influence' that we see from the younger Instagram folks. But there's a lot more skepticism in these older audiences, where you might not see doubt in the younger."
Westenberg advises that if brands are considering using an influencer, they should go with someone who actually has influence, rather than someone who merely talks about it or describes themselves as such.
"The people who actually have influence are too busy exerting it, creating content, making moves and pushing themselves forward to be talking about being influencers in the first place, and that's really the identifier," he says, adding, "When I have used influencers in the past, my stats for engagement are sales and direct traffic to my properties. I don't give a damn about anything else. Because nothing else matters to me, at all."