In the wake of COVID-19, it is many the brand that's trying to find its footing, figure out what makes a difference and connect with the consumer. Take Krispy Kreme: Figuring Americans might now be comfortable with their pandemic pounds, the company announced anyone who gets a COVID-19 vaccine and has the vaccination card to prove it can enjoy a free glazed donut every single day for the rest of 2021 at any of its 369 locations. Talk about instilling good will. [quote]
When the pandemic began raging last year, numerous fashion companies turned to making masks or making donations in an effort to do something positive when life in general seemed so out of control. As it turns out, this type of giving back can be as good for business as it is for those who receive the help.
More than three-quarters of Americans changed their shopping behavior after COVID-19 began, according to McKinsey & Company. Not only did they change behavior, they changed brands (40 percent). The firm states that convenience and value were top reasons for this alteration. But it went beyond that.
"Quality and seeking brands that match with their values also inspire change for about 40 percent of younger customers," McKinsey says.
Mintel says that while giving back became a big trend in 2020, it is likely here to stay.
"Today, right now, it's really important for brands to give back," said Mintel's Lauren Goodsitt, senior global beauty analyst, during a Mintel podcast for International Women's Day. "As great as it is that they're female founded, the ones that stand out to me are those that go a step further. So in donating to… various causes that they feel strongly about is really setting that precedent. Saying, 'A percentage of our proceeds are going to that,' or, 'Here are the ways that we are involved in that community' matters."
"Activism is becoming a lifestyle," Goodsitt said. "And it's not just women's rights, but activism as a whole for social justice, for sustainability, and for all of these different components that consumers are really putting their dollars toward. That's shaping how they shop and how they think about [the brands] they engage with."
And that can make a big difference at a time when, as McKinsey points out, consumers continue to be careful with their spending. See, nearly half of all shoppers (46 percent) say they would be willing to pay full-price for an item if a portion of the money they spend is donated to charity or the same item is donated to someone else, according to the Cotton Incorporated Lifestyle Monitor™ Survey. The sentiment was highest (62 percent) among younger consumers aged 25-to-34, followed by those aged 13-to-34 (54 percent). That view decreased significantly as shoppers got older, dropping to 39 percent among those 35-to-55 and to 34 percent among those 56-to-70 years old.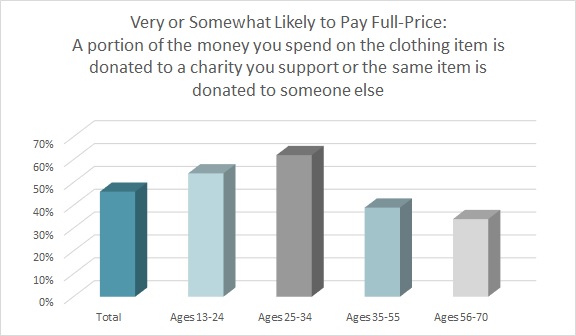 Additionally, nearly a third of consumers (32 percent) say they "always or usually" support charities or businesses that give back to their local communities or people in need, according to the Monitor™ research.
As the enormity of the pandemic was becoming realized, companies big and small made contributions to their communities and organizations worldwide. Adidas pumped out 18,000 masks per week for healthcare workers, donated $3.25 million to the WHO's COVID-19 Solidarity Response Fund and $1.35 million to the China Youth Development Foundation. Meanwhile, designer Dara Senders — the American-born, Paris-based designer who launched her Le Cozy collection of cotton and cotton-blend loungewear during the pandemic — decided that for every mask sold, her company would donate one to hospitals, and medical and essential workers in the U.S. and France.
Of course, cause marketing isn't just COVID-related. The list of causes that receive aid is long and keeps growing, as does the list of apparel companies that give back. For instance, the newly released men's and women's athleisure collection Proud will donate 10 percent of any purchase to one of six charities, with the final choice being determined by the customer. Gap donated 500 pairs of khakis after MSNBC's Steve Kornacki wore a "uniform" that included the brand's khakis, a rolled-up sleeved dress shirt and tie for days as the U.S. awaited the final results of the November presidential election. And Everlane donates 10 percent from the sale of its tees, sweatshirts, masks, and tote bags to the ACLU, raising more than $1 million so far.
Nearly half of all consumers say they are more loyal to clothing brands that share their personal interests, such as giving back to the community, according to the Monitor™ research.
A Mintel study shows nearly two-thirds of consumers believe it is a company's responsibility to give back (65 percent) and to have a moral or ethical viewpoint (64 percent), while 53 percent expect brands to improve the local community and donate proceeds to charity (49 percent).
"The vast majority of consumers want to see companies support charitable initiatives, with many caring enough to take it into consideration when they make a purchase," says Mintel's Mike Gallinari, travel and leisure analyst. "As a result, having some sort of charitable or social responsibility program or partnership is crucial for companies as it can be a differentiating feature among competitors. Our research shows consumers want more visible efforts made by brands that already have these initiatives in place as it gives more credence to the idea that the company actually cares about the cause and is not just donating money."