One can often see signs in parks that say, "Take only memories and pictures. Leave only footprints." They serve as a gentle reminder for park visitors to be responsible so others can enjoy recreation areas. Basically, a "don't hurt the wildlife, don't leave trash behind" kind of message. This sentiment could apply to the Earth's waterways whereas clothing manufacturing, and apparel designers, manufacturers, and consumers have an opportunity to choose to work with natural fibers and lessen the impact on waterways. [quote]
As dramatic as that might read, researchers at the Pew Charitable Trusts and SYSTEMIQ, a London-based sustainability consultancy, have found more than 11 million metric tons — or 12 million U.S. tons — of plastic enter the Earth's oceans every year. That's equal to 12 million giraffes walking into the waves every year. And frankly, if 12 million giraffes annually headed to watery graves, we humans would likely be knocking ourselves out to stop them. But 12 million tons of plastic garbage? Scientists say without action, there could be one pound of plastic for every three pounds of fish.
But, some might argue, there are companies that are turning old bottles into polyester for clothes.
The problem with that is that polyester is still a form of plastic. And clothes shed every time they're washed. A study published in Environmental Science and Pollution Research (ESPR) estimated an average 18 million synthetic microfibers are emitted in the wastewater of household laundry.  And these pollution fibers are making their way into the world's water, from our faucets to the far reaches of Arctic seawater. A new study found synthetic fibers make up about 92 percent of microplastic pollution in water sampled across the Arctic. All told, 1,700-to-4,000 metric tons of synthetic microfibers enter the environment every year, according to a study from The Nature Conservancy and the University of California Santa Barbara.
But it's not just the planet's waterways that are being affected: 176,500 metric tons — the equivalent of 194, 557 U.S. tons — of synthetic microfibers are finding their way into the soil. In an article in Eurekalert, from the American Association for the Advancement of Science, researchers describe how the effluent from household laundry flows to wastewater treatment plants. There, microfibers that don't escape into the waterways can be retained in biosolid sludge, which may be applied to cropland or buried in landfills.
While cotton microfibers are also washed into waterways, studies by North Carolina State University and the Cotton Research and Development Corporation in Australia determined cotton degrades 95 percent more than polyester in wastewater and will continue to degrade over time.
With that in mind, designers and manufacturers should consider that most consumers (62 percent) say fiber content plays a role in the longevity of their clothing, according to the Cotton Incorporated 2020 Durability Report. And 66 percent say they prefer to buy clothes made of natural fibers. Specifically, 73 percent of consumers say cotton is their favorite fabric to wear, according to the Cotton Incorporated 2021 Lifestyle Monitor™ Survey. Further, cotton and cotton blends are overwhelmingly preferred for a variety of items, including T-shirts (67 percent), casual shirts (59 percent), sweatshirts, sweaters or cardigans (53 percent) and sweatpants, joggers, or leggings (51 percent).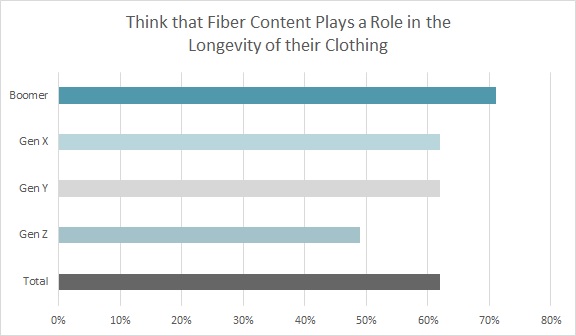 Makers should also know that most consumers (62 percent) make an effort to purchase sustainable apparel, according to Cotton Incorporated's Durability Report. To the largest percentage of consumers (47 percent), sustainable clothing means clothes that last a long time or are durable. Another 23 percent say they're clothes that are environmentally friendly and 18 percent say they're recyclable or renewable.
On the other hand, less than one-fifth (18 percent) will pay a premium for environmentally friendly clothes, according to Cotton Incorporated's Durability Report. Still, the majority of consumers (69 percent) naturally expect cotton clothes to last longer than clothing made from polyester, rayon, or any other manmade fiber.
Contrast those preferences with data from the Changing Markets Foundation, which was formed to accelerate solutions to sustainability challenges, that says the production of polyester has grown nine-fold in the last 50 years thanks to overconsumption by consumers who continue to be attracted to low-cost, trendy fast fashion. In its report, Fossil Fashion, The Hidden Reliance of Fast Fashion on Fossil Fuels, the organization says China has plans to produce polyester yarn from coal. The plan is to be up and running by the end of 2025 in Shaanxi province.
The Changing Markets Foundation suggests consumers use their purchasing power to "send a message" to the fashion industry about the impacts clothing production has on people and the environment.
"This report has shown that the rapid growth in the use of synthetic fibers… is putting serious pressure on the environment," the Changing Markets Foundation report states.