If you've been to any sort of panel discussion in the last couple of years, you've likely heard the word "disruption" thrown around pretty freely. But rather than having a negative connotation, Silicon Valley and startups like Uber and Airbnb gave it a wholly positive spin.[quote]
Every new business wants to be the next big disruptor. But if you're an established brand or retailer replete with fixed approaches and traditional constructs, you've probably heard there's only one way to survive today's fashion and retail environment: self-disruption.
In a report released earlier this year, McKinsey stated 79 percent of industry executives placed self-disruption in the top five trends impacting the apparel business. Driving this movement are younger consumers and their desire to set themselves apart through up-and-coming brands, as well as advancements in digital technology and social media.
McKinsey says emerging ventures challenge existing businesses through their branding, communication, and distribution. Additionally, social media and its popularity among Millennials and Gen Z consumers have "leveled the playing field, allowing these challenger brands to disrupt the marketplace. Their emergence partly explains the 50 percent annual growth of Instagram advertising spend."
To be sure, almost one in two consumers (47 percent) say they are less loyal to apparel brands compared to just a few years ago, according to the 2019 Cotton Incorporated Lifestyle Monitor™ Survey. And while just 22 percent of all consumers say social media sites are the first places they go to get apparel ideas, nearly half of those under age 35 (46 percent) say they do so.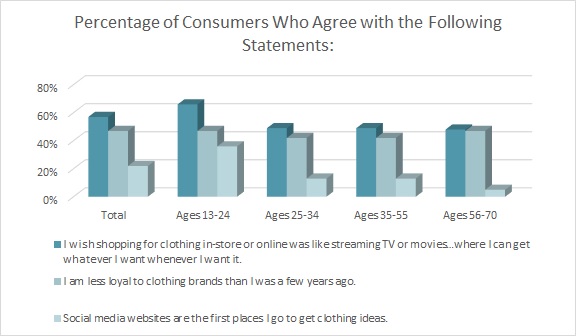 Further, young people want things to be easy, even though they mostly shop in-store, rather than online. A survey by A.T. Kearney showed 81 percent of consumers age 14-to-24 prefer to shop in stores, while 73 percent like to discover new products at retail locations. At the same time, the Monitor™ survey found 70 percent of those younger than 35 say they, "wish shopping for clothing in-store or online was like streaming TV or movies on Netflix, Hulu, etc., where I can get whatever I want, whenever I want it."
Brands that have successfully self-disrupted include Moncler, whose Genius project saw the house tossing the industry's seasonal fashion collections and instead offering monthly collaborations with guest designers. November's release included pairings with Valentino's Pierpaolo Piccioli, Palm Angels, and Simone Rocha, and the product included outerwear, streetwear, and doggie vests from Milan-based Poldo Dog Couture.
McKinsey also points to Burberry, which developed a new logo and monogram under Riccardo Tisci. The luxury brand, which was founded in 1856, was also an early adopter of digital marketing and social media. In 2018, it paired with Farfetch to make all of its product available around the world. The British brand also created a "drop" release, called the B Series. On the 17th of each month, a capsule collection of apparel and accessories is made available for just 24 hours. Most recently, Burberry joined the resale market when it partnered with The RealReal. In a new pilot program, users who sell their Burberry items on the platform receive an exclusive personal shopping experience at select U.S. stores.
Walter Loeb, founder of Loeb Associates, a management consulting and advisory firm, states in an article in Forbes that the resale market is going to be more disruptive to the apparel industry than anyone is expecting. Resalers include eBay, Poshmark, Rebag, Farfetch, The RealReal — even Goodwill. Loeb's concern is the luxury market will slow as more people buy and sell via resale.
The concern is valid, as 60 percent of Gen Z shoppers and 57 percent of Millennials have purchased secondhand clothing from places like Thredup, Plato's Closet, Poshmark, The RealReal, and Goodwill, according to the Monitor™ research. That compares to 45 percent of Gen Xers and 36 percent of Boomers.
Before resale became so popular, boxed apparel services like Stitch Fix were considered to be industry disruptors. But as Deborah Weinswig, founder and CEO of Coresight Research, has pointed out, acquisition and retention costs for these services are high, and new players are regularly entering the competition.
Weinswig says subscriptions work best when they're offered as one of many purchasing models. Walmart got the message this year and took the plunge by  partnering with Kidbox, a subscription box service for babies, girls, and boys.
Other popular options among consumers are apparel rental sites like Rent The Runway or Le Tote. The Monitor™ finds 22 percent of consumers are interested in using such sites, up from 17 percent in 2018. That could be why brands and retailers like Bloomingdale's, American Eagle, Banana Republic, Urban Outfitters, Vince, NY & Company, Ann Taylor, and Express have entered the fray. The clothing rental market has been growing by more than 20 percent annually, according to GlobalData Retail. The firm estimates the market is valued at about $1 billion today and will hit $2.5 billion by 2023.
From mergers and acquisitions to experimental sublabels to faster supply chains, McKinsey identifies multiple disruptive paths for industry players.
"In an increasingly fickle fashion environment, market leaders will… need to take more risks to stay ahead."