Like music, movies, or TV shows that can be downloaded at a user's convenience, successful direct-to-consumer (DTC) apparel brands fill a niche, one that shoppers can easily navigate, on their own time. And like catalogs or home shopping television channels before them, they're more likely just another shopping option for today's consumers — and not a final blow to traditional retail.[quote]
"Digital has fragmented almost everything," stated Ryan Babenzien, founder and CEO of Greats, the Brooklyn-based premium sneaker brand, at the Sourcing Journal Summit in New York. "And [fashion] brands are now seeing that."
The digital and DTC markets have recently been responsible for some very successful brands. Shoppers who needed glasses have gone online to Warby Parker. Men who've sought perfectly tailored chinos have shopped the Bonobos site. Women looking for fashionable plus size fashion have gone to Eloquii's ecommerce shop. And if you need a bra, why, a woman could just click over to Adore Me. Or Bare Necessities. Or Her Room. Or… you get the picture. The DTC field has become crowded.
"We're seeing this across product categories and heavily in the retail space," says Forrester's Anjali Lai, senior analyst. "And it's moving into other categories like finance and insurance as brands start to emulate this idea of having a simplified consumer experience, and going directly to the consumer to deliver a certain value that typically took longer when it was delivered through a traditional brand."
The single-category ecommerce store holds appeal with today's consumer, more than half of whom (57 percent) say they wish shopping for clothes in-store or online was like streaming TV or movies on Netflix, Hulu, etc., "where I can get whatever I want, whenever I want it," according to the 2019 Cotton Incorporated Lifetyle Monitor™  Survey. The figure jumps to 71 percent among Millennial consumers.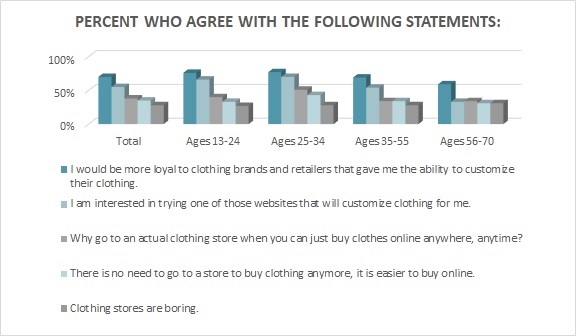 Almost half of Millennials (45 percent) also wonder, "Why go to an actual store when you can just buy clothes online anywhere, anytime?" according to the Monitor™ research. And more than three-fourths (78 percent) of these Gen Y shoppers say they would be more loyal to apparel brands and retailers that gave them the ability to customize their clothes.
Taylor Shupe, co-founder and CEO of Future Stitch, which was created to sustainably and responsibly produce apparel, said DTC companies are very good at using real time information to create rapid refinements in their product and achieving vast reach.
"And because you have to go through social media as a primary means of communication with your customer, that translates into a more focused product line," he said, also during a panel discussion at the 2019 Sourcing Journal Summit.
Kyle McClure, co-founder and chief product officer for the online men's wear brand Rhone, told the Sourcing Journal Summit audience that the "initial thesis" for digitally native and DTC brands was, "better product for less."
"We never lost that spirit in how we create a product," McClure said. "We invest so much in materials and the types of products we make, as well as product testing. Being closer to the customer allows us to integrate that data in a way that's a struggle for traditional retailers."
That could be because the digital economy has also resulted in ever more fractured avenues to reach multiple consumer generations. In previous decades, shoppers went to the clothing stores that suited their age. Stores ran ads on TV or in newspapers, and brands splashed their product across full-page magazine spreads. Of course, TV, newspapers, and magazine ads are still around, but that ad buy has shrunk. Instead, fashion makers and stores are reaching older shoppers via email, while their younger counterparts are influenced on multiple social platforms that their parents can't navigate and barely understand.
The majority of boomers (63 percent) are most likely to get their apparel ideas from brand or retailer websites, according to Monitor™ research. Boomers follow that with emails from retailers or brands (38 percent), and emails from ecommerce sites (31 percent). While Gen X likes Facebook (43 percent) and Pinterest (31 percent), as well as emails from stores and brands (35 percent).
Younger generations, Millennials and Gen Z, are more likely to look to social platforms, the Monitor™ survey shows, like Instagram (62 percent), Pinterest (39 percent), Facebook (37 percent), and Snapchat (22 percent).
Additionally, the younger Gen Z (62 percent) and Millennial (58 percent) shoppers are significantly more likely than their older counterparts (44 percent) to acknowledge that the ability to shop and browse for apparel online has changed the way they buy clothes, according to Monitor™ research.
Millennials and Gen Z shoppers are much more likely than Gen X and Boomers to say they plan to browse (59 percent versus 44 percent), research (71 percent versus 57 percent), and buy more apparel online (34 percent versus 24 percent) in the upcoming year compared to last, according to Monitor™ research.
Forrester's Lai says DTC has gained so much traction because these brands hold appeal for higher income, urban dwellers. But DTC brands don't spell doom for traditional retailers.
"Consumers view DTC brands as just another option," Lai says. "What's really different about them is how they're able to deliver on convenience and quality, and cultivate a sense of trust around the brand in a new way that the larger brands haven't done in the past. Consumers are craving a sense of connection.  And these brands are quick to identify new areas of value where they can deliver new services and see possibilities for growth."
Lai also points to Warby Parker as an example of a brand that began online and has successfully created a new level of engagement with brick and mortar locations.
"It's an interesting challenge for these brands. Increasingly, they're creating a physical footprint. But there's really a shift in what the purpose of a brick and mortar store is and what value it delivers to the customer," she says. "We're seeing a lot of these DTC brands turning the brick and mortar store not necessarily into a retail outlet, but a place for consumers to come together to be immersed in that sense of community. The value of being in-store is very different. It isn't about picking up an item and leaving. It's about having this other emotional experience where you really get to engage with the brand and engage with one another. And that has shifted the meaning of a brick and mortar store."