When people think about the magic of the holidays, it's more likely they're conjuring thoughts of twinkling lights and gingerbread houses than mobile optimization and centralized inventory. But with the major shopping days right around the corner, retailers are turning to such technology to help capture more of the spend during the all-important holiday season.[quote]
The National Retail Federation (NRF) expects November and December holiday sales to grow between 3.8 percent and 4.2 percent over last year, to between $728 billion and $731 billion. Despite the overall positivity, there is still some haziness that could affect final numbers.
"The U.S. economy is continuing to grow and consumer spending is still the primary engine behind that growth," NRF President and CEO Matthew Shay said. "Nonetheless, there has clearly been a slowdown brought on by considerable uncertainty around issues including trade, interest rates, global risk factors and political rhetoric. Consumers are in good financial shape and retailers expect a strong holiday season. However, confidence could be eroded by continued deterioration of these and other variables."
That's why stores need to hit the ground running as early as possible this season.
About one-quarter of consumers (26 percent) say they buy holiday gifts throughout the year, which is up significantly from 15 percent in 2018, according to the 2019 Cotton Incorporated Lifestyle Monitor™ Survey . This is presumably due to Amazon's two Prime Days in July. However, most consumers save their holiday shopping until the actual season is closer: 23 percent begin tackling their list in November, 13 percent will begin in December, and 11 percent started in October.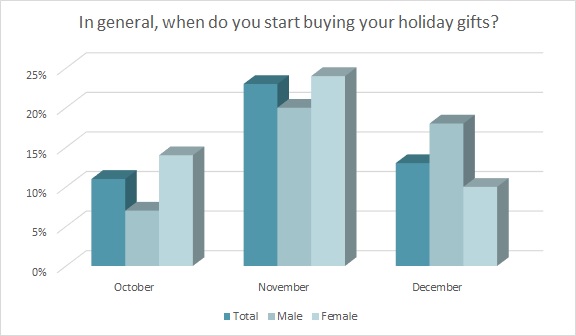 Retail Pro International (RPI), a retail management software firm, says a little preparation goes a long way in combatting the chaos that can come with the holiday rush. Among its top suggestions for retailers: tighten up point-of-sale (POS) workflow for faster, more efficient checkout.
"Shave off critical seconds from each transaction by getting rid of unnecessary clicks, and integrating steps you need for smoother returns with 'tracking for return reasons,' easier customer and inventory lookup, and faster loyalty enrollment," the firm advises. With Retail Pro software, stores can customize the checkout process "in the user interface to mirror the workflows your staff would use in real life. Tailor both the transaction workflow and pop-up prompts for your staff to hit on your customer engagement checklist at checkout."
Retail Pro says stores should also build up employee product knowledge so they can more quickly look up items by alternate names or numbers at checkout. Its Prism software allows store associates to look up inventory by SKU as well as by description.
Retailers should be prepared for their in-store locations to be busiest on Black Friday (43 percent), the week leading up to Thanksgiving (26 percent), Small Business Saturday/Local Saturday (19 percent), Christmas Eve (13 percent), after Christmas (13 percent), and Thanksgiving Day (12 percent), according to Monitor™ data.
Of course, much of the season's shopping takes place online. The NRF expects ecommerce sales to increase between 11 percent and 14 percent to between $163 billion and $167 billion. This, after online shopping reached a record-setting $147 billion for Holiday 2018.
Nearly 4 in 10 shoppers (39 percent) said they had planned to shop online for holiday gifts back in the summer during Amazon's Prime Days, according to Monitor™ research. But they still plan to make plenty of digital purchases during the upcoming shopping holidays, the biggest of which are expected to be Cyber Monday (53 percent) and Black Friday (52 percent), according to Monitor™ research. Those are followed by National Free Shipping Days (24 percent), the week leading up to Thanksgiving Day (15 percent), Thanksgiving Day itself (15 percent), after Christmas (14 percent), Green Monday (13 percent), and Christmas Eve (11 percent).
Big Commerce, the Austin, TX-based ecommerce platform, says retailers should focus on optimizing mobile capabilities to reach customers where they're shopping. It suggests targeting push notifications, and segmenting them by factors such as gender and device type. From there, stores can decide to either send a one-time notification for a certain promo or new product, or an automated notification based on user activity. Big Commerce also points out that the fewer clicks users need to go from the push notification to purchase, the higher the conversion rate.
That can prove to be especially valuable to apparel retailers this season, as the Monitor™ research shows one in five consumers (20 percent) plans to spend more on clothes as holiday gifts this year compared to 2018. Apparel remains a top holiday present, and consumers expect to spend about $291 on clothing gifts, up significantly from $241 last year. In total, holiday shoppers plan to spend $758 on gifts this year, up 12 percent from $679 in 2018.
It wouldn't be the holidays without all kinds of social media posts featuring holiday decorations, outings and festive baked goods. Since consumers spend so much time on social platforms, Big Commerce also suggests retailers and brands take advantage of social media shopping. To enroll in Instagram Shopping, merchants must first be approved to sell by Facebook Shop (since Facebook owns Instagram). Upon approval, stores will receive instructions on how to connect their Facebook product catalog so that they can tag items in their Instagram posts.
To keep track of both online and in-store sales, Retail Pro reminds stores to use their key performance indicator (KPI) reports, which will give up-to-the-minute data to help everyone stay on target, and indicate when sales efforts need to be ramped up.
While there isn't enough time to install major system overhauls, the experts point out that adopting even one or two new tools can help drive traffic, engagement and, ultimately, holiday sales.