Initially, smartphones and tablets were considered groundbreaking for checking email on the run.  Today, though, they are a hot retail platform that is growing as fast as stores can adapt to mobile commerce.
While consumers have been able to purchase fashion online for years, they have only more recently become comfortable enough to significantly increase their smartphone shopping.  Perhaps that is because 47%, or 110 million shoppers, own a smartphone, according to comScore.  And the number of tablet users will reach 117 million by 2013, according to a report from the Online Publishers Association.
[quote]"This is a game changer," says the NPD Group's Marshal Cohen, chief industry expert.  "Shoppers who would normally shop the mall now get to shop the world."
To be sure, of those who shop for apparel online, more than half agree (57%) that they do so because it gives them a chance to shop at retailers and brands that are not located near them, according to the Cotton Incorporated Lifestyle Monitor™ Survey.
Total online apparel shopping, including purchases made on smartphones, tablets or computers, increased 11% to $19 billion from September 2011 to August 2012, up from $17 billion from the same year-ago period, according to NPD's Consumer Tracking Service.
More than 8 of 10 consumers (85%) browse the Internet for apparel, and 72% buy clothes online, the Monitor shows.  Those age 13-to-34 are significantly more likely than older shoppers to both browse and buy apparel online.
Further proving the ease and increased usage of mobile and online shopping, 15% of gift givers plan to purchase all of their presents online for the upcoming holiday period, the Monitor reports.
Lori Schafer, executive advisor at SAS Institute and author of Branded!: How Retailers Engage Consumers with Social Media and Mobility, says today's retailers, whether a national chain or a mom-and-pop store, are looking at the Web as a growth engine.
"Stores have more opportunities than ever before, even small retailers," Schafer says.  "Ten years ago, people said they didn't have a chance because big retail had taken over.  But it's totally opposite of that now.  Because of the technology available today, they can do better than ever."
And perhaps because men seem to easily embrace technology, retailers should know they are adapting well to mobile and web shopping.  Women still make more online purchases than men (74% versus 69%), but Monitor numbers show men are becoming pretty Internet savvy.  The majority of both male and female consumers use their phone, tablet or PC to compare prices of apparel online before purchasing the item in-store (81% of women versus 76% of men).  That is followed by going online to look up coupons (76% versus 69%), browse apparel styles (74% versus 66%) and read customer reviews (62% versus 49%).
Draft Fcb's Jim Lucas, executive vice-president, global retail insight and strategy, says younger men are driving the enthusiasm, shopping at more retail channels than older male segments.
"While e-commerce accounts for a fraction of apparel sales, technology plays a very large role in helping young men create their style, find items that fit that style and the right fit," Lucas says.  "Online allows men to be more informed about what they should be buying.  They're looking for more reassurance about what they buy. The 25-to-34-year-old segment accounts for about a third of the customers of many of these online sites, and this age group is in the process of creating their personal style."
Retailers should know that consumers do not use their smartphones simply to browse from their backyard or doctor's office.  A recent report from Deloitte Digital shows 61% of shoppers use their smartphone for a store-related shopping trip while actually in-store.  Another 52% use it on the way to the store and 45% use it one day or the night before their trip.
More consumers are using their smartphones to create shopping lists, often on a retailer's shopping cart, and then using that list to shop in-store.  If these same consumers have shared their location with a retailer, their in-store shopping experience can be further enriched via a store's mobile app.
Shop.org conducted its "Social & Mobile Commerce Consumer Study" with comScore and The Partnering Group. Jennifer Vlahavas, comScore's senior director, told Shop.org that, among other things, location sharing could allow stores to create maps for the shopper so they know exactly where to find items on their list, share store-specific coupon offers and upsell recommendations based on what is in that particular store.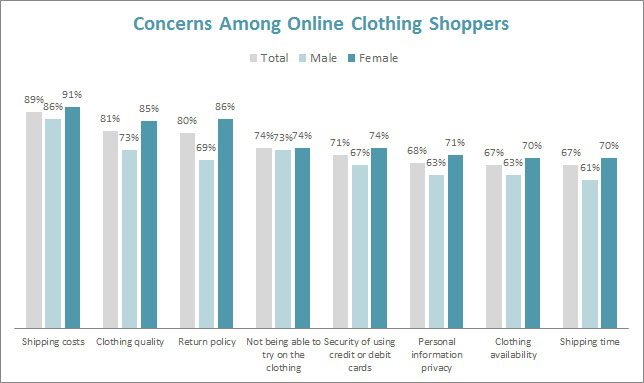 Shoppers still enjoy going in-store for the social experience, and to see and touch the product.  By doing research online and then heading to a store, they eliminate some of their main concerns of buying online: 89% are very or somewhat concerned about shipping costs, followed by clothing quality (81%), return policies (80%), not being able to try on the clothes (74%), security of using credit or debit cards (71%) and personal information privacy (68%), according to Monitor data.
Be it a mobile app, a mobile web site or a hybrid of the two, m-commerce has cemented its place as an integral piece of retail's future.