It was not that long ago when fashion bloggers were considered super-fan party crashers at Fashion Week shows.  Soon enough, though, they were recognized as influencers, with some gaining notoriety and front-row seats to the runway presentations.  More and more, they are being called on to collaborate with a label or retailer on a fashion collection.
ModCloth has worked with bloggers a number of times, most recently for a collection exclusively designed by A Beautiful Mess blogger Elsie Larson.  Other retailers and brands that have worked with bloggers on capsule collections include H&M, Gap, and Club Monaco.  Aside from adding a cool factor to a traditional store, successful bloggers have the potential to drive their many followers right to a retailer's door.
[quote]"ModCloth's mission is to democratize fashion, and that means providing access to the industry for people who may not otherwise have that," says the retailer's Turi Fesler, outreach and events manager.
Leandra Medine's The Man Repeller has more than 100,000 Twitter followers.  Even though her fashion sense is considered quirky, no one doubts her influence.  And that's what retailers like.  When citing sources of apparel ideas, 34% of consumers turn to "people they see regularly," 31% go online and 11% look to celebrities, according to the Cotton Incorporated Lifestyle Monitor™ Survey.
The Independent Fashion Bloggers' Jennine Jacob, founder and CEO of the online community of 46,000 fashion bloggers, says she can see why brands would want to link with a writer who has a measurable following.
"There's that online presence, and they get access to a highly specialized group of people," Jacob says.  "Bloggers have distinctive audiences with their own loyal type of reader.  And that can be appealing."
The Man Repeller's Medine will be teaming with apparel brand PJK (Patterson J. Kincaid) to create a line that's launching in spring 2013 called Man Repeller x PJK…Just Sayin'.  This comes after collaborations that include Gryphon, Rachel Roy and various jewelry firms.
Meanwhile, H&M has worked with Style By Kling blogger Elin Kling and Anna Dello Russo, a street-style star and editor-at-large for Vogue Japan.  Blogger Garance Doré has teamed with Kate Spade for a capsule collection that includes tops, dresses and accessories.  And Gap asked bloggers from Refinery29, FabSugar, Lookbook and Rue to create looks for its Styld.by site.
The fact that retailers and brands are closely identifying with bloggers proves the importance of the "online factor."  On average, consumers shop for clothes twice per month in-store and once per month online, according to the Monitor.  But they actually spend more time shopping online (112 minutes) versus in-store (98 minutes).
Online shoppers are hungry for product information: 61% say product reviews are "very or somewhat influential," the Monitor finds.  While many bloggers toil in obscurity, these star bloggers have many fans who turn to them specifically for style advice and direction.
"You could say bloggers are the new 'celeb turned designer,'" ModCloth's Fesler says.  "However, they're a little different. When most people visit a blog, they go there for information and feel they could get that look while, say, a movie star's style might feel a little less attainable.  It's an opportunity to share and celebrate real style, and perhaps a chance for someone — a blogger — to showcase your brand in a new and fresh way."
Although consumers mostly find style recommendations through friends (53%), relatives (21%) and magazines (20%), the importance of a well-known name is clear: slightly more than one-fifth of consumers (22%) say apparel worn by celebrities is "very or somewhat influential," the Monitor reports.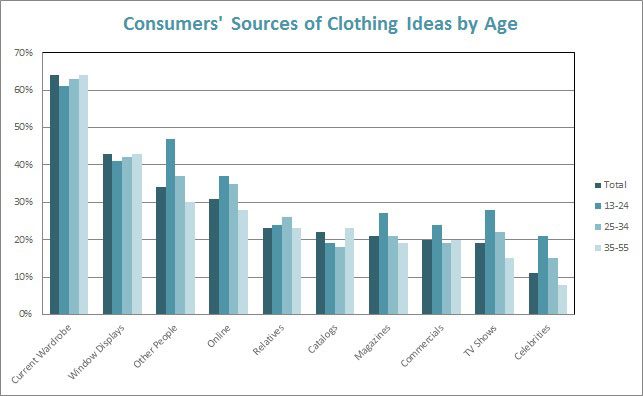 Elsie Larson started her blog in 2007 and was joined in 2010 by her sister Emma Chapman.  Now, the blog attracts more than 170,000 views a day, and has led to a book that will be published in 2013. Larson's ModCloth collection, which launched in October, includes dresses, tops, a cape and scarves — all of which have a retro, yet playful, feel.  Fabrics include patterned chambray, gingham with dots, strips and patterns. Their blog, A Beautiful Mess, invites readers to take time each day "to make something pretty."
"We thought Elsie's aesthetic really embodied the ModCloth girl, and that her fan-base really intersected with our own," Fesler says.
ModCloth also teamed with Larson, as well as bloggers James Kicinski-McCoy of Bleubird and Julie O'Boyle of Orchid Grey, to produce a vintage-inspired jewelry collection in 2011.
A trusted blogger's name on a collection means a built-in stamp of approval.  For smaller labels or retailers, that can go a long way to increasing business.  The Monitor finds 74% of shoppers agree that when shopping online for apparel, they tend to shop at brands and retailers they "know and trust" rather than those they've never heard of.
"If a brand collaborates with bloggers to create capsule collections on a regular basis, you'll see it's something that's working," Jacob says.  "Retailers love these projects for the PR, and because bloggers understand how to talk to an audience and reach the consumer.  But ultimately it's about the bottom line. Retailers want to try new things to get into the online market."