Not long ago, retail was convinced that online meant the end of regular offline stores, and omni-channel retailing was not yet part of the lexicon.  But "click-and-mortar" selling is transforming the retail industry — creating more work for stores even as it creates more opportunity, too.
Business development consultant Eric Prengel says retailers and labels now have the luxury of reaching consumers through multiple touch points.
[quote]"The good brands are communicating with customers through their websites, social media and more," Prengel says. "And it's all about a conversation and interaction.  It's not simply saying, 'Hey, we just put our product on sale at 50% off.'  That's not a conversation.  It's more like, 'We're in this neighborhood, and we went to this great local restaurant the other day. Have you tried it?  And, by the way, our new collection is in.' It's more about engaging them and having a dialogue."
On average, consumers shop for clothes in-store about twice per month and online about once per month, according to the Cotton Incorporated Lifestyle Monitor™ survey.  They spend about 109 minutes shopping online and roughly 96 minutes shopping in-store.  But 71% also simply browse for apparel online, spending about 105 minutes doing so each month.
eMarketer says online sales of apparel and accessories are poised to grow faster than any other ecommerce product segment — from $28 billion in 2010 to $73 billion in 2016.
Oliver Walsh is founder of the digital creative agency Wednesday — whose clients include Tory Burch, J. Crew and Balenciaga — and Discoveredd, a social platform for fashion influencers.  He spoke at the National Retail Federation's Big Show 2013 convention in a session titled "The Changing Rules of Fashion in a Digital Age."   Technology, he says, has changed the dynamics of retail — from a transaction that happens at a specific location and time determined by the retailer, to a set of interactions both on- and offline determined by the consumer.
"You see online and offline," Walsh said. "But your customers only see you. There's no single customer journey, but an infinite number of possible journeys" customers can take on their way to making a purchase.
More than 6 of 10 consumers (62%) buy apparel at mass merchants, followed by chain (60%), department (43%) and off-price (34%) stores, the Monitor survey shows.  And more than seven out of 10 consumers (71%) say they browse the Internet for clothing, up significantly from 66% in 2011.
Walsh says mobile, tablet, and social media changed retail in the digital age.   In fact, he states, it has never been easier to build brand trust through technology.  He says that online editorial – like that used by NastyGal.com – can help create a strong viewpoint that resonates with the customer.  Meanwhile, technology also allows a brand to delve into the world of utilities – such as Louis Vuitton's Amble app, which offers a travel guide that also allows users to capture and share vacation memories.   Additionally, Walsh says, trusted and respected voices can kickstart a conversation, while entertainment can help engage, tell a narrative – and sell.
"You add value to the customer's life by being more than just the product you sell," Walsh says.
In Deloitte's recent survey, "The Dawn of Mobile Influence: Discovering the Value of Mobile in Retail," the firm found the mobile influence factor is strongest among younger shoppers.  It determined that 67% of smartphone owners between 14 and 34 years old have used their devices to shop, and 55% say smartphones have influenced their decision to make a purchase.  That is significantly higher than the already strong 48% of overall smartphone users whose phones influence their buying decisions.
Retail consultant Doug Arvanites of Viewpoint Merchant Consulting says young consumers are constantly plugged in and sharing shopping plans, product opinions and more, which makes their devices indispensible to a purchase.
"Young people want to walk into a store and find what they are looking for," Arvantis says. "But they're told what to buy by their peers online, before they ever walk in."
This interaction with peers and the store is all part of the modern retail experience.  And while it may seem hard to keep up at times, it's keeping shopping fresh.  More than half of all consumers (51%) say they "love or enjoy" clothes shopping, up from 48% in 2011, according to the Monitor.   Women (63%) and consumers under 35 (62%) are significantly more likely than their counterparts to say they "love or enjoy" buying new clothes.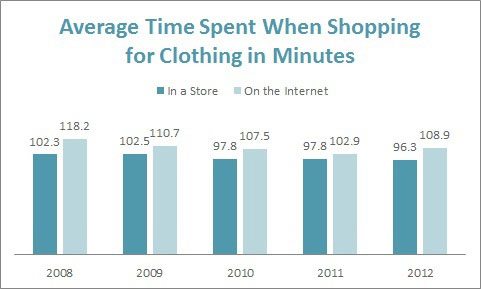 But retail is not just about the high-tech approach.  Today's shoppers are influenced through both traditional and modern means. The Monitor shows 62% get their apparel ideas from what they already own and like, followed by store displays/window shopping (43%), people they see regularly (35%) — and the Internet (30%).
"You have to treat your customer as an individual," Walsh says.  "Invest in the tools and resources that allow you to exploit big data.  And you have to create a better product experience online to build on your offline experience."