'Tis the season to be jolly — if you are a parent, that is.  If you are a kid, maybe not so much, since the school year is just around the corner. To drum up excitement, Teen Vogue is hosting its first Back-To-School Saturday initiative.
Teen Vogue's Jason Wagenheim, vice-president and publisher, says the company pulled out all the marketing and editorial assets it could — including special offers, gifts with purchase and discounts filtered through the publication — for the August 11 event.
"Long term, especially with the incredible response we've received in this inaugural year, we definitely intend to build from here and make this part of the retail calendar—part of our lexicon—the way Black Friday, Cyber Monday and now Fashion's Night Out have become," Wagenheim says.
The National Retail Federation's Kathy Grannis, spokesperson, says the organization supports any initiative that looks to bring together retail and the community. "Back-To-School Saturday shoppers across the country will greatly benefit from the promotions that retailers have planned."
[quote]Back-To-School is the second-biggest selling season of the year, after the Christmas holidays. Consumers plan to spend $227 on BTS apparel, about the same as last year, according to the Cotton Incorporated Lifestyle Monitor™ Survey.  Monitor data shows 60% intend to spend the same on clothing as last year, while 17% plan to spend more and 17% expect to spend less.
Among those planning BTS shopping, 90% intend to buy clothes, followed by supplies (84%) and shoes (78%), the Monitor shows.  Of those planning to buy apparel, 89% are more likely to start their shopping before the first day of school.  Top items are expected to be shirts/tops (91%), followed by jeans (75%), socks (70%), and pants (60%).
Even though early August is too soon for some kids to think about hitting the books, schools in the U.S. start at varying times, putting the Teen Vogue event right in the thick of things.
"Back-to-School season is very random—it happens earlier in the South and later in the North—and many colleges across the country are back to school in mid-late August," Wagenheim explains.
Teen Research Unlimited's Michael Wood, senior vice-president and director of syndicated research, also points out the BTS season continues into the school year.
"In the past, you bought what you needed for the start of school and you didn't return to the stores until the holidays. But now we see Back-To-School is more spread out, and a lot of what's driving this is teens. They want to see what's happening at school before they commit."
Monitor data support this; 63% of those planning to buy clothes for themselves this school year say friends influence their choices, followed by what they already own and like (60%) and things they see online (35%).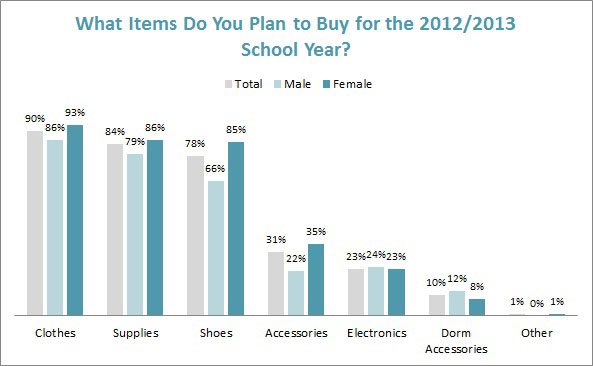 Online shopping is expected to increase this year, even though parents of growing children prefer to have their kids try things on in-store.
"Online retailers make it so easy to purchase with free shipping both ways and easy returns — it's hard to pass that up," Wood says.  "And it allows teens to do a lot of pre-shopping — and they like that."
Grannis says the Internet provides the convenience of product reviews and prices.
"Data shows 8 in 10 people say they're still impacted by the economy in terms of how and where they spend.  More plan to comparison shop this year, and whether they choose going to a store or buying online, the Internet will play a role in how people look for bargains and deals for school items."
Nearly a quarter of back-to-school shoppers (23%) will shop online for apparel, according to the Monitor.  But the big shopping will take place at mass merchants (69%), chains (62%), specialty (49%) and department stores (32%).
Consumers who shop in-store on BTS Saturday might appreciate the Teen Vogue Insider app.
"The app will allow consumers to check-in at participating retailers on August 11 to earn points toward winning exclusive Teen Vogue prizes such as shopping sprees and merchandise," Wagenheim says.  "Shoppers can also map nearby retailers and their Back-to-School Saturday offers, and 'share' and 'like' brands on their social networks. We developed the Insider app with the Teen Vogue community in mind, but the offers are available to everyone who downloads it."
On BTS Saturday, Los Angeles shoppers will be treated to a fashion show at The Grove, hosted by Shay Mitchell from ABC Family's Pretty Little Liars.  Singer Cher Lloyd will open the fashion show and Maybelline will sponsor mini-makeover and manicure stations. More than two dozen shopping centers across the country are planning events, including the Mall at Robinson, which is hosting a fashion show and meet-and-greet with Peyton List from the Diary of Wimpy Kid movies.
Retailers taking part in the way of discounts or gifts with purchase include Aeropostale, American Eagle, Gap, Guess, H&M, PacSun, and Quiksilver.
"Retailers have trained people to wait for discounts, and with the long BTS season, people are saying, 'I'll wait to see what's around the corner.'  This tells parents, 'Get in store — we're bringing good deals to you upfront.'"