When it comes to what people want in their most intimate apparel items, it is the same softness and comfort they have always held dear – plus, perhaps, some performance features that make it even better.  But the truth is, the intimates and underwear market might need to get back to basics, so to speak, if it wants to see some measurable growth.
Men's underwear sales reached $4.3 billion last year, according to the Euromonitor International.  But that is down from a high of $4.7 billion in 2007.  Women's underwear sales also decreased, from $10.6 billion in '07 to a projected $9.7 billion in 2012.  Sales figures are expected to be up 2% since last year.  But the New York Times reports some retailers attribute that to price increases, not more volume.
While industry analysts point to the economy as part of the reason for overall decrease, the downturn also corresponds to an infusion of new fabrics in the undergarment category.  Modal, rayon from bamboo and a range of synthetics have taken market share away from cotton.
[quote]Yet more than 8 of 10 consumers (82%) prefer their underwear to be made of cotton and cotton blends, according to the Cotton Incorporated Lifestyle Monitor™ Survey.
Further, both male (65%) and female (52%) shoppers say they are willing to pay more for underwear made of natural fibers like cotton, according to Monitor data.
Hanes can vouch for that.  The company's new ComfortBlend underwear line — a cotton blend that features softer, quick-drying fabric that shrinks less and holds its shape — commands about a 30% price premium in the market.
"We began shipping ComfortBlend to our major retail partners late in the first quarter and it is already performing above expectations, generating incremental sales dollars for Hanes and for our retail partners," related Gerald Evans, co-chief operating officer, when talking recently about the company's second-quarter earnings.
Freshpair's Maria Matheos, buyer, says such innovation adds sophistication to the straightforward basic.
"When you add that extra stretch to cotton, it offers a more defined shape," Matheos says.  "There's no sagging."  Such blends, she says, "are more body defining and fit better under clothes."
On average, consumers purchased approximately 10 pairs of underwear in the past 12 months, the Monitor shows.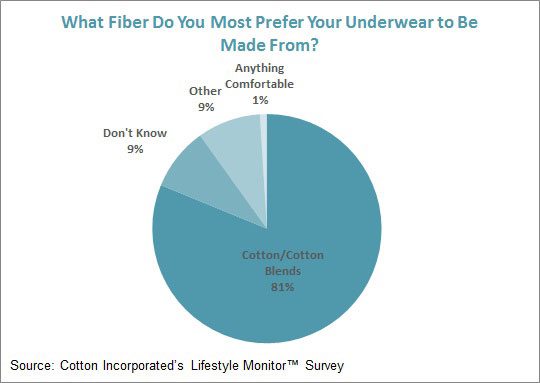 Hanes is the category leader.  For 2012, analysts project the company's sales growth at 4.1% and total sales to climb past $4.8 billion.  In its recent earnings discussion, Richard Noll, CEO, said even with the cotton bubble, the company saw "at least mid-single-digit sales growth" with its top three innerwear customers.
Despite high cotton prices, consumers proved unwilling to sacrifice fiber preferences in their underwear. Last year's historical rise allowed Hanes to "break through historical price barriers and elevate the perceived values associated with our products," Evans said.  The company now plans to grow both its basic and innovation lines.
At Jockey, where cotton still accounts for 70% of the material used in its men's and women's product, innovation is also part of the mix, says Ed Emma, president and chief operating officer.
"On the cotton side of our business, our men's Classics and new Jockey collections incorporate a slim fit and Stay Dry fabrication," Emma says. "And our cotton 'staycool' collection features unique temperature regulation.  Cotton, at least for Jockey, is not just for basics anymore."
Jockey's staycool line for both men and women keeps wearers three degrees cooler by way of an Outlast® technology treatment that is printed onto the fabric, creating an invisible microclimate that regulates the temperature between the garment and the wearer.
Consumers are quite interested in such performance features.  More than half of consumers look for underwear that is easy care (53%) or that contains stretch (52%), followed by underwear that wicks moisture (20%), resists odor (18%), is anti-microbial (13%) and controls temperature (8%), according to the Monitor.
At Freshpair, merchandisers are starting to see more innovative treatments used with cotton products.
"Recent treatments like TransDry® in C-IN2's Grip line address the moisture management limitations of cotton," says Freshpair's Matthew Butlein, president.
Cotton treated with TransDry® dries up to 50% faster than untreated cotton, making it equivalent to the wicking abilities of traditional synthetics.
Freshpair's Alice Paparatto, director of merchandising, has seen an increase in moisture-wicking sales already from spring into fall as consumers become educated about the technology.
"Performance underwear and apparel with moisture-wicking properties literally pull moisture away from your skin, absorbing and spreading it out across the fabric," Paparatto says. "It evaporates quickly and air moves in to keep you cool and dry."
Beyond performance features, almost 8 of 10 consumers (79%) say fit is very important to their underwear purchase decisions, followed by comfort (78%), quality (58%), price (58%), durability (52%), and softness (51%), Monitor data reveal.
Knockout Panties offers women comfort and high-tech functionality with its Smart Panties line.  These cotton products wick moisture, dry six times faster than regular cotton garments and absorb odors. The company's No Trace® technology in the panty liner protects from "sweat, spots and drips."  The innerwear comes in all range of styles, from maternity briefs to sporty thongs.
These types of moisture-wicking and anti-microbial fabrics, says Paparatto, "are important to healthy living."