American consumers are good at handling roller coaster rides – be it a national presidential election, a powerfully destructive hurricane, or a potentially damaging fiscal cliff.  Since early fall, U.S. consumers have faced all of this and more, while keeping calm and carrying on.  This resolute spirit was evidenced during a record-shattering Black Friday, and bodes well for retailing forecasts heading into 2013.
The latest confidence index rose to 73.7, its highest level since February 2008, and more than 33 points higher than a year ago, according to the Conference Board.  Pending homes sales are up 5.2 percentage points, their highest since 2007, while housing starts rose 3.6% to 894,000, the best level in more than five years.  And the Dow is up more than 4,000 points from where it stood in 2008.
[quote]Retail analyst Jennifer Black, president and CEO of Portland, OR-based Jennifer Black & Associates, says she does not see a slowdown.
"Everywhere we go, they're spending," Black says.  "Now, before the meltdown people went out and spent frivolously, and I'm not seeing that. They're more careful and discerning, but they're willing to pay up for that really great item.  If anybody is feeling negative, I don't see it.  I firmly believe stores should be feeling good."
Nearly half of all consumers (48%) are "very or somewhat optimistic" about their own personal financial situation, up from 46% last year, according to the Cotton Incorporated Lifestyle Monitor™ Survey.  Men (51%), consumers ages 25-to-34 (55%) and those making $75,000 or more per year (59%) are significantly more optimistic than the average consumer.
The optimism carries over to the country's economic health.  More than one-third of consumers (37%) are "very or somewhat optimistic" about the U.S. economy, up significantly from 32% last year, the Monitor shows. Again, men (40%), consumers ages 25-to-34 (43%) and those making $75,000 or more per year (42%) are significantly more optimistic than the average consumer.
Furthermore, a National Retail Federation survey conducted by BIGinsight showed traffic and spending grew over the Thanksgiving weekend.  A record 247 million shoppers visited stores and websites over Black Friday weekend, up from 226 million last year. Total spending reached an estimated $59.1 billion.  comScore reported U.S. e-commerce spending rose 16% to $16.4 billion during the early days of the online holiday shopping season.  ShopperTrak, which measures retail foot traffic, estimated an 8.2% increase over last year, to more than 594 million store visits.
The International Council of Shopping Centers said chain-store sales showed a modest 1.7% increase in November.  But, says Black, "Most of our companies, including Ann Taylor, American Eagle and Gap, raised their guidance."
Kantar Retail's Doug Hermanson, economist, says Hurricane Sandy made it difficult to define holiday sales trends.
The superstorm harshly affected the Mid-Atlantic and Northeast regions, which accounts for 24% of retail sales nationwide, according to MasterCard Advisors' SpendingPulse.  In the New York/New Jersey area, millions of homes and businesses — including stores and malls — were without power from days to weeks. Crashed trees, snapped live power lines, and government-mandated curfews forced residents indoors.  And for a couple of weeks, a crippling gas crisis curbed consumer car trips.
But by Thanksgiving weekend, lines formed everywhere as shoppers got in the holiday spirit.
"Early in November, sales were slower, but they picked up in the second half of the month," Hermanson says.  "Black Friday drove sales for many stores.  My feeling is we saw consumer confidence rebound a bit in November, which is good and encouraging.  But our ShopperScape database tracks how families intend to spend in the coming months.  Through October, they aren't expanding beyond those plans like they were earlier in the year and last holiday.  We'll still stay on this modest path."
Nearly eight out of 10 consumers (79%) say they are "very or somewhat concerned" about a reduction in their annual household income, the Monitor shows.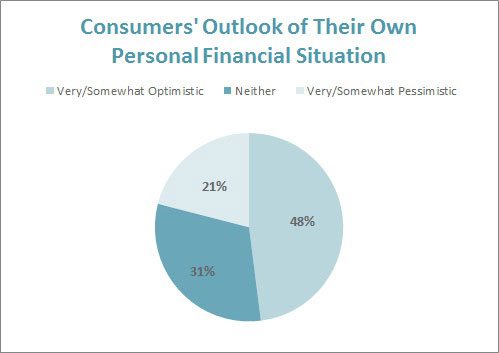 Recent earnings reports tracked by Thomson Reuters put 16 retailers at a 1.6% increase in same store sales when analysts expected 3.3% growth.  Stores that came in below expectations include Kohl's (-5.6%), Target (-0.1%) and Macy's (-0.7%), although Target expects profitability to remain on plan and Macy's pointed to Hurricane Sandy to explain its soft numbers.
"We remain on track to deliver a very strong sales performance in the fourth quarter, consistent with our guidance," said Terry J. Lundgren, chairman, president and chief executive officer of Macy's, Inc.  "Going forward into the heart of the holiday season, we continue to be very enthusiastic about how our Omnichannel strategy is playing out."
On a same-store basis, Macy's, Inc.'s year-to-date sales are up 3.1%.
Of course, deal seeking is top of mind for many consumers, who will be stretching their gift budget with more comparison shopping (45%), looking for deals on days like Black Friday (45%), and shopping around for the best bargain (43%), the Monitor shows.
Still, the season is not just about deals, Black points out.
"Shoppers have money and they're buying both sale and non-sale items," Black says.  "They want to get the most for their money, but they'll buy a great item they think will be gone if they wait.  I feel really positive."