Retailers are increasingly investing in their mobile commerce platforms, be it an app or a mobile web site, to encourage consumers to use them while out shopping.  But sometimes just getting a signal is a challenge.
[quote]Planet Retail's Malcolm Pinkerton, senior analyst, says stores are realizing more shoppers regularly use mobile as part of the retail experience.
"They use it when they're out and about, looking for deals, checking for product and asking friends' opinions on an outfit on their social network," Pinkerton says.  "Shoppers use mobile at every stage, so they'll demand to have consistent Internet access.  If they're paying for it, they want it.  And in areas of weak spots, they'll expect free Wi-Fi or better cell coverage."
Among those planning on buying holiday gifts this year, 76% plan on using the Internet to shop through a traditional computer or laptop, followed by a mobile or smart phone (15%) and an iPad, iPod, or similar device (14% – up significantly from 7% in 2011), according to the Cotton Incorporated Lifestyle Monitor™ Survey.
Of consumers planning to use their mobile device for holiday shopping this year, 63% plan to comparison shop (down significantly from 82% in 2011), followed by locate stores (52%), purchase items (49% – up significantly from 28% in 2011) and read customer reviews (37%), according to Monitor data.
More retailers and mall operators are adding Wi-Fi in an effort to meet customer demand for Internet access while shopping.  Target recently rolled out free Wi-Fi, as did Sam's Club in 500 warehouse stores.  Cloud Nine Media and DragNFly Wireless are bringing free Wi-Fi to 24 select U.S. malls.  And Google and Boingo are expanding wireless hotspot access to eight malls, with service support coming via Google Offers.
At Chicago's 900 North Michigan Shops, free Wi-Fi has been offered since 2007, says Ryan Beshel, spokesperson.
"It is helpful to offer Wi-Fi so customers can search for information and promotions via phone," says Beshel, adding that it made sense as the 900 Shop also features dining, a spa, and a gym.  "We simply started it to offer another amenity and convenience for our customers.  As the anchor shopping center on the Magnificent Mile, it is up to us to set a standard for maintaining the very best customer experience that we are able to provide."
An Internet Retailer survey shows nearly 42% of retailers have a mobile commerce budget of less than $25,000, while the remaining stores spend anywhere from $25,000 to more than $1 million.
Smartphones account for more than half of cellular handhelds in the U.S., and Nielsen Co. reports half of those owners use mobile commerce apps.  JiWire reports that shopping malls are among the most common places consumers use smartphones and tablets. The mobile ad company also reports the number of Wi-Fi locations has increased 12% in the second quarter from a year ago, to 776,556 worldwide. That marks the first double-digit increase since the third quarter of 2011.
A slow signal impedes shoppers' ability to download coupon codes, read a review, or get a friend's feedback on a potential outfit.  Sometimes customers want to compare prices, either to get a better deal elsewhere or to see if a retailer can match the lower price.  While this showrooming technique is the bane of modern retailing, a slow signal will only frustrate customers — not stop them from using the practice.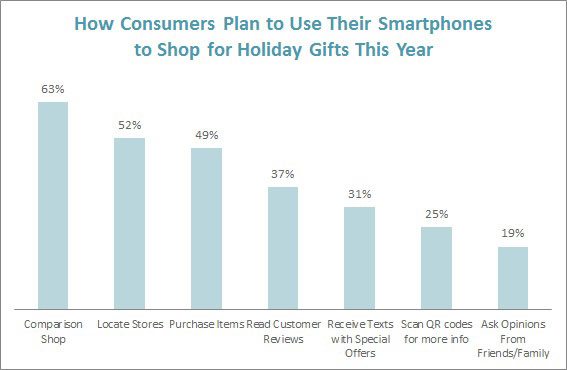 In a recent report, IDC Retail Insights found consumers are more likely to buy from tech-savvy retailers.  The report says about 70% of shoppers plan to showroom this season, and they will be "more likely" to buy from retailers who offer full-featured mobile sites, provide omnichannel conveniences across stores and websites, support smartphone shopping apps, and offer price comparisons via QR codes.
"Retailers from Walmart to Luxottica Retail acknowledge the critical importance of engaging today's savvy consumer through dynamic technology to improve the customer experience and increase sales," says Greg Girard, program director, IDC Retail Insights.
Walmart and other mass merchants may expect to see the most showrooming this holiday, as the Monitor finds 61% of apparel gift givers plan to shop those stores. That is followed by chains (58%) and department stores (49% – up significantly from 37% in 2011).
Besides store-supplied Wi-Fi or a boosted signal courtesy of the cell phone networks, consumers should soon be experiencing more seamless Internet with the Wi-Fi CERTIFIED PasspointTM network, courtesy of a partnership by major U.S. cable companies that are installing 50,000 hot spots under the CableWiFi™ brand.  This will eliminate smartphone users' need to go to their phone settings, find a Wi-Fi network, log in — and then do it all again at a different store or mall.
Pinkerton says free Wi-Fi will be the difference in whether or not the modern consumer makes a purchase.
"It wasn't considered by retailers until now because it's a huge investment," Pinkerton says. "But Wi-Fi is becoming cheaper to manage. And smartphones are now the norm, whereas a few years ago that wasn't the case. Consumers are increasingly using their smartphones throughout the whole shopping journey and retailers have to accommodate that."