Ask the average person what they think of when they think of denim, and they'll likely describe the average five-pocket jean. But denim brands and apparel designers have taken creativity in the category to new levels, securing the fabric will remain both timeless and fresh for changing markets.[quote]
The U.S. denim market grew to $16.7 billion last year, according to Euromonitor. The global denim market is valued at $48.1 billion, according to Analytical Research Cognizance, and is expected to reach $59.6 billion by 2024.
That growth stems from the fact that nearly 9 out of 10 consumers (87 percent) say they plan to purchase the same amount or more denim jeans over the next year, according to the Cotton Incorporated Lifestyle Monitor™ Survey. About one-fifth (19 percent) say they plan to purchase more jeans. And shoppers under the age of 35 are significantly more likely than their counterparts to say they expect to pick up more denim (26 percent versus 15 percent).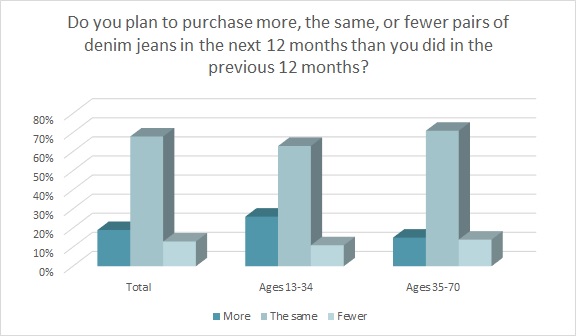 In recent years, the denim market felt real competition from the athleisure category. Some also criticized brands for letting the skinny jean wear out its welcome. But all that began to change when designers realized the market is there if consumers can see distinctive innovation.
"Women want to wear more than just leggings and yoga pants," said Marshal Cohen, chief industry advisor for The NPD Group, earlier this year. "But, the emphasis on quantity and discounting means marketers need to find new ways to inspire the women's jeans consumer, and deliver product that compels them to take their purchase to the next level."
The NPD Group reported a total of 364 million pairs of women's jeans were purchased in the U.S. in the 12 months ending February 2019. The firm says that was a nearly 22 million-unit increase over the previous year, and the primary source of growth for the jeans category overall.
There was no shortage of denim on the runway during New York Fashion Week's Spring/Summer 2020 shows. Brock Collection showed wide-leg denim jeans with light and airy gowns. Rag & Bone's denim included ultra-short denim skirts, tiny shorts, waistband-less jeans and a ragged-edged denim vest. Prabal Gurung went with denim work jackets, overalls and dresses. And Brandon Maxwell showed jeans with ripped knees and frayed bottoms, a classic denim shirt paired with leather pants, and a full-body look that paired a rolled-sleeve work shirt with matching deep blue jeans.
All of this denim newness should prove to be especially appealing to the 31 percent of consumers who plan to buy new pieces simply to add to their denim wardrobe, according to the Monitor™ research. Overall, though, most consumers (46 percent) plan to buy new jeans to replace their old denim.
Nearly two thirds of consumers (62 percent) say they wear denim jeans or shorts at least three times a week, according to Monitor™ data. Men are more likely than women to wear denim at three or more times per week (68 percent versus 58 percent), as are those aged 35 plus compared to their younger counterparts (65 percent versus 58 percent).
While denim was popular at the New York fashion shows, Levi's is still the most favorite denim brand for one-third of all consumers (and 51 percent of all men), according to Monitor™ research. That's followed by Lee (10 percent), Wrangler (10 percent), American Eagle (5 percent), Old Navy (5 percent), Gap (3 percent), Calvin Klein (3 percent), and True Religion (2 percent).
But the shows provided truly innovative looks, including painted and sequined jeans and rompers, as delivered by No Sesso at its runway show. Alexander Wang showed a denim shirt with leather collar and plackets, as well as blue jeans overlaid with leather and suede chaps. Kaimin showed an adjustable-length denim skirt, jeans with metallic and embroidered appliques and denim bottoms that looked as if the pant legs were breaking away, leaving only tiny shorts. EDGII delivered extra wide-leg jeans, as well as bottoms with flyaway pant legs that split at the knee. And Alice + Olivia collaborated with designer Everard Best of the men's wear labels Murder Bravado and Who Decides War, on a collection of hand-embroidered, dyed, and distressed denim.
Next season, consumers will also find high-rise, patchwork, pleated, two-toned, long-hemmed, button-front and — yes — skinny jeans, for both men and women.
Despite all the new looks designers are bringing to denim, brands should keep in mind that consumers also value traditional features. More than 9 in 10 consumers say comfort (97 percent), fit (96 percent), quality (94 percent), durability (93 percent), and price (92 percent) are important in their denim purchase decisions, according to the Monitor™ research. That's followed by style (87 percent) and color (85 percent). And while designer denim can retail starting at $250, the Monitor™ finds most consumers typically pay $37 for a pair of jeans, up 6 percent from a year ago.
But designers, ever the creative types, are banking on innovative styles and unusual details to keep consumers coming back for more of what the denim category has to offer. Alice + Olivia's Stacey Bendet, CEO and creative director, says she tapped Best for a denim collaboration because she admired his out-of-the-box approach.
"There is a sense of newness and methodology to his designs that is incredibly exciting to me," she said. "As designers, Everard and I share a mutual love for rhinestones, embroidery, and color. Our approach to these design elements is strikingly opposite. To merge the two and produce something truly special seemed like a rare, and exciting proposition."