"Let's face facts," reads the Health At Every Size (HAES) page, "We've lost the war on obesity."
Fighting fat, the group states, hasn't made it go away. So instead, it urges creating an inclusive and respectful community that supports people of all sizes. And it seems more mainstream apparel brands are finally getting that message, including those that appeal to younger generations.[quote]
Brands that offer extended sizing stand to win, both in the eyes of the consumer as well as their bottom lines. Coresight Research puts the 2019 women's plus-size apparel market at nearly $31 billion.  And an NPD study showed the percentage of U.S. teens buying extended sizes jumped from 19 percent in 2012 to 34 percent in 2015.
American Eagle this year launched extended sizing for its denim, a move that can only be seen as positive, according to Roland Gossage, CEO GroupBy, an ecommerce and merchandising solutions firm.
"It's thrilling to hear that AE has announced an expansion of their sizing to have the perfect pair for everyone," Gossage says. "In a world of rampant body-shaming and size discrimination, it is always a win to have more and more retailers take an inclusive approach to their brand and products. Big, small, short, tall, bigger on top, bigger the bottom, slim, built, you name it, people come in all shapes and sizes. Discrimination is not only bad for a society's culture, but it is also bad for business. By including clothes of all sizes, brands not only expand their shopper base but also contribute to making the world a more inclusive place for adolescents and Millennials suffering from body image issues."
On average, extended size Millennials and Gen Z consumers shop for clothes 2.4 and 2 times per month, respectively, which mirrors that of their non plus-size counterparts, according to the Cotton Incorporated Lifestyle Monitor™ Survey. But extended size Millennial shoppers spend $930 per year on new apparel, compared to $1,162 by their non-plus counterparts. Additionally, Gen Z shoppers spend $531 per year on new clothes, compared to $711 by non-plus customer, reflecting an opportunity across the apparel industry.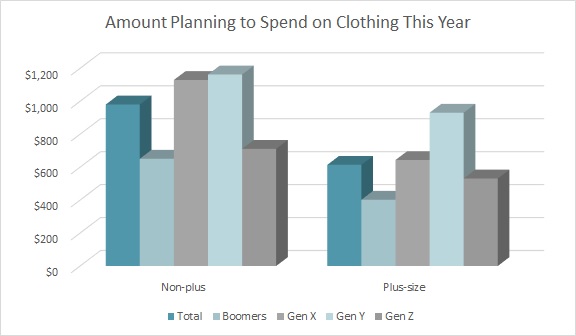 In their report, "The State of Fashion 2019," McKinsey asserted this year would be "a year of awakening. The ones who will succeed will have to come to terms with the fact that in the new paradigm that is taking shape around them, some of the old rules simply don't work. They need to… have the courage to 'self-disrupt' their own identity and the sources of their old success in order to realise [sic] these changes and win new generations of customers."
Gen Z- and Millennial-targeted apparel brands and retailers that have recognized the need to offer extended sizes (in at least a portion of their product) include ASOS, Madewell, J. Crew, Violeta by Mango, LOFT Plus, ModCloth, Reformation, EVRI by Kohl's, Nike, Universal Standard, Eloquii, Anthropolgie, Shein, and Torrid.
Brands that offer extended sizing would help satisfy demand from a strong segment of society. Duke University last year reported about 42 percent of boys and girls aged 16-to-19 were considered overweight, as defined by the Centers for Disease Control and Prevention. In 2015, Statista reported 25 percent of Millennials were overweight, while 16 percent were obese. The rates vary by states, though, which is something retailers and brands should keep in mind when planning their assortments.
Three-quarters (75 percent) of plus-size Millennials say they would like apparel brands and retailers to offer additional fits and sizes, according to Monitor™ research. And 63 percent would like fashion purveyors to be more inclusive in both their advertising and product assortment.
Mintel's Madelyn Franz, research analyst, says even though the youth market is challenging for retailers, the effort to connect is imperative.
"Teenage consumers… have high expectations of apparel brands and are looking for a variety of styles and sizes, as well as relevant and poignant brand messaging," Franz says. "To keep up with teens' dynamic fashion sense, retailers must actively engage with their consumers where they spend their time: social media. Teenage shoppers are eager to socialize online and engaging with them can provide fashion retailers with valuable insights into current trends and desires, as well as promote offerings in a way that speaks to the target consumer. "
More than half of all plus-size Millennials (55 percent) say they wish apparel brands and retailers knew more "about what I like and how I shop," according to the Monitor™ survey.
When it comes to clothing ideas, 66 percent of Millennial and Gen Z customers — both extended size and non plus-size — are influenced by what they already own and like, according to Monitor™ data. Additionally, both Gen Z plus and non-plus consumers look online at about the same rate (49 percent). But, among Millennials, 49 percent of non-plus customers go online for clothing ideas, compared to just 40 percent of extended size shoppers. Conversely, 35 percent of both plus and non-plus Millennials use store and window displays for inspiration. But among Gen Z consumers, 30 percent of non-plus customers look to retail displays, compared to just 18 percent of plus-size shoppers.
This suggests that retailers and brands need to give plus Millennials more guidance and options online, while younger consumers could use more visual presentations in-store.
Millennials shopping for extended sizes are most likely to head to mass merchants (35 percent), off-pricers (14 percent), specialty stores like Lane Bryant, American Eagle, etc. (14 percent), and chain stores like JC Penny and Kohl's (10 percent). Gen Z plus shoppers are also most likely to shop mass merchants, though to a lesser degree (29 percent). That's followed by chain stores (16 percent), fast fashion specialty stores (14 percent), and thrift stores (10 percent).
"Shoppers get hooked on a brand when they are presented with personalization that goes beyond the standard measures," says GroupBy's Gossage. "When you offer a shopper the option of choosing a body type, style or fit, they are more likely to make a purchase."