After more than a year where pajamas and athleisure took center stage in many a wardrobe, industry experts see denim making a strong return in the near future. The thinking is that consumers will want to shift from the super casual clothes they'd grown used to during the pandemic, without making the sharp leap to business formal attire. As the world recovers and reopens after COVID took its toll, it's not only U.S. consumers who are expected to invest in new denim. China and Mexico are poised to offer major market opportunities, as well.[quote]
By 2030, global apparel spending on all categories of clothing is expected to increase 55 percent since 2019 to $2.66 trillion, according to the Euromonitor International. China is expected to see a 99 percent increase in apparel spending, to $585 billion, while the U.S. should see sales increase 24 percent to $412. Meanwhile, Mexico's apparel market was valued at $18 billion in 2017 and is projected to grow 37 percent by 2030, outpacing population growth, according to Euromonitor.
As for jeans spending specifically, Euromonitor International projects a 9 percent upswing globally, to $106 billion by 2024. The U.S. is expected to increase spending by 4 percent, to $17 billion, while China will see a significant 14 percent growth to $13.4 billion.
Sure, athleisure and loungewear made sense when we barely left our homes. But the re-opening of offices, schools, and social venues gives consumers a reason to step up their fashion game. And whether they're in the U.S. (21%), Mexico (28%), or China (19%), one of the top clothing items when consumers want to feel comfortable is still denim jeans (22.5 percent), according to the Cotton Incorporated Global Lifestyle MonitorTM Denim Survey (2020).
Denim jeans are also one of the top choices when consumers want to feel confident (23 percent) and when they want to impress someone (22 percent), according to Cotton Incorporated's Denim Survey (2020).
Perhaps the greatest pent up demand for jeans lies in Latin America, an area that possesses the greatest share of consumers who say they "love or enjoy" wearing denim (83 percent), according to Cotton Incorporated's Lifestyle MonitorTM Survey, and Cotton Council International (CCI) and Cotton Incorporated's Global Lifestyle Monitor Survey (2018). Nearly two-thirds of Chinese consumers (65 percent) share the sentiment, as do 60 percent of U.S. consumers according to the Global Lifestyle Monitor Survey.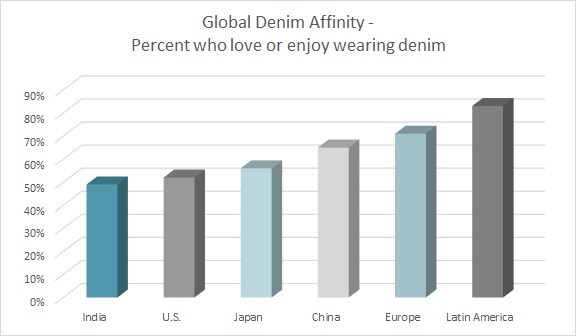 Mexico presents itself as a favorable denim market due to cultural and economic affinity for jeans, as well as countrywide fabric preferences. The majority of consumers seek clothes that are comfortable (69 percent), durable (66 percent), high quality (65 percent), and priced affordably, according to the Global Lifestyle Monitor: Mexico (2018). Further, Mexico is one of the largest manufacturers of denim and the fabric has a strong cultural heritage in the country. It's not surprising then that 98 percent of Mexican consumers own at least one pair of denim jeans, and about one in four (23 percent) report wearing jeans every day of the week.
China also looks to be a strong market for denim, as its affluent classes are projected to grow from 9.7 percent of the population in 2015 to nearly one-third of the population by 2030, according to Cotton Incorporated's Global Lifestyle Monitor: China. These shoppers are more demanding than their counterparts and are willing to pay more for quality clothes made from natural fibers (68 percent) versus their counterparts (58 percent). Like Mexico, the top purchase driver among higher income consumers is comfort (87 percent). But in a departure from Mexico, the next most sought after factors by Chinese consumers are style (76 percent), performance features (69 percent), and brand name (52 percent).
Of course, the American consumer will always be attractive to denim makers. After all, the rugged bottoms were born in the U.S., thanks to an 1873 patent by Jacob Davis and Levi Strauss, and have been popular ever since. And at 32 percent, jeans hold the largest share of bottoms offered at retail. Still, 2019 denim imports (459 million) were down from the year before (480 million) and flat compared to 2018, according to the U.S. Office of Textiles and Apparel.
The pandemic didn't help matters in 2020, when consumers were loathe to buy any new clothes. But even as COVID-19 was raging throughout 2020, 27 percent of consumers said they planned to buy new jeans, according to Cotton Incorporated's 2021 Coronavirus Response Consumer Survey, Wave 5, Feb 27-30.
At U.S. retail, economy and standard-priced jeans (+2.4 percent) are expected to outpace sales of premium (-3.6 percent) and super premium (-4.3 percent) denim, according to Euromonitor. Those lower-priced jeans have decreased the average retail price for denim, from $50.46 two years ago to $48.83 in YE Q1 2020, according to Cotton Incorporated's Retail MonitorTM Study.
While the coronavirus pandemic has had an effect on how U.S. consumers shop for clothes, they still prefer to shop for denim in-store (69 percent) versus online (31 percent), according to Cotton Incorporated's Denim Survey (2020).
While buying clothes online has made sense during the pandemic, it isn't without its drawback. U.S. Consumers say the challenges with buying clothing including denim from web stores have to do with fit (68 percent), look (65 percent), quality (61 percent), and shipping (54 percent), according to Cotton Incorporated's 2020 Sustainability and Ecommerce Consumer Survey.
Regardless of how tough it may be to buy new jeans due to Covid restrictions or concerns about shopping in-store, true devotees will continue to do what it takes to get the perfect jeans for the coming season. That's because 79 percent of U.S. shoppers say denim can never go out of style and 62 percent say, "Nothing could ever take the place of denim jeans in my wardrobe," according to MonitorTM research. Still, U.S. even when shopping in-store, consumers run into issues when buying denim. Nearly 4 in 10 (39 percent) cite fit as an issue, followed by size/sizing (25 percent), leg length (14 percent), and price (11 percent), according to the Monitor™ data.
After more than a year of living with the pandemic, and months after vaccines have been introduced, the majority of workers and students are still either fully or partially remote in the U.S. (79 percent) and Mexico (78 percent), according to Cotton Incorporated's Denim Survey (2020). But denim remains the top choice for consumers whether they're continuing to work from home (U.S. – 24 percent, Mexico – 30 percent, China – 16 percent), heading back to an office — even on a hybrid basis (U.S. – 26 percent, Mexico – 29 percent, China – 17 percent) or socializing with friends (U.S. – 29 percent, Mexico – 32 percent, China – 19 percent).
As consumers re-enter the work world and resume their school and social lives, they'll undoubtedly be looking for something new that's still comfortable yet gives them the confidence to greet their colleagues, classmates and friends again. It will be up to retailers and denim brands to make sure they're ready.