After a year that saw more than a few people sapped of their motivation, the warm weather of spring is inspiring many of us to get up and get active again. Inevitably, consumers will mark the occasion with some new workout wear. Of course, many school and work-from-home outfits featured activewear pieces, making it safe to say the athleticwear trend will remain strong for some time.[quote]
That's why those in the activewear market should take note of the latest trends and performance technologies that are offered in consumers' preferred fabric. Nearly three-quarters of all consumers (76 percent) say cotton is their favorite fabric to wear, significantly more than polyester (3 percent) or rayon (1 percent), according to the 2021 Cotton Incorporated Lifestyle Monitor™ Survey.
In 2020, the global activewear market was valued at about $353.5 billion U.S. dollars, according to Statista. The firm says growth in the industry was due to fitness conscious consumers who were seeking the appropriate apparel and gear for their activities. At the same time, though, 65 percent of consumers said they were wearing activewear in their daily lives.
"This is due to the rise of streetwear style, which encourages consumers to incorporate activewear into their personal style," states Statista's M. Shahbandeh, U.S. and global research expert on agriculture and fast-moving consumer goods (FMCG). "In the United States, women's sportswear products generate a majority of all sportswear revenue. Women's sportswear generated $39.43 billion U.S. dollars in 2020, more than men's and children's sportswear combined. This trend was forecast to continue throughout the 2020s."
By 2025, the activewear market is expected to generate more than $95 billion in the U.S. alone, according to Shahbandeh.
More than half of all consumers (53 percent) say they plan to purchase activewear (29 percent) or athleisure apparel (24 percent) in anticipation of resuming activities, according to Cotton Incorporated's 2021 Coronavirus Response Consumer Survey (Wave 5, Feb. 28, 2021). Nearly one-quarter of shoppers (23 percent) plan to buy T-shirts. Another 20 percent plan to buy leggings, jeggings, or yoga pants. And about 1 in 5 (19 percent) plan to purchase sweatpants, sweatshirts, or joggers.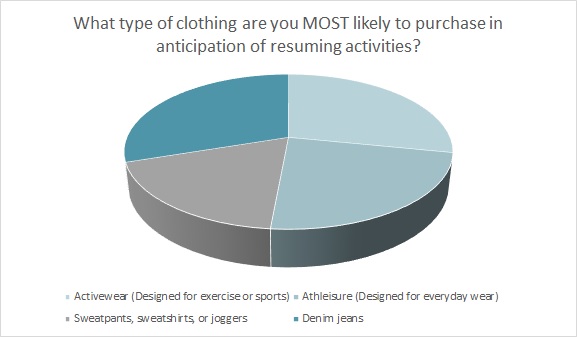 Already, consumers may be surprised by some of the offerings at stores now. Tom Kolovos, a Chicago-based personal stylist and image consultant, says consumers should keep their eyes out for new styles from perhaps surprising places.
"For starters, I was excited to see Lululemon's cotton sweatpant this spring," Kolovos says in an interview with the Lifestyle Monitor™. "It's got the designer look of a sweatpant the kids are wearing these days, without spending $500 or $1,000 at Burberry for the same style. And I think this is a better look, actually. You can mix and match them with Lululemon hoodies because they come in more than a half-dozen different colorways."
Kolovos says he was particularly taken with Rag & Bones' Miramar jogger in 100 percent cotton.
"Imagine if you took a sweat material and laser printed a jean on it, with a pocket, the button and everything else. But the pocket on the front, the belt loops and the button aren't real — they're just laser printed on there," Kolovos says in an interview with the Lifestyle Monitor™. The pants do have side pockets, as a regular sweatpant would. He went on to joke, "I don't know what we should call them. Maybe sweans, or swants. They look just like denim jeans — but super comfortable like sweats. And I love the short in this Miramar cotton fabric. I wish they would make them in men's. I'd buy a bunch of them."
The fact that Rag & Bone went with all cotton on these "trompe l'oeil denim" sweatpants and shorts makes them more appealing to the majority of consumers who say they're willing to pay a slightly higher price to keep cotton from being substituted with lower-priced synthetics in their activewear (51 percent), according to the 2021 Monitor™. These consumers have an interest in using cotton that goes beyond self-concern, though. Nearly two-thirds (62 percent) say they are bothered by brands and retailers using synthetic fibers in their clothing because of microfiber pollution.
Tiny microfibers that wash off synthetic clothes like polyester during their laundry cycle account for up to 35 percent of the plastic that is polluting the Earth's oceans, according to Ocean Clean Wash. These microfibers have been found in sea life, from plankton to the fish that works its way to our dinner plates. These plastic microfibers have also been found high in the alpine mountains, as well as right in our kitchen drinking water.
Activewear makers who want to avoid clothing conflict when it comes to synthetics will find a host of performance technologies for cotton fabric that will keep users comfortable whether they're working out or working from home. For instance, STORM COTTON™ technology repels water with the breathability of cotton, making a functional knit look good while performing, rain or shine.
Whether consumers are working out in their homes or outdoors, TransDRY® and WICKING WINDOWS™ technologies pull moisture away from the skin, keeping wearers cool, dry, and comfortable in their performance knits. And for those consumers who are looking for "whole garment technology," Shima Seiki USA Inc. uses 3D technology to produce a "Whole Garment." These knitwear items are produced in one entire piece, three dimensionally, directly on the knitting machine.
The majority of consumers (66 percent) are also seeking odor-resistant properties in their activewear, according to the 2021 Monitor™. And since more than 9 in 10 say they wear it for purposes other than exercise, odor resistance becomes even more essential. A number of technologies can be blended with or applied to cotton to enhance the fiber with antimicrobial properties. The options include PurThread®, which embeds odor-killing recycled silver salts into polyester fibers, which can be blended with cotton for permanent anti-odor benefits. Another is Ionic+TM, which uses positively charged silver ions that are permanently embedded into the fiber or filament to inhibit the growth of odor-causing bacteria on fabrics. And Agion Active™ combines antimicrobial technology with Sciessent Lava™ odor control to attack and trap the vapors of odor-causing bacteria on contact.
Further, men and women who have grown tired of chafing or are looking to improve their range of motion will want to know about Seamless Garment Technology, where a circular knitting machine is used to produce an entire garment on one machine, with no assembly or linking required.
Cotton Incorporated has also teamed with Andari, a manufacturer in the U.S., to develop a unique collection of original performance knitwear. And Santoni merges the comfort and ease of seamless technology with indigo yarns, to create unique looks in the athleisure and activewear spaces.
Of course, whether that means the market will see more faux denim sweatpants remains to be seen.