Even though the pandemic has played havoc with so many things, including the start of the school year, it's fairly certain kids have all grown a bit since they last sat in a classroom. And that means they likely need some new clothes. And whether students are going to school five days a week, attending on hybrid schedules, or showing up totally virtually, parents will be looking for a break any way they can get it, including through more easy-care clothes for their kids.[quote]
"I like getting my son pants with reinforced knees, because they're supposed to be tougher. Although he gives them a run for the money," said Jessica Schetting, a mom of a grade-school boy and girl (full disclosure, she's related to this columnist, who is grateful she's not dealing with the possibility of home schooling anybody). "If things are stain resistant, that's amazing. And they both want soft, comfortable clothes. My daughter wears a lot of leggings because she's so slim in the waist and her legs are so long. So I like GapKids for her because they have a slim option."
Gap Kids offers a number of stain resistant, cotton kid's garments, including white denim shorts, jacket and jeggings, uniform skorts and shorts, and khaki pants and shorts.
But today's performance clothes for kids include a lot of features that make them as beneficial in the schoolroom as the potential outdoor classroom at home. Take REI's  cotton-blend, insect-repellent hoodie from Craghoppers that also wicks moisture and is quick drying. Old Navy has kids' denim with Built-in Flex Max, a stretch technology that allows for maximum comfort and movement. And  L.L. Bean's cotton-blend, insect-repellent hoodie features the brand's Insect Shield technology. This EPA-approved, invisible, odorless treatment is made from permethrin, a synthetic form of a bug repellent produced naturally by chrysanthemums. L.L. Bean says it's also been proven effective by the Centers for Disease Control and Prevention.
The list of performance technology garments for kids goes on. But with the amount of stress parents are already facing over whether their children can (or should) return to school, any piece of mind brands can provide is a plus.
The U.S. baby and children's wear market is expected to generate revenue of about $54.8 billion in 2020, according to Statista. This is a decrease from $56.7 billion in 2019, and is adjusted for the expected impact of COVID-19. At about $12 billion, Statista's "sports and swimwear" category accounts for the largest percentage of revenue. That's followed by pants at $8.2 billion, baby clothes ($8 billion), jerseys, sweatshirts and pullovers ($5.8 billion), shirts and blouses ($4 billion), clothing accessories and other clothes ($3.9 billion), and pajamas and underwear ($3.7 billion).
About one-half of parents (51 percent) say fabric has "some degree or a great deal" of influence on their purchase, and two-thirds look at fabric content "sometimes or usually" before buying children's clothes, according to the Cotton Council International (CCI) and Cotton Incorporated's Childrenswear Study. Overall, cotton is the preferred fiber for children's underwear (78 percent), undershirts (78 percent), shirts or tops such as T-shirts, tanks, dress shirts and sweatshirts (73 percent), bottoms like jeans, pants, leggings and shorts (71 percent), and athletic apparel (47 percent).
Performance features significantly increase the likelihood that parents will purchase apparel for their child. The Childrenswear Study finds 85 percent of parents are "very/somewhat likely" to purchase apparel with stretch. That's followed by durability enhancement (84 percent), breathability or airflow enhancement (83 percent), temperature control (81 percent), moisture management (72 percent), wrinkle resistance (72 percent), fade resistance (71 percent), odor resistance (70 percent), water repellency (59 percent), and sweat-hiding finishes (58 percent).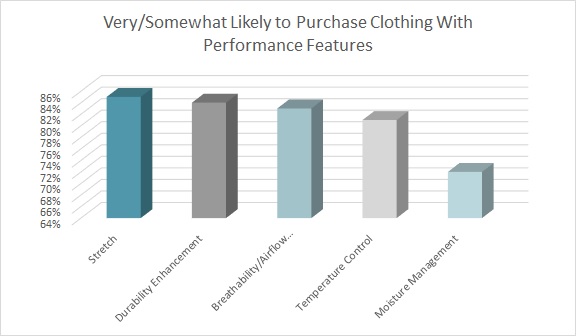 Parents also are likely to buy children's clothes that are hypoallergenic/prevent skin irritation (87 percent) and wash out odor (86 percent), according to the Childrenswear Study. That's followed by clothes that shrink less than other fibers (82 percent), don't pollute oceans with microplastics when fibers shed in the wash (76 percent), are sustainably produced (73 percent), prevent yeast infections (71 percent), and are biodegradable (66 percent).
Those with the highest annual spend on apparel for their children are more likely to seek out all of these performance finishes, according to the Childrenswear Study.
Cotton Incorporated has developed performance technologies that enhance cotton's natural properties. Its TOUGH COTTON™ technology adds increased durability and superior abrasion and wrinkle resistance throughout the life of both knit and woven apparel. Cotton Incorporated's TransDRY® and WICKING WINDOWS™ technologies allow wearers to experience the fast-drying and moisture-wicking performance of synthetic fabrics, but with the comfort and softness of natural cotton. Its STORM COTTON™ technology adds water repellency to cotton garments. And Cotton Incorporated's PUREPRESS™ Technology is a formaldehyde-free durable press finish that keeps clothes wrinkle-free while adding strength and abrasion resistance.
Retailers and brands that carry children's clothes with performance features have a better chance of standing out in this tough retail environment. The NPD Group's Matt Powell, senior industry advisor, U.S. sports, points out that announcements of school district going virtual this fall will affect retail.
"Those students probably don't need new shoes to take classes virtually," he states. "Parents may shift their spending to better meet the needs prompted by this new schooling environment, and invest in technologies to help their kids learn remotely. Money spent on tech means less available for shirts and shoes. Other school districts are pushing out start dates as they try to develop saving and executable strategies. Later start dates will impact sales that would have taken place early on."
Thoughtful design that marries the preferences of both parents and children has never been more important. In its "Future Consumer 2022" white paper, WGSN highlights key sentiments that will help drive sales and engagement despite the pandemic.
"Designing the right product at the right time is key," says Carla Buzasi, managing director. "By understanding what these consumers feel, and what they'll want from brands, we can support outstanding product design and create a better future."