"I have been wearing hoodies and sweatpants for so long I think I've forgotten how to operate buttons." ~ @Joshgondelman, Twitter
In a matter of days last March, everyday office attire went from traditional workwear to workout clothes. That's if people got out of their pajamas as the coronavirus shutdown forced everyone to work from home. Athleisure quickly became the day-to-night go-to getup: great for daytime Zoom meetings yet transitions nicely for the evening sourdough bread/Netflix binges! Of course, yoga pants and fleecewear work just as well for those feeling inspired enough to actually workout.[quote]
The Boston Consulting Group says the next two to three years could be "the most tumultuous that most people in the fashion industry will ever know. Agile, decisive brands that can free up capital to invest can set themselves up to create advantage in adversity. They can right-size operations and adopt new business practices while continuing to give customers what they want."
And athleisure is among the things consumers really want, according to a J.P. Morgan survey on stimulus spending. The Wall Street Journal writes that 24 percent of those surveyed chose active/athleisure wear as a top-three category where they intended to spend their stimulus checks in early spring.
The U.S. athleisure market was valued at $155.2 billion in 2018 and is expected to reach $257.1 billion by 2026, according to Allied Market Research. That's a CAGR (compound annual growth rate) of 6.7% from 2019 to 2026. A recent report by Technavio, released in May, says the category has the potential to grow by nearly $81 billion from 2020 to 2024, with 30 percent of that growth coming from North America.
Nearly half of all consumers (48 percent) say active or athleisure bottoms have replaced some of the denim jeans in their wardrobe, according to the 2020 Cotton Incorporated Lifestyle Monitor™ Survey. And more than a third (37 percent) say they prefer to wear athletic pants over denim jeans.
Gym + Coffee's Diarmuid McSweeney, co-founder of the Ireland-designed athleisure brand, says the company had to react as quickly as it could to changing demand when the pandemic started to spread.
"When COVID hit, it was a bit of a scary time, to be honest," McSweeney told Klaviyo's Morgan Laskey, community marketing events manager in Klaviyo's Live From Your Laptop show. "We had to think straightaway about closing all of our stores. We had to think about the health of our team while we had customers coming in. And we realized how big of a sales period it was going to be yet we hadn't planned for it. Facebook, Instagram and a few other platforms kind of went a bit nuts. And in the U.S., I think, a lot of big brands stopped advertising, which created a huge opportunity for us. Once we quadrupled our digital spend, it seemed a bit surreal at the time. I think people thought they were just going to be working from home for a few months and they needed to be wearing comfy clothes. Also, all you could do was work out at home or go for a run."
Among people who work outside of their home, 7 in 10 (70 percent) say if they had to choose between a job that required them to wear formal clothes versus one that permitted casual clothes, they would choose the one with a casual dress code, according to the Monitor™ research.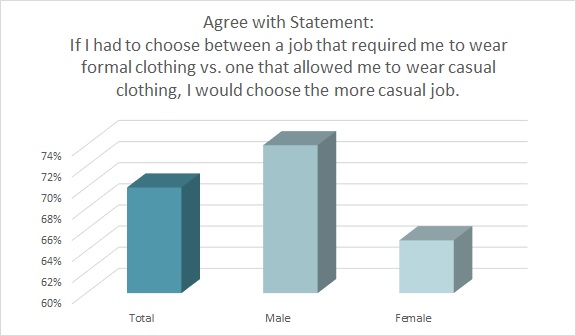 Gym + Coffee offers cotton blend men's and women's hoodies in the U.S., as well as leggings, joggers, tops, and socks. While the garments are shipped all over the world, the company had almost a half-dozen permanent and pop-up locations in Ireland before the pandemic. Most have re-opened.
Factg.MR, a marketing intelligence firm, says its research shows the concept of athleisure has revolutionized casual clothing, as "stretchy suits, smart sneakers and high-tech fabrics are being worn at the workplace." Athleisure has recorded "staggering" growth, according to the firm, due to workwear becoming more comfort-oriented. Fact.MR says the category is becoming even more appealing as workwear to women, since more fashionable athleisure garments have entered the market that have breathability, temperature-regulating, sweat-wicking, and wrinkle-resistant properties.
American Eagle recently launched its own brands of athleisure named Offline by Aerie. The retailer bills it as activewear "built for real movement and real comfort. Pieces include leggings, hoodies, tops, and bottoms. American Eagle's Chad Kessler, global brand president, said the retailer is "pushing leggings and doubling down on sweats" for the Back-to-School season.
The luxury activewear brand Koral collaborated with Italian sportswear maker Kappa for a capsule athleisure collection that launched in May. The Koral x Kappa offering includes a cotton crop top, the cotton blend Vera Valo with an open racerback detail, and the Blank Valo Hoodie that features contrasting fabrics and an elastic logo hem.
And Guess has launched a full athleisure collection that includes cotton and cotton blend hoodies, joggers, tees, and tank tops. These newcomers join Lululemon Athletica, the athleisure powerhouse that saw it's share value leap almost 40 percent during the pandemic.
More than 4 in 5 consumers (82 percent) say they would be more likely to look for work clothing that is designed to be more versatile, according to the Monitor™ data, meaning it can be worn commuting, at work, and after work. And some employers might be interested to know that over one-third of workers (34%) say they would rather have an informal dress code at work than an extra $5,000 in salary.
The NPD Group says most women's activewear is purchased for both leisure and performance activities, with their primary use for "casual/everyday" or athletics/sports/exercise, both of which experienced dollar sales declines in 2019.
"With the women's market failing to perform to its full potential, while holding almost the same market share as men, herein lies a renaissance opportunity to grow the entire market," says the NPD Groups's Matt Powell, senior vice president and sports industry advisor. "Women also have great influence on the men's and kids' side of the business; once she's in the door, she's likely to buy for others in her life. Marketing to women can only be a win-win across the board."