The retail world has changed dramatically in the last 10 years. We've gone from strolling malls to scrolling phones. From telling a clerk, "I'm just looking," to browsing online. From trying on three different sizes in a dressing room, to buying three sizes from a website — and sending two back. It's been a decade that turned retail on its ear, and plenty were caught flat-footed. But some looked far enough downstream, saw the rough water ahead and grabbed every oar, paddle, and flotation device they could to navigate through the river of change, while managing to stay relevant.[quote]
Ralf Kern, global vice president, business unit retail, SAP SE, says the past decade was "undoubtedly marked by an unrelenting and disruptive consumer revolution."
"The search for convenience, price, and customer experience moved consumers online in the 2010's in large numbers – making mobility a make-or-break factor for businesses," Kern says. "For retailers, change came from a multitude of factors: demographic shifts, the rise of the smartphone, the ubiquity of the Internet, the changing role of stores and competition from unexpected rivals."
"These forces over the decade set off a strategic reevaluation for retailers and made them take a look at the fundamentals of their businesses," Kern states. "They noticed certain factors were testing customers' trust in retail institutions. These included the transition from a linear economy to a circular economy, the globalization of supply chains, the explosion of cities as the dense center of populations, and of course the need for sustainable energy."
For the apparel industry, competition for consumer spending dollars increased significantly over the last decade. In 2009, 32 percent of consumers said clothes were their top item of choice to shop for, according to the Cotton Incorporated Lifestyle Monitor™ Survey. By 2019, that dropped to 24 percent. During the same period, groceries became the most popular, rising from 30 percent in 2009 to 34 percent last year. Consumers also shopped more for cosmetics and beauty care items, making it a top choice among 8 percent now, versus 1 percent a decade ago.
However, it's not like people have stopped buying clothes. The majority of consumers (56 percent) say they "love or enjoy" clothes shopping, according to Monitor™ research. That's a significant increase from 50 percent in 2009.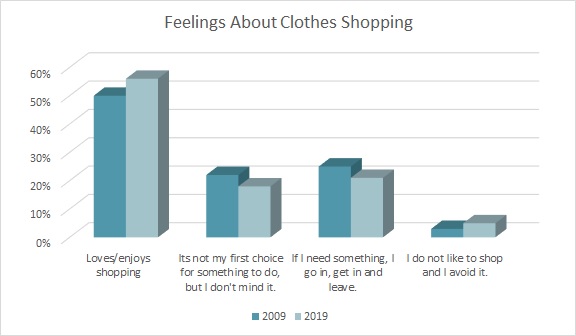 But the way they shop for apparel has changed. The surge in digital shopping has led to a 43 percent increase in the number of times consumers are shopping for clothing online, from 0.7 times to 1.0 times each month.
Noah Zagor, contributing menswear editor for WGSN, says the decade brought about the democratization of information and an informed consumer class.
"Research shows that most Gen Zers make a decision about what they're going to buy before they ever go onto the brand's website or to the store," Zagor says. "That is a massive shift that essentially says we are in a purely demand market versus the supply market. So, the concept of a retailer or a company promoting an idea that may shift the paradigm is much harder to execute when your consumers have already decided what they're going to buy. Also, consumers have access to all the materials that industry insiders do because runway shows are live streamed and look books are posted the moment they drop."
Consumers know what they want to buy before they enter a website or store because most go to the internet for ideas. The Monitor™ found 38 percent of consumers got clothing ideas online, up from just one percentage in 2009. Meanwhile, there's been an appreciable decrease in the influence of store displays and windows (from 42 percent to 33 percent), people you see regularly (34 percent to 27 percent), catalogs (25 percent to 13 percent), commercials and ads (20 percent to 17 percent), and fashion magazines (20 percent to 15 percent).
Kern says to meet changing times, successful retailers saw the benefits of investing in mobility for top-down changes to their business models. With the rise of connected consumers, he says companies began to deliver streamlined, personalized paths to purchase.
SAP commissioned a study in January 2019, assessing enterprise adoption of intelligent technologies to support the digital transformation journey in the last decade. The research examined companies who were actively undergoing digital transformation and had already implemented at least two innovation technologies.
"The results showed… 93 percent of companies believe that intelligent, innovative technologies are foundational to digital transformation success," Kern says.
The digital disruption took a toll on the retail industry, though, with thousands of store closures affecting everyone from mass merchants to luxury stores, from major chains to specialty retailers.
"Another change I see from a decade ago is small conceptual stores can't compete today with global sites like MatchesFashion, Mr. Porter or Ssense," Zagor says. "Multi-brand boutiques with a point of view — places like Opening Ceremony or Stephen Alan — are all gone. Maybe not 100 percent gone but for all intents and purposes, gone. Those stores introduced and supported all these brands that are now the marquee brands of engineered, conceptual fashion. And I think trying to open a brick and mortar store like that now is impossible. You'd have to be so small and niche that it doesn't matter, or so big that you can cover everything."
Although tens of thousands of retail doors have closed, many new stores have opened, including previous online-only brands like Bonobos and Indochino. But another reality for the fashion industry is consumers aren't purchasing as much as they used to. The Monitor™ research shows consumers owned on average 116 pieces of clothing in 2009. These days, they're down to 93 pieces. That goes for both men (down from 98 pieces to 76) and women (down from 118 pieces to 95.)
While ownership may be down, consumer interest in quality has increased. It seems the fast fashion took a toll on consumers, and the majority (51 percent) now say they would be willing pay more for better quality garments, a measurable increase from 47 percent a decade ago, according to Monitor™ research. We now see that the majority of consumers are willing to pay more for better quality clothing (51 percent), up from 47 percent in 2009.
Of particular note for brands and retailers: Consumer preference for cotton apparel has remained strong and dominant over any other fibers throughout the decade. Nearly 4 in 5 consumers (79 percent) say they prefer their clothes be made of cotton, a percentage that eclipses second place silk (3 percent), third place polyester (3 percent), and last place rayon (1 percent). Consumers continue to look to cotton for better quality in their apparel. Today more than 3 in 4 consumers (76 percent) say they believe better quality garments are made from natural fibers like cotton, up from just under half (49 percent) a decade ago.
To that end, Zagor says consumers are responding to retail brands like Patagonia and Noah that have a point of view and ethos that squares with their own, as opposed to the label with the cheapest price.
And Kern says SAP customers like Badgley Mischka, Levi, Adidas and Tapestry have made it through some of retail's roughest water because they understood early on the value of intelligent digital transformation enhanced mobility functionalities and an elevated customer experience.
For example, Badgley Mischka utilizes SAP's Runway app for circular fashion and consumer engagement. The live-audience feedback app uses the Internet of Things, beacon technology, and machine-learning algorithms to automatically recognize the looks as they go down the runway and enable users to interact in real time with the collection by providing feedback. And Levi's worked with SAP to offer a "Pocket Stylist" innovation for shoppers. The technology allows customers to share their online shopping history with one of the shop stylists in the store who, based on that, can then make better recommendations. To avoid queues at the cash desks, the Pocket Stylist also features a self-checkout option.
Additionally, Qualtrics acquired by SAP in 2019, optimizes the customer experience at every touchpoint, Kern says, allowing companies to personalize their products to make their customers feel valued. (See Qualtrics case studies here, including Under Armour and L.L.Bean.)
Looking ahead to 2025, Kern says consumers will expect retailers to be deeply enmeshed in their lives as trusted partners with a shared set of values.
"Retailing will shift from a product-centric approach to customer-centric, experiential retail," Kern states. "Experiential retail will blend products, services (both physical and digital), personalization and unprecedented levels of convenience. To deliver on this experience, retailers will need to embrace emerging technology, think creatively about the services they can uniquely provide, and most importantly earn their consumers' trust."