The average person has 2-to-4 million sweat glands. Experts say one hour of exercising can result in enough sweat to fill from one-and-a-half to three 16 oz. water bottles. While that might keep Poland Spring happy, it can make for some pretty odorous activewear, especially if it's made of synthetics.
[quote]Funky smells are commonplace when people are in the middle of a tough workout. But lingering ones aren't easily overlooked in social situations like shopping, movies or just relaxing. And that's where consumers are wearing their workout clothes these days.
The NPD Group's Marshal Cohen, chief industry analyst, says people like to buy activewear, even if they don't get around to working out.
"The same way people put a treadmill in their bedroom and don't use it," he says, explaining, "They feel better when they're buying activewear because it represents a lifestyle shift and an emotional shift. When you add in the ability to mix casual and active with dressy, you see why activewear is so popular right now."
Men's and women's activewear has grown to a $28.7 billion business in the U.S., according to the NPD Group, up nearly 9% in the last 12 months, and at double the rate of non-active apparel.
More than ever, shoppers are looking for multi-functional workout clothes. That's because a full 92% of consumers wear it for activities other than exercise, up significantly from 87% in 2009, according to the Cotton Incorporated 2014 Sports Apparel Survey.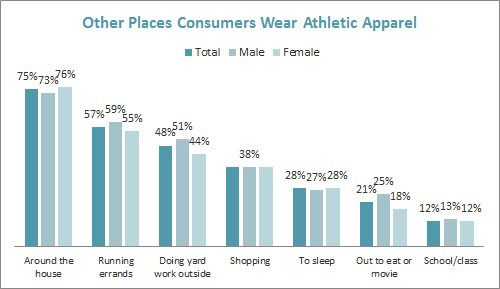 That's what makes it so attractive, says Cohen.
"Even if they don't get to the gym, it's really comfortable," he says. "It fits whether you gain or lose weight, so it's easier to get dressed. And a lot of it helps you look better because it's contoured and slimming."
Indeed, nearly three-fourths (73%) of consumers who wear activewear for purposes other than exercise do so because they find it to be comfortable, according to the Sports Apparel Survey.
One thing that isn't popular is the odor that sticks to synthetic workout clothes. When sweat degrades in synthetic fibers, bacteria sets up camp in the fabric's nooks and crannies.
Cotton Incorporated's 2014 Sports Apparel Survey finds that more than four out of 10 consumers (41%) say they have experienced odor retention issues in their activewear – not surprisingly, this issue is much larger among more active consumers.  These findings are consistent with results from Cotton Incorporated's Customer Comment Research, which found that odor was one of the top performance complaints consumers had with their activewear purchases – accounting for one out of every 10 performance issues.  While 29% of consumers who have experienced odor issues in their athleticwear say it was a one-time thing, 71% say odor retention issues have occurred with multiple active products, according to the Sports Apparel Survey.
The reaction from a male customer in the Customer Comments Research shows how clothes that cast off a smell can affect both the brand and the retailer that sells it. The shopper voiced his dissatisfaction with polyester T-shirts he bought at a sports specialty store.
"I purchased these shirts because they fit great and were moderately priced. However, even just wearing these around the house, they immediately begin to smell. I would not recommend this to a friend. I cannot believe [brand] let this pass through their QC (quality control) department and into the hands of consumers."
Cotton activewear inherently does not retain odors like synthetics. And it's been improved for activewear through TransDRY® and WICKING WINDOWS™ technologies that ensure wearers stay cool and dry during their workouts.
The WICKING WINDOWS™ technology is applied through a print application on the skin side of the cotton fabric, so that moisture is transferred to the outside where it can evaporate. TransDRY® technology allows fabrics to wick and spread perspiration for fast-drying performance, up to twice as fast as untreated cotton.
These wicking and drying technologies are meaningful, as 71% of consumers prefer their activewear be made of cotton and cotton blends, according to the Cotton Incorporated Lifestyle Monitor™ Survey. And more than three out of four consumers describe cotton activewear as soft (89%), comfortable (88%), good fitting (80%), stylish (78%), breathable (77%), and durable (77%), Sports Apparel Survey stats show.
Activewear giant Under Armour gave credit for last year's substantial revenue growth to its Charged Cotton® lines for men and women. For the full year 2013, the company stated apparel net revenues increased 27% to $1.76 billion compared with $1.39 billion in the prior year, "led by elevated newness… as well as innovation platforms including… Charged Cotton."
Under Armour's success reflects how consumers are willing to pay a premium for cotton activewear that wicks moisture (69%), keeps them cool when exercising (69%), remains odor free (68%), dries faster (66%), according to the 2014 Sports Apparel Survey."
Better styling has become a hot trend, especially among women, because it allows wearers to get double-duty from their workout clothes.
Athleta's Hanna Franco, designer, says versatile activewear is a response to a "huge shift" in consumer shopping priorities.
"With all the demands on time and attention, we want her to be effortlessly stylish no matter where she is in her day," Franco says. "Why not have killer style that works no matter what you do?"
Multi-functional workout clothes are important as almost all consumers, regardless of demographics or exercise frequency, wear athleticwear for purposes other than exercise.
"When you look great there is a reflection of positive self-worth," Franco says, "which encourages you to carve out more time for your own health and wellness."
And smelling good while doing so benefits everybody.