»

»

»

A Virtually Perfect Fit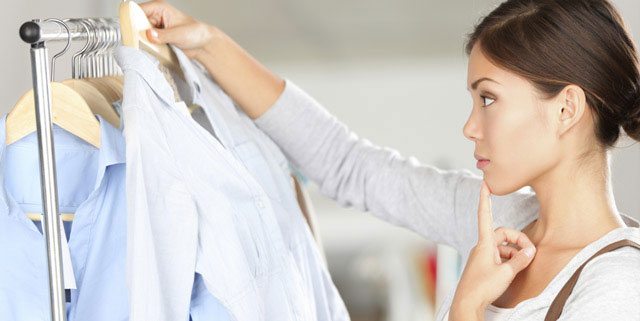 When shopping for apparel online, many consumers get around their apprehension that something won't fit or feel right by walking away from their computers and going into the desired store for the sought-after items. This results in a lot of abandoned web carts, which can be frustrating for stores. For online-only retailers, though, this goes beyond annoyance and straight to the bottom line. Fortunately, more companies are employing virtual fitting rooms in an effort to increase buyer assurance and reduce both cart abandonments and product returns.
"We've definitely seen fewer returns thanks to sizing recommendations from virtual fitting technology."

-Ethan Song,
Frank & Oak
Cart abandonment will account for about $4 trillion worth of merchandise this year, according to a study by BI Intelligence. In 2013, as many as 74% of online shopping carts were abandoned by shoppers, according to data that was shared with BI Intelligence by Barilliance. Currently, 12%, or $43.2 million, of all apparel is sold online. As more people move toward online shopping, the incidence of abandonments and returns are expected to increase unless retailers adopt changes to reverse the trend.
Currently, the clear majority (73%) of shoppers browse styles online before purchasing an apparel item in store, according to the Cotton Incorporated Lifestyle Monitor™ Survey. Meanwhile, some shoppers (19%) will use a retailer's online cart as a wish list while they're browsing, according to a report by Sociomantic, further clouding the online vs. in-store purchasing process.
Among online apparel shoppers, 80% say having the ability to view a product up-close would be very or somewhat influential on their ultimate decision to purchase an item of clothing online, followed by more detailed sizing (76%), color (75%), and fit (70%) information, the Monitor shows. Interestingly, women are significantly more likely than men to seek up-close views (84% versus 73%) and sizing information (79% versus 72%).
And about 46% of consumers say having detailed fiber content information would be influential, because it would help them know what the garment feels like and how long it would last.
Frank & Oak, an online men's wear site based in Montreal, wanted to derail as many abandoned carts and returns as possible.
"Fit is different for every customer, but it's something that's incredibly important," says Ethan Song, co-founder and creative director. "Through technology, content, and visuals, we try to make choosing the right size as quick and easy as possible."
It chose ClothesHorse as its fitting tool. The New York-based company provides shoppers with recommendations regarding what will fit them based on their own body measurements. The company says its tool can increase conversion rates by 5%-to-15%.
"In online menswear, fit is often the reason behind returns," Song says. "We've definitely seen fewer returns thanks to sizing recommendations from virtual fitting technology."
Metail is a British online fitting room company that allows consumers to create 3D models of themselves that give shoppers increased confidence regarding fit when it comes time to make a purchase. The Metail technology can be incorporated into any e-commerce platform. After entering a few measurements, shoppers can generate a "MeModel," which the company says is 94%-to-96% accurate to their specific size.
Metail's CEO and co-founder, Tom Adeyoola, created Metail to offer women an online experience where they could choose the looks they wanted based on their individual shapes.
"Our mission is to create and empower everyone's online body identity. We are dedicated to creating a revolutionary experience where customers are able to shop through their own body shape and image, rather than in reaction to projected beauty, fashion and appearance ideals," Adeyoola explains. "We hope to enable everyone to discover products and brands that are suited to their personal needs and desires through their own profile of preferences and size data."
Nearly three-quarters (72%) of all online shoppers cite "not being able to try on clothes" as "very or somewhat" concerning, according to the Monitor. Because of this, 83% are concerned with return policies, but even that is topped by issues over shipping costs (86%).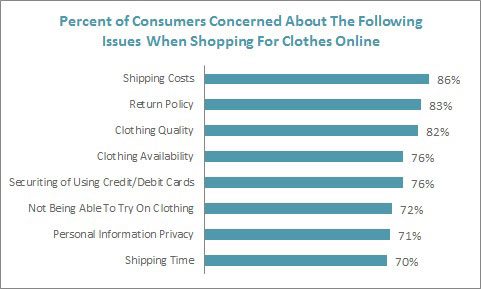 The list of virtual fitting room tools includes Styku, True Fit, Webcam Social Shopper and Fits.Me. A study by Fits.Me shows 10% of shoppers will buy multiple sizes of the same garment, keep the one that fits best and send the rest back. More than a third of the study's consumers say they would not go through this process — which is costly either to the consumer or the retailer, if it offers free shipping — if a virtual fitting room could assist them.
Metail says it takes just seconds to build a "MeModel," which requires a shopper's height, weight, and bra size to create the avatar. The company says its fitting tool differs from others in that it allows shoppers to see how the clothes will look on their personalized "MeModel," in addition to creating complete outfits and giving size recommendations.
Meanwhile, ClothesHorse asks for basic measurements (height, weight, waist size), as well as what size fits the consumer based on what they already wear from their favorite brand. It combines the information in a patent-pending algorithm to then make fit recommendations for whichever retail site the shopper is visiting.
For Frank & Oak, it's turned out to be the right solution for male customers.
"We like that it doesn't rely solely on height and weight for sizing recommendations—it takes your sizing in other brands into account as well," Song says. "ClothesHorse integrates well within our customer experience."
Related posts