Despite the fact that COVID-19 is still creeping around the nation, enough people have received vaccines that not only is "opening up" part of the national lexicon, but "getting back" to pre-COVID life — sans masks and social distancing — is actually happening. The trouble is: Retail has to come to terms with the fact that everything was not copacetic before the world shutdown. Reuniting with shoppers might feel so good, but the bloom might be off the rose quickly if shoppers aren't offered approaches and experiences that mesh with what became the norm in 2020. They also want to feel heard regarding issues they truly care about. Considering all the new doors and stores that are opening, existing retailers can't afford to miss a beat.[quote]
In a recent WSL Strategic Retail podcast, Paco Underhill, author and founder of Envirosell, the behavioral research company, said American stores need to step up.
"When I was working for Brazilian shopping mall clients, I got them to take a section of their parking lot as they went under construction, and wire that for water and power," Underhill told WSL's Wendy Liebmann, CEO. "That meant the parking lot went from being a cost to being an opportunity. I look for examples of that here, whether it's at the local mall or somewhere else and think, "Come on, guys, it's time for you to look at the fact that the innovations involved in retail aren't happening in North America. They're happening in emerging markets — and shame on you."
COVID wasn't kind to retail. A record 12,200 U.S. stores closed in 2020, according to CoStar Group, a commercial real estate firm. And Coresight Research predicted 10,000 more could close this year.
Sure, ecommerce helped business during the pandemic shutdown. Could Jeff Bezos buy a half-billion dollar yacht if it didn't? Well, yes. But consumers have indicated there's more to life besides the endless scroll. Three-quarters of all shoppers (75 percent) say they're looking forward to shopping for new clothes in a physical retail location, according to Cotton Incorporated's Coronavirus Response Consumer Survey (Wave 6, May 19th, 2021). Nearly two-thirds (65 percent) said they really missed shopping for clothes in-store. And 61 percent said shopping for clothes online is a poor substitute for shopping at a retail location.
During the pandemic, 58 percent of consumers shopped for most of their clothes online, according to the Coronavirus Response Survey (Wave 6). And even though 56 percent of consumers are planning to purchase most of their clothing in-store in the future, 44 percent plan to continue to buy half or more of their clothes via ecommerce.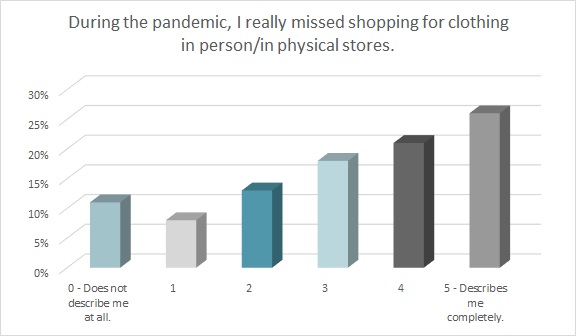 That means stores will have to apply actions that worked during the pandemic and adjust from any mistakes they made moving forward. At the NRF's inaugural State of Retail and the Consumer event, speakers discussed the importance of maintaining the convenience of digital shopping, and the new "citizen shopper" who votes with their wallet, and supports stores and brands that stand for important causes like equity, sustainability and climate change. Stores were also advised to treat retail locations as more than "just a place to shop."
To that end, Fort Worth's Tanger Outlets have launched a rooftop honeybee colony. The hives are home to 20,000 bees that help to pollinate the community. And Tanger Outlets plans to host educational workshops for retailers and shoppers. The hive's journey can also be followed online.
But stores can create a buzz simply by opening a new location — especially if they're new to the brick-and-mortar life. Tinuiti, a digital marketing agency, says realtors last year predicted digitally native brands would open 850 brick-and-mortar stores in the next five years. In another vein, established brand Re/Done, the upcycled denim label, recently opened stores in Malibu, West Hollywood, and East Hampton, NY, with another planned for Aspen or Miami. And established brick-and-mortars are simply opening more doors: Target (30-to-40 small-format per year for the next few years) and Burlington (1,239 small-format stores over a period of years), as well as Macy's, Ollie's Bargain Outlet, and Costco.
While new stores generate a certain amount of excitement, retailers should keep in mind the results of a survey from Coresight Research and January Digital, which shows consumers want to keep the ease that came with online shopping. About half say fast, free delivery and easy, free product returns are "very important factors" when choosing where to shop. A third of shoppers also say they want the ability to purchase the same products in-store as online.
A personalized shopping experience is also going to be key for consumers, according to a report from Twilio Segment, a customer data platform.
"Personalization, which was once only offered by the world's most cutting edge companies, is now a basic expectation for consumers. They want the brands they interact with to be available on multiple channels and to remember who they are, where they're coming from, and what their preferences are," said Peter Reinhardt, CEO of Twilio Segment. "Put simply, in today's world, brands that cannot deliver true personalization will lose customers and revenue to those that can."
A good in-person shopping experience could also be considered experiential retail. In Raydiant's State of Consumer Behavior 2021 report, consumers who prefer to shop in-store most value the ability to view, touch, and interact with physical products (33 percent); the overall experience that a physical location provides (26 percent); and the immediacy that in-store experiences provide as opposed to waiting for delivery (13 percent). Consumers also appreciate buying local products they can't find online (6 percent).
Research from Waze, the navigation app, says the pandemic changed driving patterns, providing an opportunity for neighborhood retailers to promote "buying local." The company said shoppers want to buy near them but they may be newly relocated and unfamiliar with their community. They also may need help discovering their new retail locations as their commuting habits have changed. Searches containing "available near me" more than doubled.
Underhill says retail is the dipstick of social change, and things that made a good store in 2010 don't necessarily make for a good store in 2021.
"There are things in retail that are going to stay the same," he says. "They're based on biological constants, like 90 percent of us are right-handed or our eyes age in the same way.  Part of our challenge is to separate those things off, or to understand how they fit into all of the things that are changing."