It's the holidays and let's face it: discounts and promos are the biggest retail driver of the season. Sure, certain things like Hatchimals and Snapchat Spectacles will whip up the "gotta have its." But during the holidays — and beyond — consumers shop price like it's their job. Unless it's not convenient. In which case, the story changes.[quote]
"Time is the scarce commodity with consumers," explains Cynthia Cohen, founder and president of the business consulting firm Strategic Mindshare. "Why do people pay Uber surge pricing? Your time has greater value."
But shoppers play a psychological game between price and convenience when shopping for products. When shoppers have a list to get through, Cohen says price is what pushes consumers to the retailer. But by the time they reach the third and fourth items, "Time starts to factor into their decision making," Cohen says. "They ask, 'Do I want to move the car to get XYZ item that's $5 or $10 cheaper?'"
And during the holidays, promotional events like Black Friday continue to draw shoppers. This year, half of all holiday shoppers planned to shop for gifts in-store on Black Friday (up significantly from 44 percent in 2015, followed by Small Business or Local Saturday (22 percent — up significantly from 16 percent in 2015), and the day after Christmas (19 percent), according to the Cotton Incorporated Lifestyle Monitor™ Survey. Nearly 1 in 2 holiday shoppers planned to shop for gifts online on Black Friday (49 percent — up from 43 percent last year and 40 percent in 2014) and Cyber Monday (47 percent).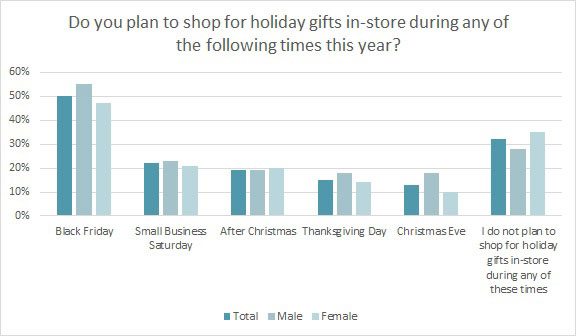 These targeted shopping days all point to a desire to save money. But the Monitor™ finds consumers plan to take advantage of retail strategies that simplify their gift-buying journey. A full 80 percent of online holiday shoppers say they expect a retailer to have the same products in-store as they have online. And 3 in 5 e-shoppers say they plan to take advantage of ship-to-store options this season.
That's not all: Monitor™ research shows nearly half of all shoppers (48 percent) say they plan to make the most of late-night store hours during the last few days leading up to the holidays, which is up from 41 percent in 2015.
Enhanced Retail Solution's David Matsil, president of business development, says free returns also matter a great deal. But for retailers with store locations, "The ability to buy on line and return in store is compelling," he says. "And many times — once in the store — the consumer will find something new to purchase."
Last weekend, Westfield's Garden State Plaza mall in Paramus, NJ, launched a new app to help shoppers reserve a parking space. Landing a space — especially during the holiday rush — is no small feat, seeing as the mall attracts nearly 20 million visitors a year. Of the malls 10,000+ parking spaces, just 33 (for now) can be reserved. It costs $10 for the first four hours and $5 for each additional hour. Users are assigned a numerical space and upon arrival, a small gate within the space comes down, allowing them to pull in. This new service is in addition to the mall's valet service and park-assist navigation in the parking decks that show a green light above an open space.
So even though the Monitor™ finds 63 percent of consumers think shopping for clothes in stores is a fun social activity, anything that would ease parking enhances their experience. Plus, it appeals even more greatly to the 22 percent who shop just to get what they need and then leave.
While convenience with parking, shipping and returns can make a big difference in customer satisfaction, industry experts say some of the real convenience factors — which often include discount enticements — happen behind the scenes.
Relevancy Group's, Nick Einstein, vice president of research for the Boston-based consulting firm, says stores and brands can make life easier for consumers by leveraging the data at their disposal to inform, engage, and support them in highly relevant ways.
"In store pickup, same day delivery, and free shipping are all worthy tactics, but a true customer centric approach that focuses on providing hyper-relevant content in the appropriate context is what customers demand today," he says, explaining, "Customized gift guides, shopping lists, and [personalized] product recommendation engines are a few tactics that help facilitate these higher value experiences."
Einstein says retailers and brands have long relied on digital marketing to syndicate offers and engage shoppers during the holiday shopping rush. "This year, retailers are making better use of location data to identify shoppers who are within a certain distance of a store, and targeting them with offers in email, social, and on the web," Einstein states. "Innovative advertising opportunities in networks like Facebook and Snap are allowing retailers and brands to get much more localized with their targeting, delivering more relevant and valuable offers to consumers."
Cohen agrees that the newest ways that stores are drawing consumers' attention isn't visible to the shopper.
"It's all essentially data mining and AI (artificial intelligence) where the retailer has invested in data analytics and the use of big data," she says. "That — and upgrading their systems to really segment their consumers — is where the innovation is. The more sophisticated retailers know which customer will respond better to a money- off coupon rather than 'buy two, get one free' or 'half off' or a $30 coupon. So I get one offer and you get another based on what you respond to or how much you spend. We'll see even more of this as we go forward."
Save
Save
Save
Save