It's kind of funny how there are people who really care about certain things — the food they eat, the medicines and vaccines they or their kids are given, their gas mileage, or water purity. But when it comes to their clothes, a lot of these same people don't really think about where their apparel was made or even what fabric is used to make it.  But this seemingly apathetic approach doesn't mean they don't care. They just figure other people are taking care of it. And that has been putting pressure on brands and retailers to step up.[quote]
In its report, "Follow the Thread," Human Rights Watch points out that "when global supply chains are opaque, consumers often lack meaningful information about where their apparel was made. A T-shirt label might say 'Made in China,' but in which of the country's thousands of factories was this garment made? And under what conditions for workers?"
The supply chain also encompasses the environment and sustainability. In their joint "State of Fashion 2017" survey, McKinsey & Company and Business of Fashion (BoF) found sustainability is becoming "an important new driver" of consumers' purchasing decisions.
"Global population growth, climate change, land and water scarcity, and the increasing cost of key resources have a direct impact on the bottom line of every company," according to the "State of Fashion" report. "The speed of fast fashion amplifies these issues and magnifies five fundamental problems for the fashion industry: high water consumption, discharge of hazardous chemicals, violation of human rights, labor standards, greenhouse-gas emissions, and waste production. For fashion companies, responding to these issues has become an area of potential differentiation and creative inspiration."
But the "State of Fashion" report also found that a disparity exists globally when it comes to caring about eco-issues and apparel: consumers in emerging markets (64 percent) care more about sustainability in fashion that those in mature markets (32 percent.
That would explain why just 28 percent of females and 37 percent of males say they "put an effort" into finding sustainable apparel for themselves, according to the Cotton Incorporated Lifestyle Monitor™ Survey. However, the majority of shoppers (57 percent) would lay blame at the feet of the apparel industry (manufacturers — 37 percent, brands — 13 percent, store where I bought it — 8 percent) for producing clothes in a non-sustainable manner.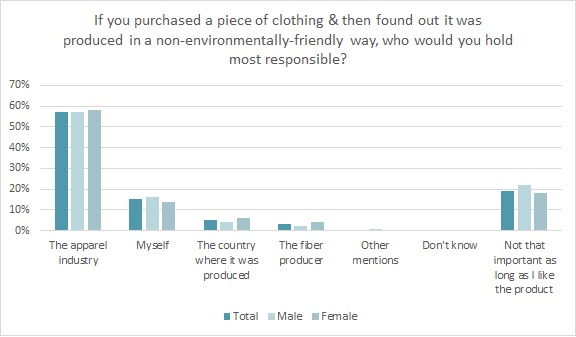 Human Rights Watch says less than two decades ago, major apparel companies simply did not publish their global supplier factories, as it was considered sensitive information. But starting about a decade ago, brands started publishing this information on their own websites. Today, some of these major players include Adidas, Cotton On, Hudson's Bay Company, Levi Strauss, and Hanesbrands.
At the end of April, Gap Inc., announced new goals for using sustainable fibers. The global apparel brand and retailer said it plans to "dramatically increase the use of more sustainable fibers and processes in apparel production practices within the next five years and also further build on existing goals on their water usage, GHG (Green House Gas) emissions, among others, as part of the 'Gap for Good' platform for more sustainable fashion."
Gap Inc.'s goal also includes sourcing 100 percent of its cotton from more sustainable sources by 2021. This includes Better Cotton, recycled cotton, and American-grown cotton. Gap will continue to source Better Cotton to support these sustainability targets. Since joining the Better Cotton Initiative, the company states it has sourced 5000 metric tons of Better Cotton lint, the equivalent of 7.4 million pairs of jeans worth of cotton.
Target is another company with its eye on the future. The retailer says its goals for 2020 center around three key commitments: elevating workers' wellbeing through initiatives to promote greater access to nutrition and health screening; achieving net-positive manufacturing; and deriving raw materials, such as cotton, from ethical sources.
This drive to use better and more sustainable fabrics is important, as more than 3 in 4 consumers (77 percent) say cotton is their favorite fabric to wear, according to Monitor™ data. This far outweighs the next closest fibers: polyester (3 percent), silk (2 percent), and "anything comfortable" (1 percent). Compared to manmade fibers, the majority of consumers say cotton clothing is the most sustainable (84 percent), soft (81 percent), comfortable (80 percent), authentic (80 percent), trustworthy (79 percent), appropriate for casualwear (77 percent), and reliable (73 percent).
Consumer sentiment is backed up by a 2016 Field to Market report titled "Keystone Alliance for Sustainable Agriculture," which found that over the past 35 years, cotton farmers have significantly reduced their environmental impact. Perhaps the biggest change has been in the amount of water it takes to grow traditional cotton, which has decreased 82 percent, according to the study. It now uses just 3 percent of the world's agricultural water, less than wheat (15 percent), rice (13 percent), and corn (10 percent), among others. And compared to other major crops, the contribution of green water toward the total consumptive water footprint is lowest for date palm (43 percent) and cotton (64 percent), according to a study by the Institute for Water Education. Additionally, cotton growers in the United States make 50% fewer pesticide applications than the generation before them, according to a presentation at the 2012 Beltwide Cotton Conference.
At a May event hosted by Cotton Incorporated titled "Everything You've Heard About Cotton is Wrong," Dr. Jesse Daystar, assistant director at the Duke University Center for Sustainability and Commerce, said brands, retailers, and consumers should be wary of labels like organic, as organic cotton plants actually use more water than traditional cotton. He added that in today's market, companies view sustainability more as an opportunity than as a costly investment. It was also pointed out at the event that data — including precision placement of inputs, cotton genome sequencing, and robotics — have greatly improved grower economic sustainability.
IBM says more companies could find ways to become increasingly transparent within their supply chains if they would look to technology. Rob Allan, program director for IBM Watson Supply Chain, says some businesses are "behind the curve" when it comes to using and finding the opportunities presented by big data and analytics.
"This lag is ironic, given supply chain's importance and complexity," Allan writes in IBM's Supply Chain Trends Report. "Consider the value in seeing material throughout the supply chain, from suppliers to customers. Linking customer orders with supplier purchase orders and materials in progress is crucial."