On a hot and humid day this past July, when the only logical places to be were either at the beach or in front of an air conditioner, a street in lower Manhattan was jammed with people who had arrived hours earlier, waiting to see the new Dim Mak collection, a luxury line of apparel by Steve Aoki, the electronic dance music deejay and musician, and hear tunes from his new album.[quote]
At a time when stores are hurting for foot traffic and the word engagement is thrown around like footballs at pre-season NFL camp, the Dim Mak crowd was indicative of the power of celebrity and the loyalty they're capable of fostering.
"In general, there's an association with music that taps into an emotion that clothes really aren't capable of generating," says The Doneger Group's Roseanne Morrison, fashion director. "It's very strong, and to each generation, music really means something. And musicians have loyalty."
And loyalty is hard to come by these days. More than half of all consumers (56 percent) say they are less loyal to clothing brands and retailers than they were a few years ago, according to the Cotton Incorporated Lifestyle Monitor™ Survey. However, 36 percent say they would feel more connected if the brand offered exclusive product launch parties. And 31 percent say they would feel more devotion if the brand linked them with other people who fit their fashion/style on social media or in-person.
Aoki began his Spring/Summer 2018 Dim Mak runway show by spinning his own music. After the runway show, he treated fans to a mini-concert from his new Kolony record. The show only came to an end because the NYPD enforced a permit. Aoki clearly was enjoying dancing, high-fiving, and engaging with the crowd.
This was his sixth Dim Mak collection, a street-influenced menswear brand. His collection started years ago with T-shirts that had more of a surf/skate/punk influence. It has expanded greatly, to where the S/S 2018 collection includes denim jeans and jackets, button-front and crewneck shirts, cropped cargo pants and hoodies — all with an edgy street influence that retails from $90 to $750.
Only about a quarter of all consumers (23 percent) say they would be willing to pay full price for an apparel item designed by a celebrity or famous designer, according to the Monitor™ data. That number rises among Millennials (27 percent) and Gen Xers (29 percent).
Aoki teamed with Parco in 2013 to expand his Dim Mak line.
"They understand what I'm looking for and can really convey my mood boards and my vision, and pick interesting materials," he told The Hollywood Reporter.
Of course, Aoki is just one of many celebrities, and especially musicians, who has entered the apparel arena. Drake and his tour manager Oliver El-Khatib started OVO (October's Very Own) a handful of years ago. The brand is sold online and in four stores, the most recent of which opened earlier this month in Toronto, Canada. More than 1,000 fans lined up and waited for hours — some overnight — to be among the first to grab OVO gear. Items, which carry the brand's trademark owl logo (artfully formed by the OVO letters), include 100 percent cotton T-shirts, sweatpants, and hoodies, as well as accessories.
In a 2011 interview with Complex, Drake explained that he wanted his fans to be part of the "OVO movement."
"I just want it to be right," Drake said in the interview. "And everybody else wants me to make it with the cheaper fabric and put it in Macy's and 'Oh, don't worry we will make 100 million in the first year.' …That's not what we are about. I'm not ready for OVO to be that. Because OVO is still something I represent."
That exclusivity can work very well in the celeb designer's favor. The Monitor™ research finds nearly half of all consumers (45 percent) say they would be more likely to shop at a store offering exclusive clothing designed by a well-known celebrity or designer. That number increases significantly (to 53 percent) among Millennials and Gen X shoppers.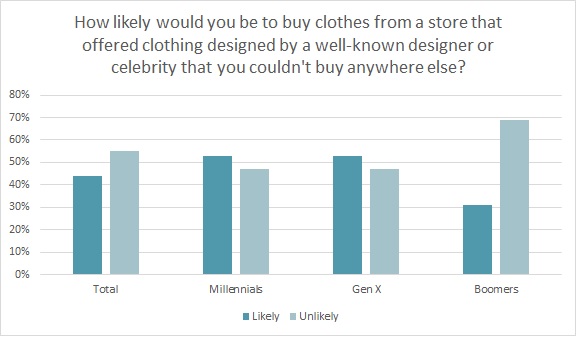 Morrison says the younger generations perceive luxury as a worthwhile expenditure.
"Already, they're investing a lot in one item, like a Vuitton or Gucci," she says. "So if they're really into a musician, they won't be ashamed to part with some money to buy that bag or blazer. There's opportunity. People love Pharrell. Yeezy is so overpriced but again, there's a marketplace for it."
Certainly, Mary-Kate and Ashley Olsen discovered this long ago,  as did Victoria Beckham, Rihanna, Jessica Simpson, Gwen Stefani… the list goes on and on.
In a recent loyalty report, research firm L2 said a key question for brands concerns how they can encourage engagement and personalize the user experience across channels. Certainly, musicians and other celebrities have a unique way of reaching consumers that might seem enviable to the average brand.
"For some of these musicians, these collections are like a new kind of music tour, only they don't even have to go on tour," Morrison says. "A lot of stores will buy the
collections if the music is strong and popular enough. Again, music fans are loyal — and that goes across all age groups. Bruce Springsteen is going to Broadway. If he's smart, he'll have great merchandise and it could do super well."