Go into any hardware, home goods, or electronics store and you'll likely see digital assistants that will help to remotely turn off lights, play music, place a takeout order or give you a traffic report. But these devices can also get pretty personal — enough to know a consumer's clothing size, their wardrobe contents, and when it's time to replenish. Of course, that may seem a little intrusive to some — at least right now. But brands and retailers may want to know how AI-powered devices like Amazon's Echo and Google Home can work for them.[quote]
Sarah Engel, CMO at DynamicAction, a software firm that provides analytics solutions for retail merchandising, says there is no debating that the path directly to the consumers' home must be explored to stay relevant in today's shifting retail and tech landscape.
"Amazon has blazed ahead with Alexa's adoption. It has also opened up a completely new possibility for apparel retailers to create in-home conversations and authentic selling moments with customers via Amazon's Echo Look," Engel says. "The challenge that retailers face is the requirement to sell and operate within the Amazon ecosystem, a hurdle that every major retailer is already facing in relation to their overall appetite for partnering with, competing with, or learning from Amazon."
Amazon is clearly the behemoth with which all brands and retailers must deal. As of December 2016, Amazon's market value stood at $355.9 billion, compared to the combined market caps of Walmart, Target, Best Buy, Macy's, Kohl's Nordstrom, JC Penney, and Sears, whose market value stood at $297.8 billion, according to Visual Capitalist.
Add to that a strange new dynamic where nearly half of all consumers (47 percent) freely admit they're less loyal to clothing brands than they were a few years ago, and  almost 7 out of 10 (69 percent) say they don't feel an emotional connection to any clothing brand, according to the Cotton Incorporated Lifestyle Monitor™ Survey. Additionally, more than half of all consumers (57 percent) say they wish shopping for clothing was like streaming TV or movies on Netflix or Hulu, where they can get "whatever I want, whenever I want it."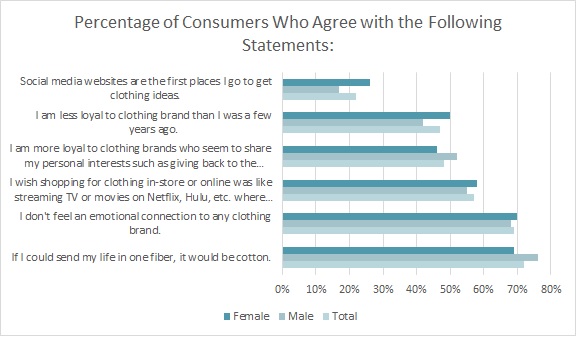 Luke Starbuck, vice president of marketing for Linc, a customer care automation company, says that while it may feel early for retailers to be thinking about and leveraging digital assist channels, a couple of key points show it's actually time to contemplate these platforms.
"Consumers are adopting voice devices rapidly, and it is predicted there will be 40 million U.S. households with a voice device by the end of this year," Starbuck says. "Likewise, 87 percent of retailers expect to be using AI for customer service and engagement within the next 24 months, while 41 percent are already using it or experimenting today."
The sooner retailers and brands can figure out how to employ this tech, the better.
On average, consumers shop for clothes online about once a month, slightly less than they do in-store, which is stands at 1.6 times per month, according to Monitor™ research. Even though they don't express a lot of brand loyalty, consumers say they would be more likely to buy clothes from a venue that offers lower prices compared to others (87 percent), has clothing made with 100 percent cotton (81 percent), offers new apparel styles once every few weeks (54 percent), and offers high-tech dressing room mirrors that allow the shopper to see an outfit in various colors or send a picture to social media for feedback (52 percent).
As everyone knows, Amazon ingratiated itself to customers with fast search, low pricing, simplified checkout and, quite often, free shipping. Now, Amazon has Echo Look, which allows consumers to use just their voices to take full-length photos and short videos with a hands-free camera. It let shoppers see themselves from every angle, build a personal lookbook and then can get a second opinion on which outfit looks best with Style Check, a service that combines machine learning algorithms with advice from fashion specialists.
Of course, Amazon isn't just looking to help consumers create better outfits with what they already own. Echo Look will also help consumers discover new brands and styles based on those personal lookbooks. Considering Amazon also offers its own private label apparel collections, the garment industry should be figuring out how to work with the company or compete on its turf.
Interestingly, other tech giants like Facebook and Google, might provide some help.
Starbuck says Facebook's Messenger is already helping brands maintain stronger customer relationships.
"Using a chatbot on Facebook Messenger, brands can provide a customer with updates on their delivery, answer a question they have or even help with a return or a re-order of a product, thus creating a more satisfied customer and saving the brand costs on customer care agents," he says. "At Linc, we see 74 percent of customers asking questions after they opt-in to Messenger — and chatbots can solve over 80 percent of them without human assistance."
Starbuck maintains that using voice with Messenger to help a customer can make things even easier: a customer can arrange a return in less than 30 seconds or check the status of their order in less than 10 seconds.
"For products that need replenishing, a customer can easily re-order without picking up their phone or computer," he says. "It's important that brands recognize they can use these platforms without needing to share their data or sell products on the voice or chat channels they use for customer care automation."
And Engel says, Google may be soon stepping in to further even the playing field against the mighty Amazon.
"There are high hopes in the industry that Google Home will continue to improve, gain traction and thus offer retailers an alternative to being bound by Amazon's in-home presence," says Engel, who points out that Apple's HomePod is not currently focused on the transactional assist stores might be looking for. "Retailers are well aware that the challenges they face with gaining branded mobile app adoption will be multiplied one hundred-fold to get a standalone, branded digital assistant in a customers' home. Many are pinning their hopes on Google, an ecosystem in which they already feel more comfortable, to gain trusted access into their customers' living rooms."