With the long-awaited U.S. presidential election finally past us, the nation's populace can decisively switch its focus from poll numbers, the Electoral College, and ballots, and get back to their regularly scheduled life events, like shopping for the holidays.
The National Retail Federation is forecasting a 3.6 percent increase in total holiday sales, while the International Council of Shopping Centers expects a 3.3 percent gain.[quote]
Indeed, consumers are ready to spend about $744 on holiday gifts, according to the Cotton Incorporated Lifestyle Monitor™ Survey. That's an eye-popping 23 percent increase over last year's $603 predicted spending. Additionally this year, certain segments plan to spend significantly more: Men expect to drop $840 on gifts, consumers ages 25-to-55 will spend $957, and those making $50,000+ annually plan to lay out $1,022.
The NRF's Ana Serafin Smith, senior director, says this presidential election cycle affected consumer shopping habits during the early fall period, but it shouldn't have a permanent impact.
"One of the biggest factors involving the presidential election [was] that it made more noise than what the consumers [were] used to," Smith said in a pre-election interview. "Therefore, with all the uncertainty surrounding the election season, consumers that probably would have started shopping earlier for holiday gifts, [were] being a bit more conservative with their spending until a new president [was] announced."
Regardless of the outcome, Smith says, "One thing we know for sure is that consumers will be shopping for the holidays and will start as soon as the noise goes away, and they see and hear more news surrounding holiday deals and promotions coming from their favorite retailers."
The election may have interfered with regular shopping habits, but its timing should allow shoppers to get back into the regular holiday swing of things. Although nearly 1 in 5 consumers (18 percent) say they buy holiday gifts year-round, most wait until November, according to the Monitor™ data. More than 1 in 4 (27 percent) begin buying in November and another 14 percent start in either October or December.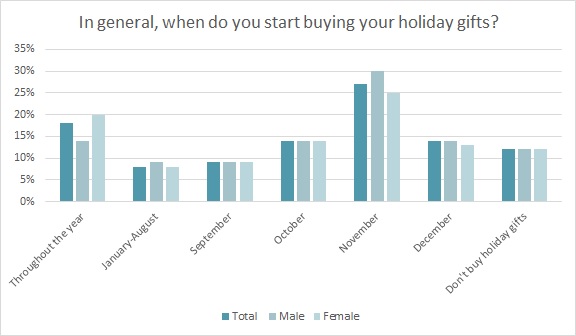 While plenty of people got worked up enough pre-election to say they would leave the country if their candidate didn't win, it may have been more bluster than anything else. For the short term, experts don't see consumers being affected by Tuesday's vote.
"No matter what happens with the election, I just don't see a significant change in consumer spending," said Boston Retail Partners' Ken Morris, principal, in the days before the election. "While consumers [were] fascinated or concerned with the election, the results won't likely impact their purchase decisions. The reality is that the person or party in the White House does not impact the economy as much as each candidate purports. Despite all the distraction, more people have jobs and greater disposable income, and that's going to be reflected in the holiday sales."
The official unemployment rate dropped to 4.9 percent from 5.0 percent, and average hourly earnings rose 2.8 percent to $25.92 for private, nonfarm payrolls and $21.72 for private sector, nonsupervisory employees, according to the most recent numbers from the U.S. Labor Department.
Add to that home values, which rose 5.3 percent year-over-year in August, according to the S&P CoreLogic Case-Shiller national index. Existing home sales experienced a strong 3.2 percent rise in September, according to the National Association of Realtors, with the median existing-home price valued at $234,200.
"With more consumers in the job force, wages on the rise, consumers' ability to take on more credit, among many other things, we are optimistic that retailers will see healthy holiday sales growth; 3.6 percent reflects the very realistic steady momentum of the economy and industry expectations," the NRF's Smith says.
More shoppers than ever will be making the most of online and mobile purchasing, but traditional storefronts will continue to handle the vast majority of holiday sales.
"While many pundits predicted the eventual demise of brick-and-mortar stores, the reality is that they are still the foundation of retail with 92% of sales taking place in stores," BRP's Morris says. "However, mobile shopping and commerce is elevating consumers' expectations for convenience and shaping the in-store shopping experience. Consumers expect store associates to have the same or more information than they have and this is driving retailers to enhance their store associate-guided selling tools.
"Retailers are adding interactive and personalized services to enhance the in-store shopping experience," Morris adds, pointing out Macy's early morning dance parties that have attracted Millennial customers. "The advent of 'real-time retail' combined with associated customer-facing apps and concierge treatments will truly create a personalized shopping experience."
This effort by retailers should result in strong holiday sales in electronics ($448), followed by apparel ($285), home textiles ($251), and gift cards ($219), according to the Monitor™ research. Apparel gift givers plan to purchase about two-thirds of their clothing gifts in-store (65%) and a third online (35%).
"Retailers are constantly talking to their consumers to find new ways to connect with them and make their shopping experience more enjoyable," Smith says. "They have been listening to their customers by offering them exactly what they are looking for such as price match, buy online pick up in-store, free shipping, in-store promotions, online exclusives, etc. We expect retailers to continue to offer some of these options for their customers, especially during their biggest shopping season of the year – the holidays."
Save
Save