Guys are driving less and riding bikes more — even to work. And that's influencing what they wear to the office. [quote]
A University of Michigan study showed there's been a continuous decrease in the percentage of people with driver's licenses. From 1983 through 2014, the number of 20-to-24 year olds with a license is down 15 percent. Among those 25-to-29, licensed drivers are down almost 11 percent. Even those 30-to-34 have decreased 10 percent. Meanwhile, biking to work has increased 60 percent in the last decade, according to the U.S. Census Bureau. And men make up 76 percent of those cycling commuters, according to the Alliance for Biking & Walking.
Perhaps that's why when it comes to apparel, many men have strong feelings when it comes to the performance and care of a piece of clothing. However, a lot of male shoppers aren't aware of all the performance properties one can find in today's apparel. Which means opportunities abound in this segment of menswear.
Despite men's desire for easy-care clothes that keep them wrinkle-, sweat- and odor-free, a lot of them aren't paying attention to what's actually available to them.
The people at Rapha, a cycling lifestyle brand that offers performance roadwear as well as performance sportswear, are looking to change that. Derrick Lewis, North American spokesman, says a little education can help coax men into making that purchase.
"There's still a stigma around men shopping just because it makes them feel good," Lewis explains. "So when a guy walks into our store, they'll see a button-down shirt on a rack and be drawn to it because it looks and feels great. But the price is maybe a little higher than a tan button down in a department store. So what we can do is point out that it has reflectivity in the cuffs, or wicks sweat and dries faster. It's like they need a lever to help them justify a purchase that is maybe slightly more than they were prepared to spend."
There's actually a major gap between male awareness of easy-care performance features and purchases. The majority of men say they are aware of technologies that are water repellent (88 percent), thermal regulating (76 percent), moisture wicking (72 percent), odor resistant (64 percent), and antimicrobial (56 percent), according to the Cotton Incorporated Lifestyle Monitor™ Survey. But that's close to double the percentage who have actually purchased clothes with water repellent (50 percent), thermal regulating (41 percent), moisture wicking (39 percent), odor resistant (25 percent), and antimicrobial (18 percent) properties.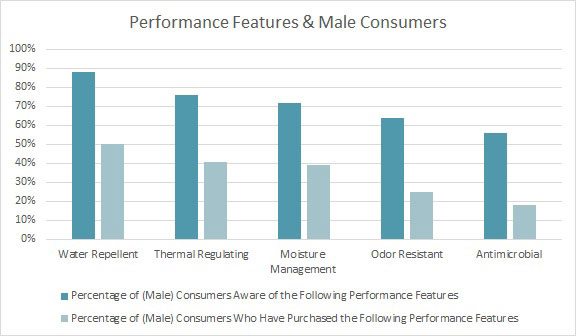 At Rapha, the City collection sportswear pieces appeal to men who might cycle to work, but also guys who find themselves by bus, train, or walking. Shirts include placards that hide the top buttons so they're protected from a messenger bag, as well as a hidden windproof section on the front to stay warm on a cooler ride. Its Essential cotton-blend T-shirt is quick drying; while its polo is both quick to dry and moisture wicking. Jeans and trousers all have reflectivity inside the right cuff, since men who bike often roll that up to protect it from the chain. Male shoppers will also find stain- and water-resistance within Rapha's bottoms category.
Manufacturers would do well to really point out performance features on their clothes. That's because most male consumers are "very or somewhat likely" to pay more for clothes that are water repellent (57 percent), thermal regulating (52 percent), moisture wicking (51 percent), odor resistant (47 percent), and antimicrobial (33 percent) than clothes without such features, the Monitor™ has determined.
"Our core customer comes from the cycling community, but the City range appeals to the person who needs the flexibility to commute at a moment's notice," Lewis says. "Our core customer is probably more urban and they can buy our jeans because they perform on a bike, but they also look amazing. The modern office career is so varied in its path. So we have to have trousers that work for the guy who is at his desk for seven hours, but at the end of the day, because his office is dynamic, he has to unload a truck. Or he might have to jump on a Citibike to meet somebody for lunch. So he wants clothes that work with the weather and work with his life.
When seeking out clothes with various performance features, the Monitor™ finds the majority of men would look for odor resistance (56 percent), thermal regulation (53 percent), and moisture management (51 percent) in their casualwear. Close to half of men would also look for odor resistance (48 percent), moisture management (44 percent), and thermal regulation (36 percent) in their businesswear.
Lululemon — known for its high tech women's yoga and athletic pieces, also has men's sportswear and casual wear with performance features. Among those pieces are its "Off The Chain Buttondown," a cotton blend shirt that helps the wearer "make the transition from your bike to your meeting." The piece features durability, reflectivity, breathability, four-way stretch, and quick-drying capabilities. The shirt pairs well with Lululemon's "Commission Pant," a lightweight cotton blend with two-way stretch and water-repellent fiber. It also has reflective details and hidden rear zipper pockets.
At the recent Fashion Tech Forum, held at the Brooklyn Navy Yard, Lululemon's Lee Holman, executive vice president and creative director, explained the elements he and the design team wrestle with when creating each piece.
"We're a functional brand and designing function means you're designing for a purpose," he stated. "We hear from the guests and they need design to work. If a design doesn't work, it doesn't sell. So really you need a balance with function and the design side. The fabric, fits, finishes and silhouettes all have to work while creating the next trend."