Technology has come to fashion in a major way — whether in wearables, high-tech fabrics or Internet of Things pieces that "talk" to the wearer.
It's something that more designers, manufacturers, retailers and even wearers are trying to understand and incorporate into everyday living. To wit, last spring's Costume Institute exhibition at the Metropolitan Museum of Art was Manus X Machina — with the focus on "Fashion in the Age of Technology." [quote]
Changes in fashion trends, retailing and sourcing are evolving at a break-neck pace. And unlikely sources are offering advice as to how the tech and fashion worlds can come together to truly benefit the consumer.
At the Fashion Tech Forum held in October in Brooklyn, NY, Verizon's Diego Scotti, executive vice president and chief marketing officer, explained how tech people have to work hard to remember to incorporate the emotional side of fashion into every product. He says fashion people can teach the analytically minded tech side about the more human aspect of fashion.
"We sometimes get so passionate about the technology that we forget what the technology can actually do for the people," he said. "So one of our missions is to ask, 'How can we translate this world that's super technical into what people really care about'?"
While creating these new pieces, designers and manufacturers should keep in mind that compared to clothing constructed of manmade fibers, more than 8 in 10 consumers say cotton clothes are the most comfortable (87 percent), sustainable (85 percent), trustworthy (85 percent), soft (85 percent), authentic (83 percent), and reliable (81%), according to the Cotton Incorporated Lifestyle Monitor™ Survey.
Additionally, with all the advancements in performance fabrics, the majority of consumers want natural fibers. Shoppers say they are bothered that brands and retailers would replace cotton with manmade fibers in their tees (59 percent), underwear (59 percent), sheets (57 percent), jeans (53 percent), and dress shirts (51 percent), according to the Monitor™ data.
The industry is bringing together fashion and performance through a variety of technologies. Cotton Incorporated gives designers the chance to offer high-tech fabrics for many categories of apparel, including, denim, outerwear, innerwear, and shirtings. Researchers at the organization developed STORM COTTON™ and STORM DENIM™, durable and highly water-repellent finishes that maintain an extremely high level of moisture repellent performance.
Cotton Incorporated has also developed moisture management technology, to challenge cotton's propensity toward absorbing wetness. Its TransDRY®
technology wicks and spreads moisture so garments dry in half the time of regular cotton. And its WICKING WINDOWS™ technology transfers moisture away from the skin, keeping wearers cooler and drier during various activities, particularly exercise.
Some designers and manufacturers are putting new meaning to the term "performance technology" by giving clothes the ability to generate their own power or serve as GPS-like devices.
Japanese designer Junya Watanabe is offering a coated-cotton trench coat that's been outfitted with solar panels and a hidden power pack that can be used to charge mobile devices. Under Armour has purchased fitness apps like MapMyFitness and MyFitnessPal. Its plan: to create apparel and shoes that can seamlessly collect data — calories burned, miles covered, heart rate, etc. — from the wearer so they can personalize and track their fitness levels.
Under Armour's product is still in the planning stage. But Levi's actually unveiled its Project Jacquard Commuter Trucker Jacket at the recent Fashion Tech Forum.  This washable cotton denim jacket, which is indistinguishable from the look of any other Levi's jacket, allows the wearer to connect to their smartphone, but control their mobile experience and connect to a variety of apps, such as music or maps, directly from the jacket. A smart tag houses all the necessary electronics. Levi's Paul Dillinger, vice president of global product innovation, explained how such a garment requires more time, thought and testing than traditional fashion pieces.
"In fashion, we launch the product that's perfect," Dillinger said. "In technology, they beta test. You go to market with an imperfect thing, hoping to [improve on that]. These are two fundamentally different approaches to the way we issue and the way we engage with the market. At Levi's, the sensibility is we get to do this once and we have to do it right. Whereas, at Google in particular, it's well understood that 'We're going to do it, and we're going to get what we get. And there's a possibility that there will be something we didn't anticipate in the public evolution of the technology.' Those are two completely different approaches to the way we engage the public. So, we're not giving up if we don't have it right when it's time to go to market. But it does take time and accommodation from Google…to allow us to do all the proofing of the technology."
Dillinger said flexible time constraints were crucial considering the Project Jacquard denim jacket has a woven tactile interface, a washable interface, and was created with the idea that the market is part of a technology platform. "It's not a gadget but more than just a garment."
The Levi's jacket may be high tech, but because it's all cotton, it's in keeping with a traditional consumer preference: nearly 4 out of 5 shoppers (79 percent) prefer their clothes to be made from cotton or cotton blends, according to the Monitor™ survey.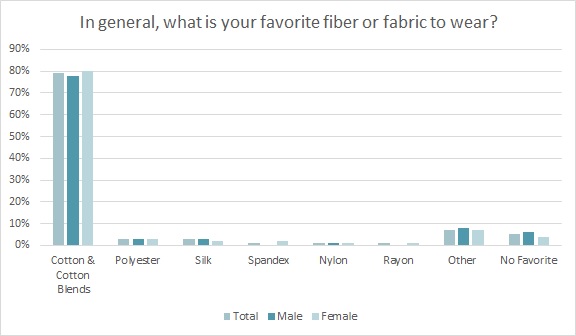 Whatever the new tech apparel might be, Dillinger advised that fashion designers become interface and user-experience designers.
"It's an entirely different skill set, but it's one we have to develop because the designers can most closely reach the consumer and tailor the technology for them," he said. "And acknowledging the consumer's needs is the essential thing that's going to successfully activate the opportunity for these garments to become mechanisms of interface."
Save
Save
Save
Save