When it comes to American fashion, you can't get much more iconic than T-shirts and jeans. The pair have a lifelong relationship that is rooted in workwear but its been worn with panache by style icons from Jackie Onassis to Kendall Jenner.[quote]
"My own T-shirt and jeans attraction, or you might even call it an addiction, stems from feeling not only confident but a little bit like a rebel, too, when wearing denim," says Kimberly Cihlar, fashion editor and stylist at the magazine and lifestyle guide NextTribe, and jewelry designer/founder of Collection13. "Remember that jeans came of age during the James Dean era and only got better with age."
The global denim market, valued at $57.3 billion in 2016, is expected to grow at a CAGR of 6.4 percent during 2017-2023 to reach $87.6 billion by 2023, according to research from P&S Market Research. Meanwhile, the global T-shirt market was valued at $185 billion in 2016 and the market is forecast to grow at a CAGR of 6 percent from 2017 to 2025, according to Credence Research.
While James Dean wore a simple white tee, it's clear the tee isn't so simple anymore. Consider that Bergdorf Goodman has a plain black T-shirt from The Row that retails for $320. The store also offers Balmain moto jeans for $1,410. Of course, those are high-end examples. The reality is, T-shirts and denim hold mass appeal.
"I think denim, at the end of the day, speaks a universal language that crosses every economic status and background," says Maria Falzo, marketing director for Denim Days, a two-day denim festival with events in New York, Amsterdam, and Nashville. The next New York City event takes place Sept. 22-23 at the Manhattan Center. Last year's event drew 5,000 people over two days. The festival allows consumers to meet the brands and mills that produce their denim in an environment that features interactive displays, indigo dyeing, books, music, and workshops.
"The fact that denim jeans are a staple in everyone's wardrobe shows that it's everlasting," Falzo says. "There's also the emotional connection to denim. Everybody has a story, whether it's about their first pair from college that they wore to death or ones they personalized."
Despite the inroads athleisure has made, nearly three-quarters of consumers (72 percent) say denim is their first choice for casualwear, according to the Cotton Incorporated Lifestyle Monitor™ Survey. Men and women also consider denim to be dressy (51 percent). And three in four consumers (74 percent) prefer their denim be made from 100 percent cotton or cotton with stretch.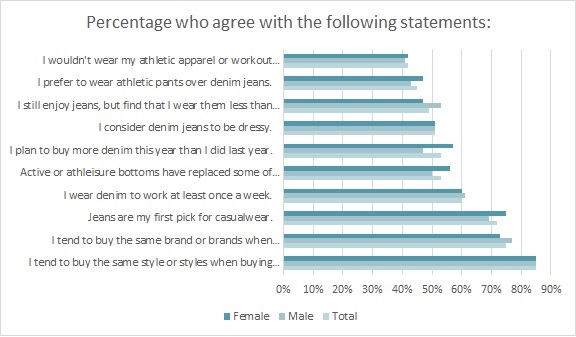 "A recent fashion survey from NextTribe found that 'for weekday dressing, 54 percent …have a uniform of jeans and a nice top or sweater as their daily vibe,'" Cihlar says. "And today, there are so many different versions of jeans, you've got to have at least five pairs. In the NextTribe survey 'half of our survey-takers own five or more pairs of jeans.' There's the legging-like jean, or the form-fitting jegging silhouette which Zara and H&M do a great job with; the crop jean that I've fallen in love with at J.Crew; the baggy jean like old Levi's, which I always like to find at thrift stores; the stove pipe cuffed jean; the drop-crotch jean that I love from RTH. I could go on and on."
One third of consumers say their most purchased denim brand is Levi's (33 percent), followed by Lee (5 percent), Wrangler (5 percent) and American Eagle (4 percent), according to the Monitor™ survey. About 1 in 4 consumers say they typically purchase their denim jeans at mass merchants (22 percent), followed by specialty (22 percent), chain (20 percent), and department (10 percent) stores.
The constant evolution or newer iterations of throwback styles are stoking interest in sales of the latest denim. The dad jean is having a moment in menswear and is expected to be a top seller for spring 2019. Men will also see a lot of medium and light washes, and popular silhouettes will also include straight and slight bootlegs.
Women's spring denim will see more of the high waist styles, as well as cuffed and the still-popular skinny silhouettes. But female shoppers will also see pieced construction that brings light and dark denim together on the same bottom, faded stonewashes, and very pale blue tints.
T-shirts have had a formal moment this year when London's Fashion and Textile Museum explored the garment's history in "T-Shirt: Cult — Culture — Subversion," an exhibition that ran from February to May. It covered the historical biography of the tee, with insight into technological advances and contemporary design.
One of the most contemporary designs on T-shirt was Christian Siriano's "I'm Voting For Cynthia" tee that he wore when he took his bow at the end of his New York Fashion Week show. The shirt put some politics on the runway, as it showed his support for Cynthia Nixon, who was challenging Gov. Andrew Cuomo in New York's Democratic gubernatorial primary. The designer paired his black shirt with moto-style jeans.
"Jeans and a T-shirt have become sort of the uniform of choice for the world," Cihlar says. "The combination is casual, comfortable, non-threatening in a social situation, and kind of makes sure you fit in wherever you are, sartorially speaking."