The best way to serve customers is to truly understand them. And modern businesses are regularly told the best way to understand customers and what they want is to collect their data, dig through it and then offer just what the customer wants. Unfortunately, companies are collecting so much data, it can often lead to "analysis paralysis." But experts say this can be avoided with a specific plan of action.[quote]
"Customers are Hansel and Gretel-ing us a bunch of bread crumbs," said Forrester's Brandon Purcell, principal analyst, at the Custora Carma retail conference in New York. "We have an explosion in data from our customers. We have first-party customer data and transactional data. But we also have data that's external to us: we have social data; we have it from connected devices for the Internet of Things. And it's our job to stitch all of this data together and derive customer insights."
The problem is, the sheer amount of data.
"It's true, retail is drowning in data these days, and new sources seem to emerge constantly," says Elizabeth Shobert, director of marketing and digital strategy for StyleSage, a strategic analytics platform. "Meanwhile, there's also an acknowledgment that traditional metrics like same-stores sales, while important, aren't quite cutting it. Why? Because it isn't really telling you enough about the state of your business or your customer. The additional complexity for a lot of today's retailers is that online and offline data aren't often unified. So while you have rich data about what happens online — shopper profiles, what's clicked, saved for later, and checked out — it can't be easily married to what we know about in-store behavior, especially when there are legacy systems in play which are capturing this data."
While customers often lament that they don't like ads following them around the internet from site to site, or that they don't like when stores track their phones, they're quick to say they want better shopping experiences both online and at brick and mortar locations.
For instance, more than half of all consumers (57 percent) say they wish shopping for clothes in-store or online was like streaming TV or movies on Netflix or Hulu, where they can "get whatever I want, whenever I want it, " according to the Cotton Incorporated Lifestyle MonitorTM Survey. And 55 percent say they would be likely to buy clothes from retailers that would send store-related product information and coupons to their smartphone when they're shopping in the store. Another 31 percent say they would feel more connected or loyal to an apparel brand that connects them with other people who fit their fashion/style on social media or in-person.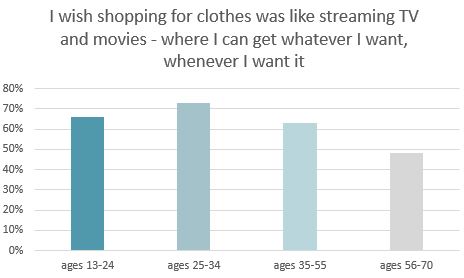 It's these kinds of consumer sentiments that leave brands and retailers with the tricky work of collecting data without overstepping, and then deciding what to do with it.
To break down the data, Purcell says businesses need to first identify their key business objective, whether it's trying to increase revenue, acquisition or value, or affect customer experience in some way.  Businesses next have to consider any constraints they might have, such as if they're doing business in Europe and have to work with privacy regulations. After that, companies can start digging into the data. And Purcell agrees with Shobert that companies are suffering from an overwhelming amount of it.
"You probably have an inability to extract the necessary insights from that data and that's where customer analytics comes in," Purcell said. "It takes analytical insight to design these customer-focused programs to win, serve and retain customers."
Custora, a cloud-based customer analytics software firm, maintains that creating new engagement opportunities is the fastest path to growth. The company recently performed a survey to find out what retail marketers were doing to increase sales. It found that five Key Performance Indicators (KPI) were the most important: Customer acquisition, average order value, order frequency, retention rate and reactivation rate. Its research found that companies were most successful at growing new customers and least successful at reactivating lost customers.
Custora found "the savviest retailers are focusing on increasing the engagement of their customers while they're active — a strategy that, point for point, drives three times the growth of acquisition.
"In order to drive growth, marketers need customers to meaningfully re-engage to become repeat purchasers. This is a powerful message for retailers. It's not enough to simply lure lapsed customers back with steep discounts; retailers need to re-educate customers on their value proposition and rebuild the relationship with them.
Eloquii worked with Custora to find out why customers churned, or discontinued buying from them. Eloquii had tried emailing customers after they had already churned, and received a very low response rate. So it turned to Custora to build a predictive model to show when people were exhibiting signs of churn while Eloquii still had the opportunity to talk to them. Based on the feedback from more than 2,000 responses, the company changed the way it fit its garments.
Nearly half of all consumers (46 percent) say they wish apparel brands and retailers knew more about what they like and how they shop, according to MonitorTM research. Consumers also say they would like if their purchase history was used by brands and retailers so they could be given a personalized shopping experience and recommendations on what to buy (46 percent). And more than 4 in 10 consumers (43 percent) say they would like if retailers combined the digital shopping experience (such as using tablets, digital displays and computers) in physical store locations.
Shobert says StyleSage likes to think of data as it relates to processes and journeys.
"The data should come from both internal and external sources, not just inside your four walls," she says. "Think about the customer journey, from awareness to decision made to packaged delivered, and consider which data points along that journey you can impact and/or respond to. For example, what are the most important purchase considerations and how do you and your competition compare? How and where are you being found? What does the shopper do in-store versus online, and which metrics can overlap between these two channels? The same goes for your internal processes. Say you're a merchandiser. Map your process, which will include looking at historic sales, identifying emerging opportunities, seeing what the competition is doing, benchmarking pricing, and planning your go-to-market timings."
Shobert says this process mapping also addresses another reason why data paralysis happens: organizational silos, the result of which is information and data not being shared with everyone that's impacted by it.
"What's more, mapping out data points as part of a process has the added benefit of identifying new and relevant data points as they emerge."